and I scored
P25758
in Vantage!
That is with a 4.7GHz overclock on my 2500k and stock for the GTX 580.
I spent a couple hours this afternoon modding my CM Storm Scout to make sure this card would fit.
It's a 3 slot design. Fits perfectly with lots of room to spare.
It's
THIS
card
Can't wait to see how far I can get overclocking.
This is what I'm currently running (Stock)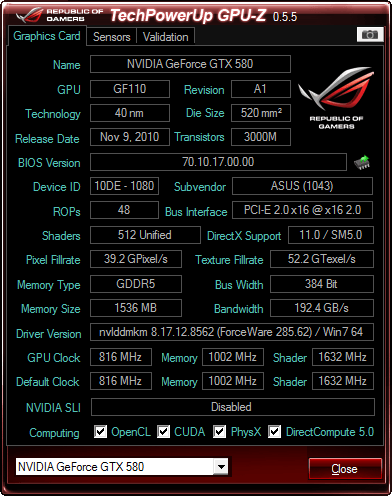 Whatcha guys think???!
CPU
Motherboard
Graphics
RAM
Q6600 (incoming)
Dell proprietary Intel Q965 Express Chipset
XFX HD 5770 (incoming)
4GB Patriot DDR2 800
Hard Drive
Optical Drive
Cooling
OS
Hitachi Deskstar 160GB 7200RPM
DVDRW
Stock
Windows XP 32 (for the time being)
Monitor
Power
Dell 22" 1680x1050
Corsair CX430
View all
hide details
CPU
Motherboard
Graphics
RAM
Q6600 (incoming)
Dell proprietary Intel Q965 Express Chipset
XFX HD 5770 (incoming)
4GB Patriot DDR2 800
Hard Drive
Optical Drive
Cooling
OS
Hitachi Deskstar 160GB 7200RPM
DVDRW
Stock
Windows XP 32 (for the time being)
Monitor
Power
Dell 22" 1680x1050
Corsair CX430
View all
hide details