I wanted to help those that are just getting into water cooling by putting this up. At first it can be really difficult to understand where to start, so I ALWAYS recommend reading this article 10 times from start to finish:
http://www.overclockerstech.com/water-cooling-guide-for-beginners/
And now for the build log:
(for the tl;dr crowd, xfire 5870's went from 80-90c at load to 35-45c at load, and Amd 955 BE @ 3.9 ghz went from 60c+ at load to 45-50c. The good thing about the equipment I decided to use is that it is generally compatible with any new hardware I buy when I upgrade)
Thanks to the awesome stickies on Tom's, Overclockers.net, and overclockers.com, I have a good foundation to begin buying equipment.
First the goal:
+5-10 temperature delta
Quiet down the 3000rpm cpu and 5000?+ rpm dual 5870fans
Awesome looking setup without using dye
Solid build with no rushing and no "loose ends".
My system:
SilverStone Raven RV-02 (Supports 1 MCR320 radiator internally)
Amd Phenom II x4 955 @3.7ghz
6gb Kingston HyperX 1600 Ddr3
2x MSI Lightning Radeon 5870
Mushkin Enhanced Joule 1000 watt PSU (incoming)
The water cooling equipment I plan to buy for this setup:
*EDIT: revised list*
2x MCP655 vario pumps
1x 5 1/2 split bay reservoir
1x Swiftech Apogee XT cpu block
1x Swiftech MCR320 radiator
1x Swiftech MCR420 radiator
2x Swiftech MCW80 Gpu blocks (Msi's board layout does not allow full blocks) :'(
1 million shares of stock in a copper mine for all the memory and vrm chips I will have to cool on the 2 Msi 5870's.
7/16" Blue UV Primotech tubing
Various Bitspower fittings etc.
Now, looking at my picture I am unsure about whether 1/2" ID tubing would be wise. Narrow space between 5870 cards. Narrow space between Gpu2 and Reservoir. Not a huge case. I looked at the tubing flow study that looked like the 7/16 didn't loose much flow at all compared to 1/2". If this will make my build easier and cleaner, I want to go for it.The only question is how it affects which fitting etc I need to buy. I want to make one purchase and not find out I need a bunch of different parts that I didn't order.
My Msi 5870 cards don't allow a full block cover which is a bummer, but I have another solution. Gpu core blocks with lots of copper on the mem and Vrm.
I guess my main questions are what you think I will need for fittings and how this setup will achieve my thermal delta goals of 5-10c.
__
Good lord, talk about opening up Pandora's box... I have been reading all day since I posted this and have a couple of revisions.
1. I decided to go with 2 MCP655 vario pumps. They were only 5-10 dollars more than the 355 pumps. I don't need aftermarket tops for the 655, right? It says it has 1/2" barbs.
2. I decided to go for it and try 7/16" tubing and try to get it over the 1/2" barbs. Maybe use some dish soap or something similar to help. I think this will give me more room to work in my small space.
3. I decided to go with 1 MCR420 radiator for the gpu loop and 1 MCR320 for the cpu loop. I am going to mount the 420 externally and run the tubing and wiring through case holes.
4. I decided on PrimoChill 7/16" Blue UV tubing.
5. I am going with Yate Loon high speeds for the 420 and low speeds for the 320.
6. Going with the new Swiftech MCW80 Gpu block.

I calculated 8 swiftech metal barb fittings. (2 for each radiator and 4 for the Dual Reservoir.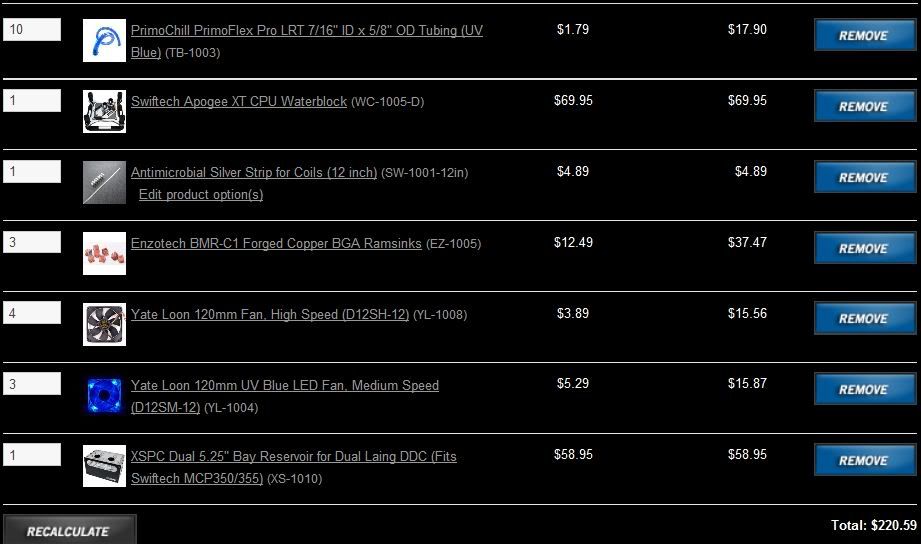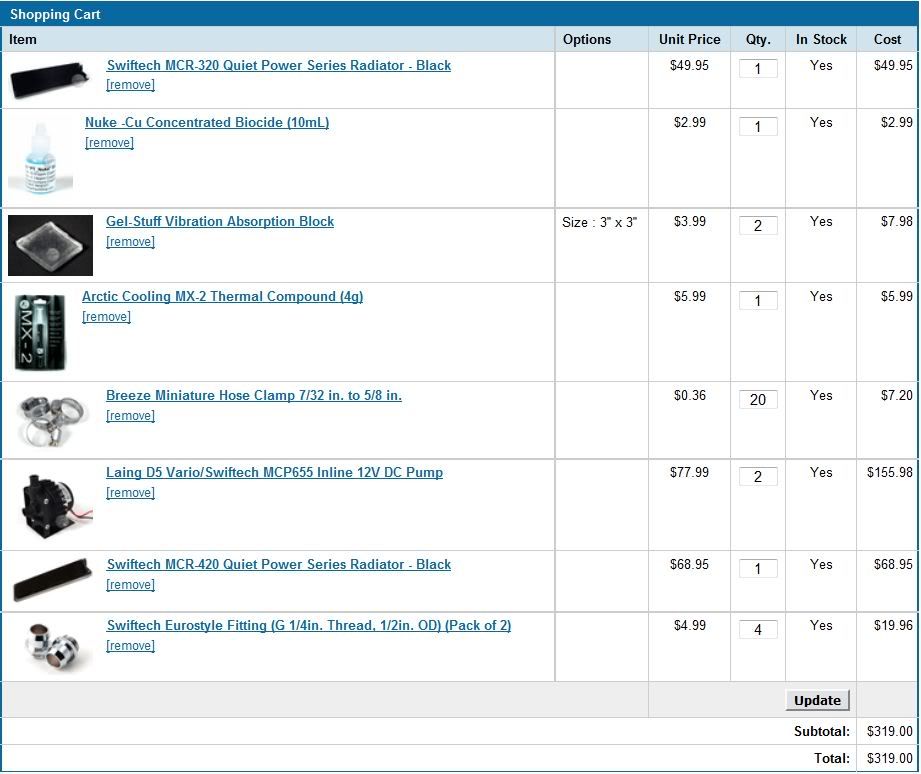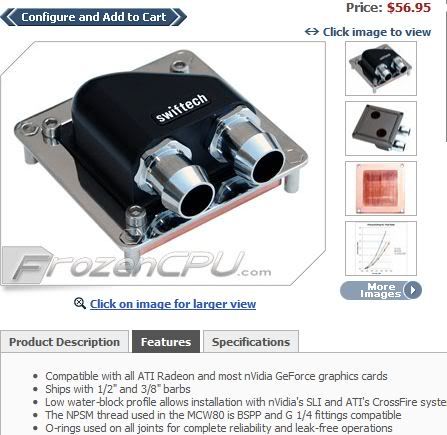 __
Holy crap. Father christmas dropped an early load on my porch today! Wish me luck!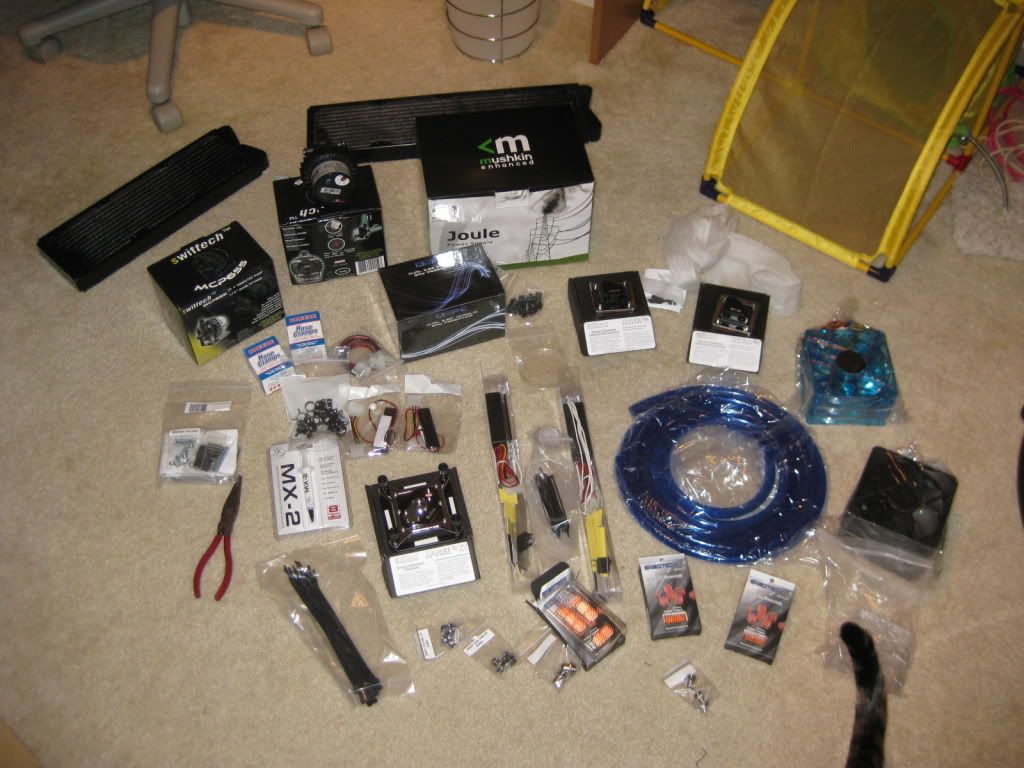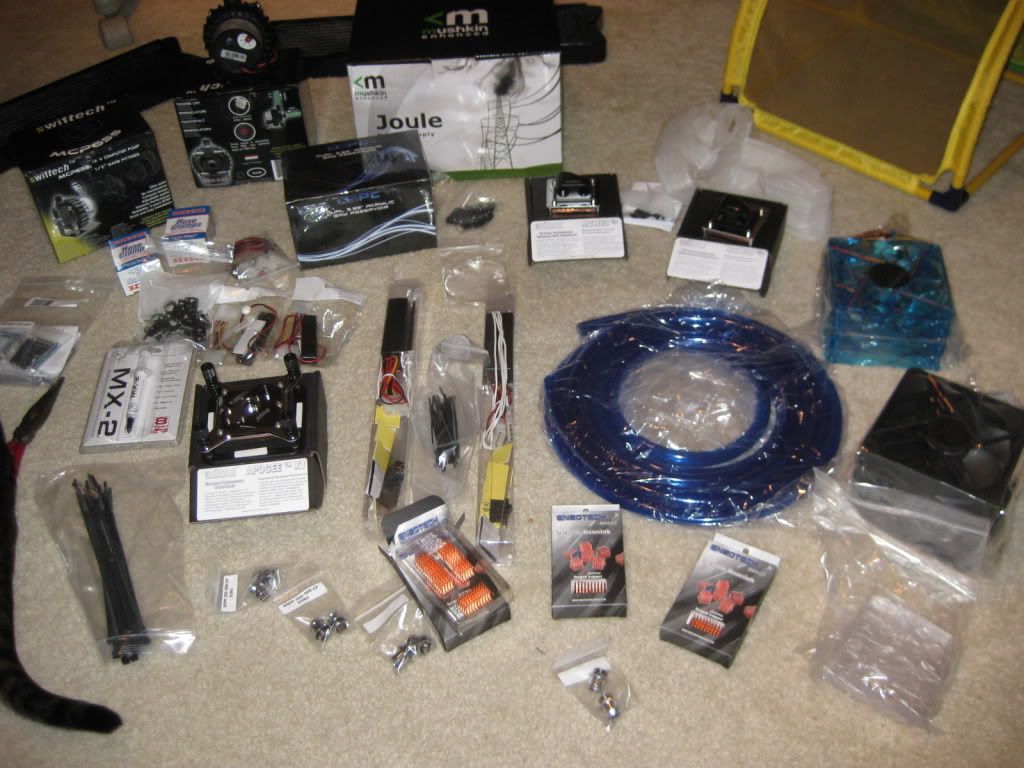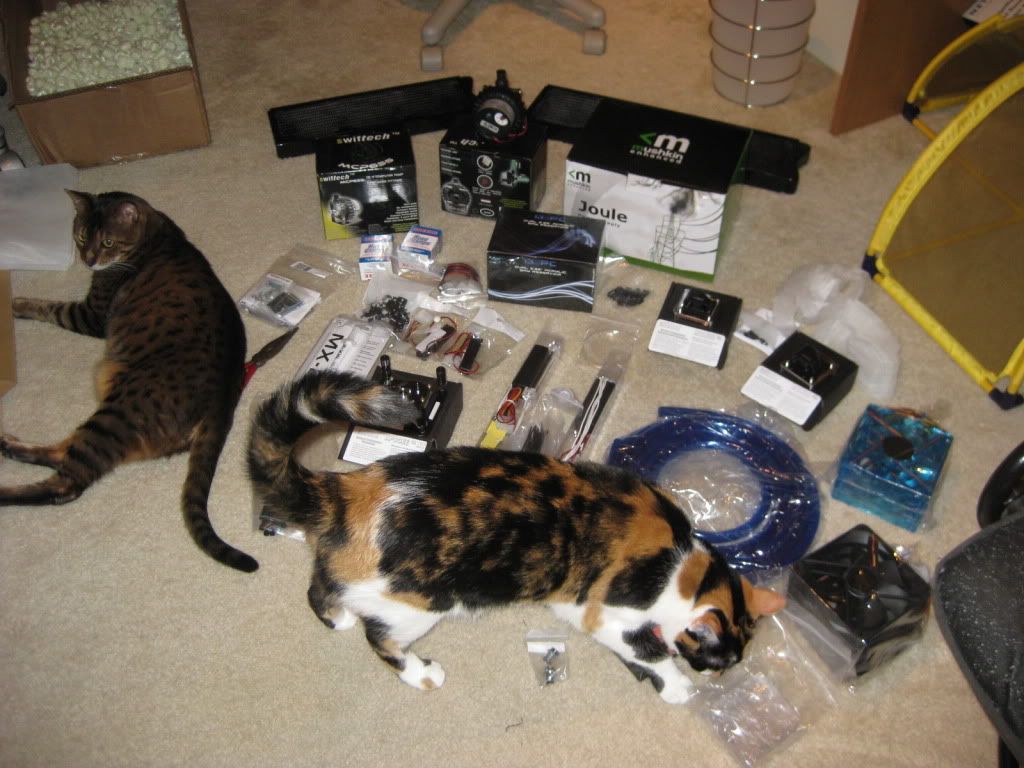 __
Wow. So this is a very long process! lol It is going slow, but I am trying to take my time and do it right.
You don't use a wrench on the fittings, right? Just hand tight then a bit more?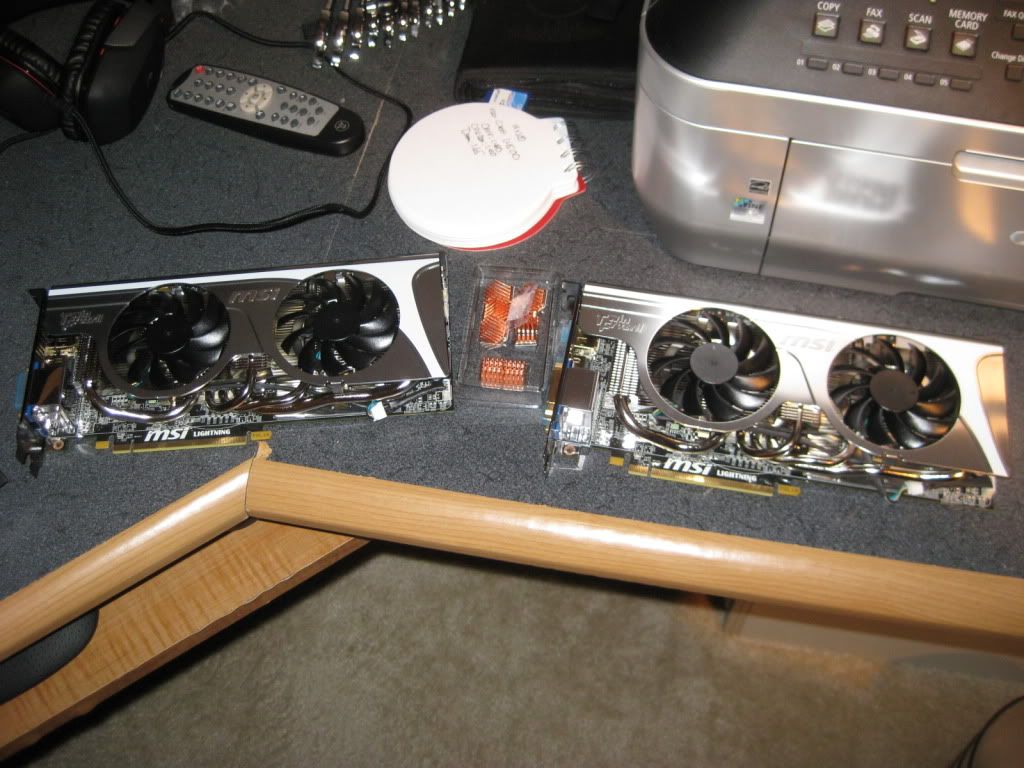 LOT'S of copper to apply...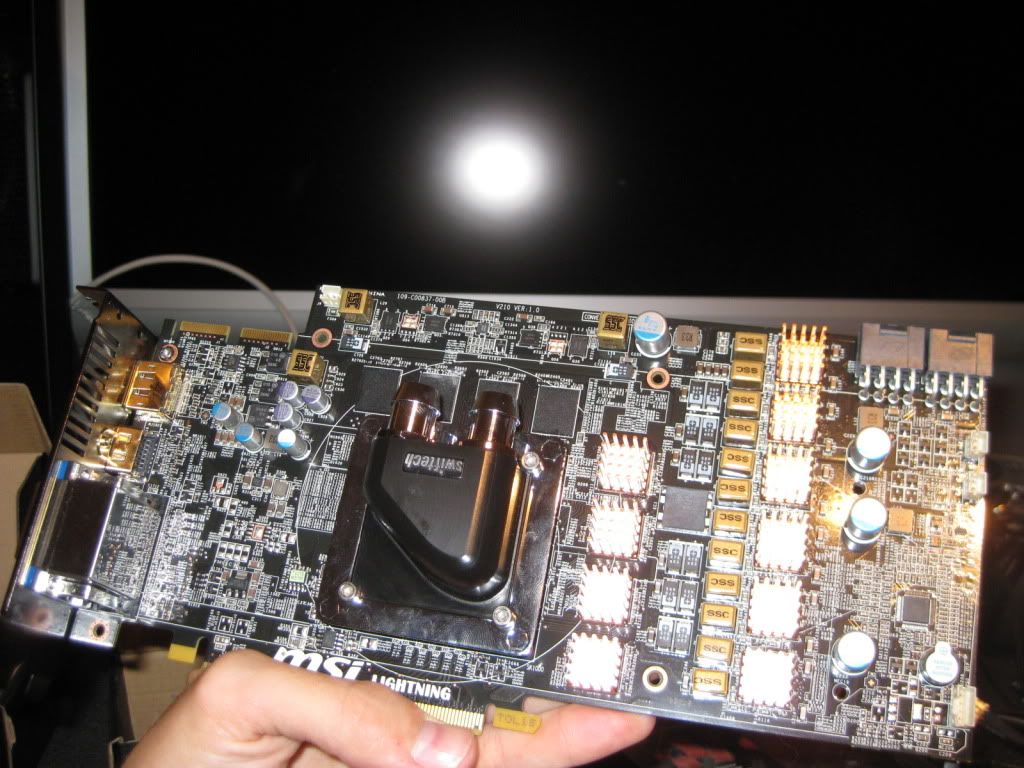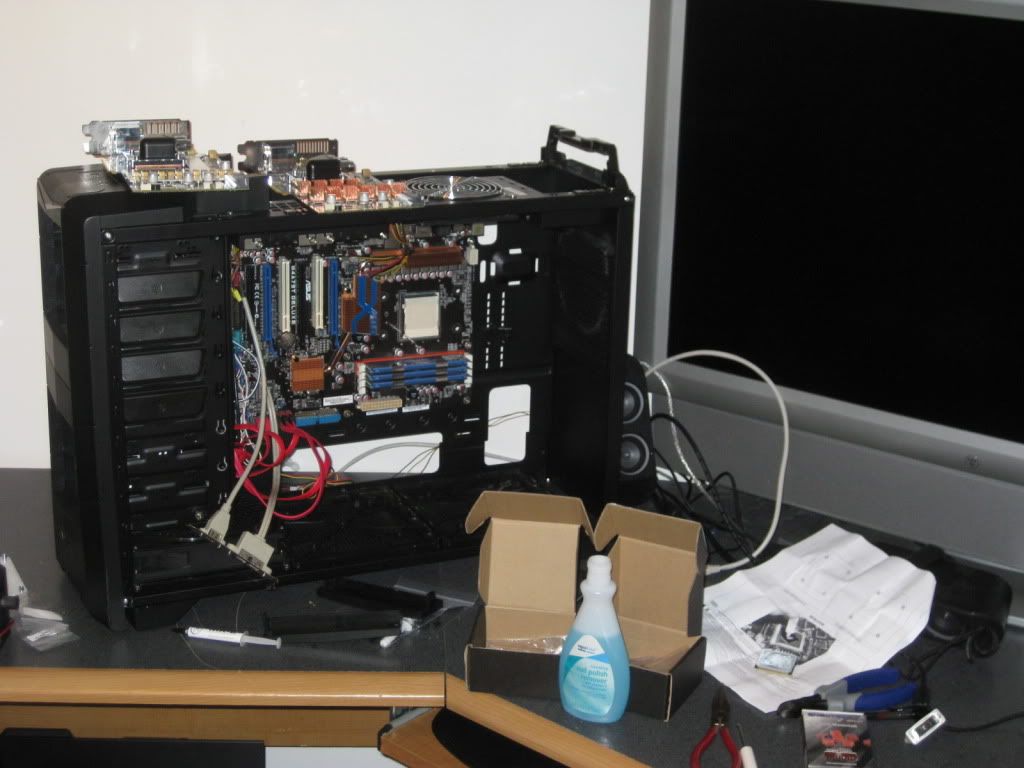 Helping dad...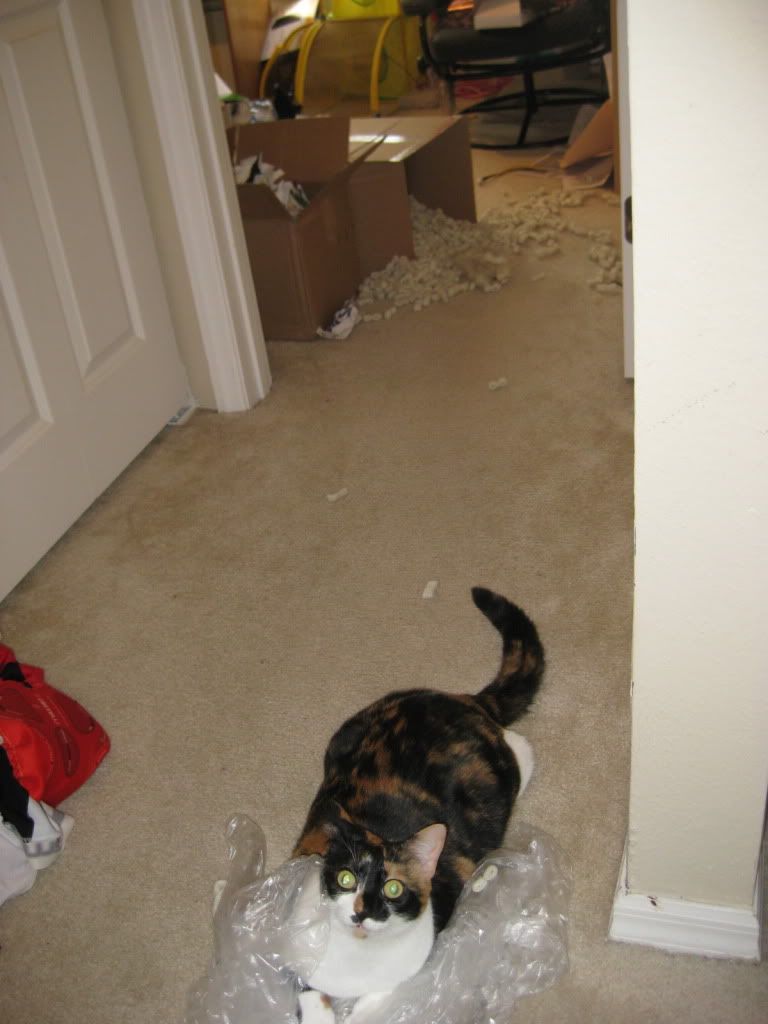 __
Grrr.... XSPC acrylic res has a tiny crack in one of the fitting holes and leaks no matter what. Had the Gpu and Cpu loop both running nice, and couldn't get that tiny crack to stop leaking. Gonna have to RMA...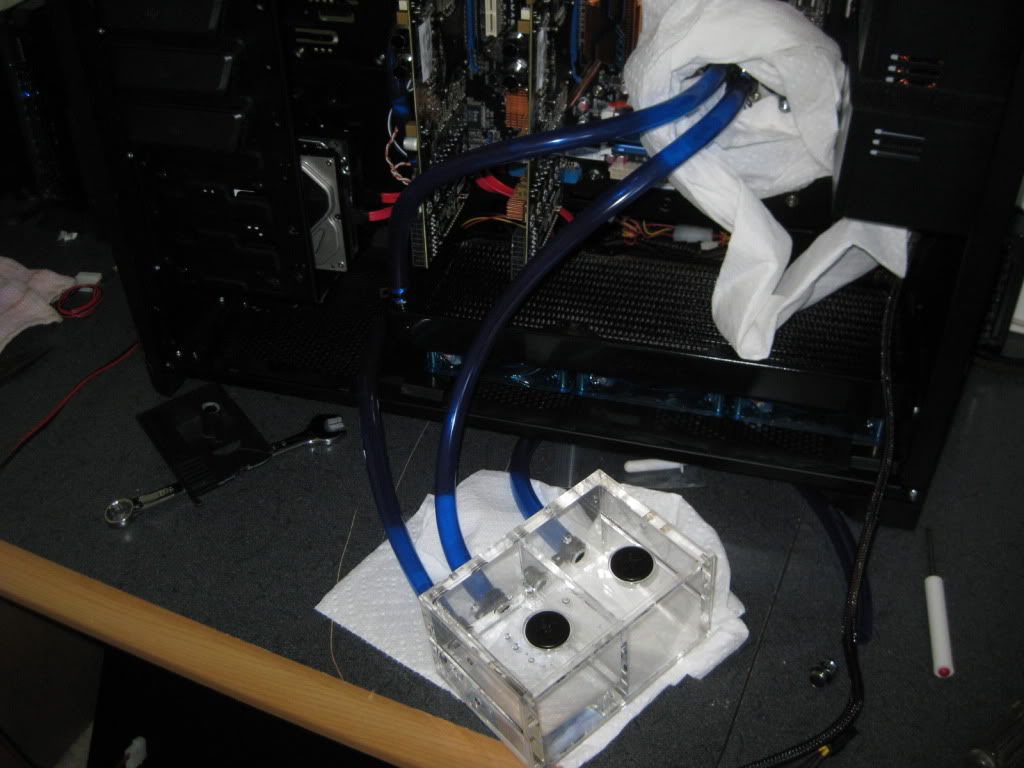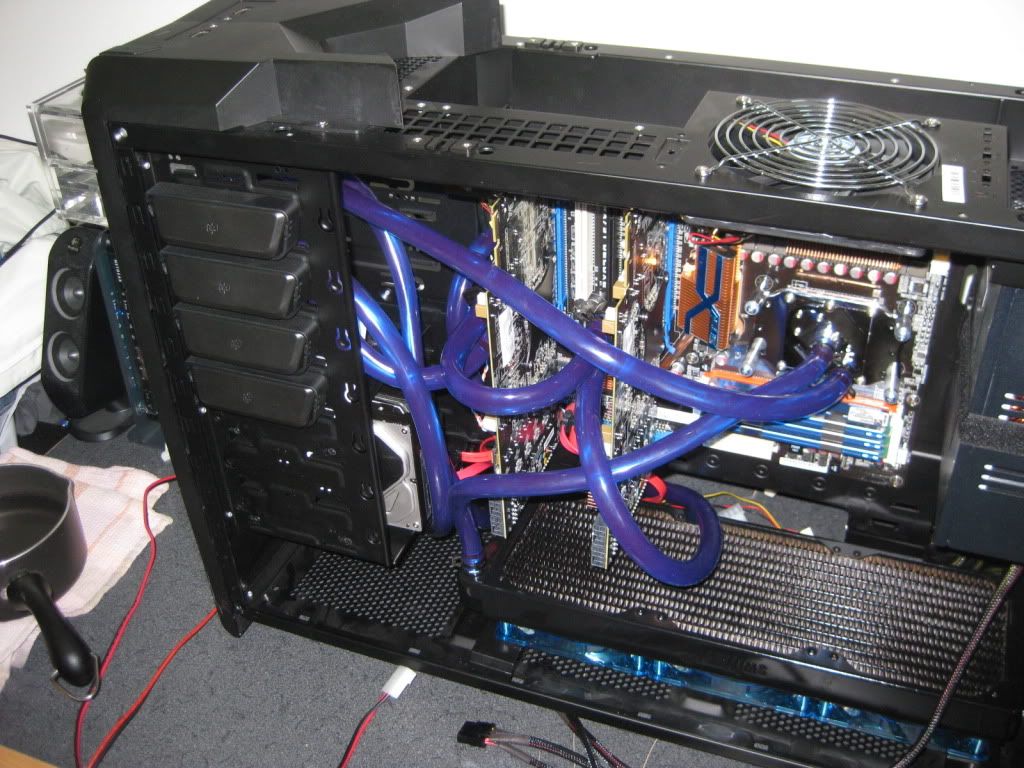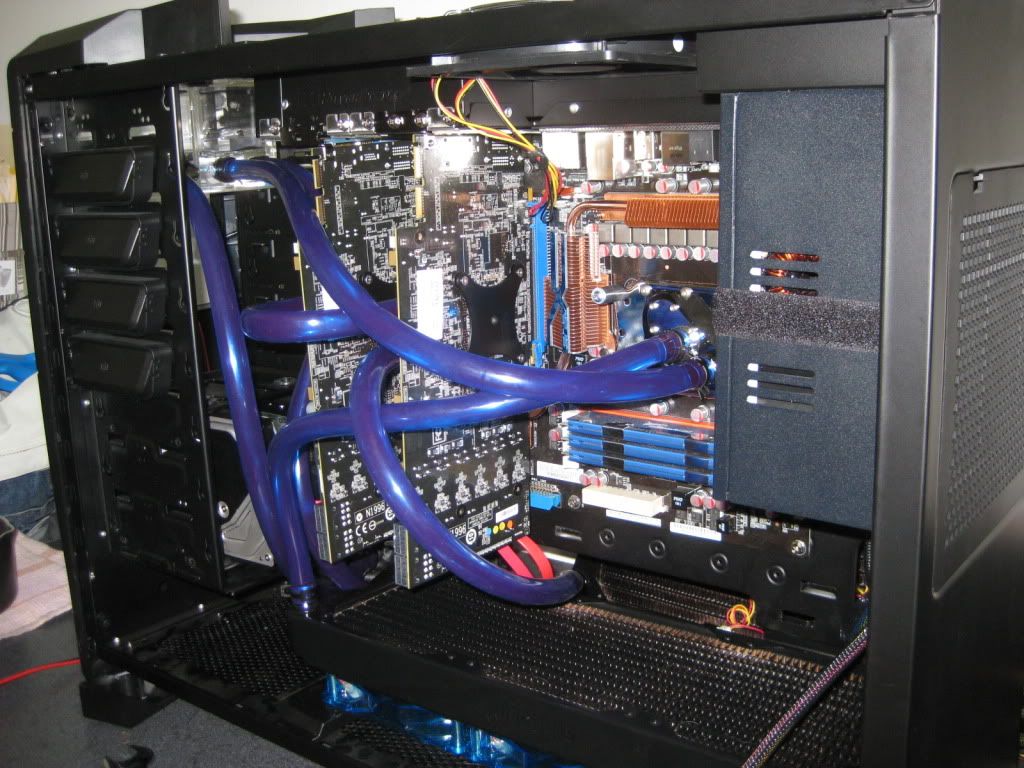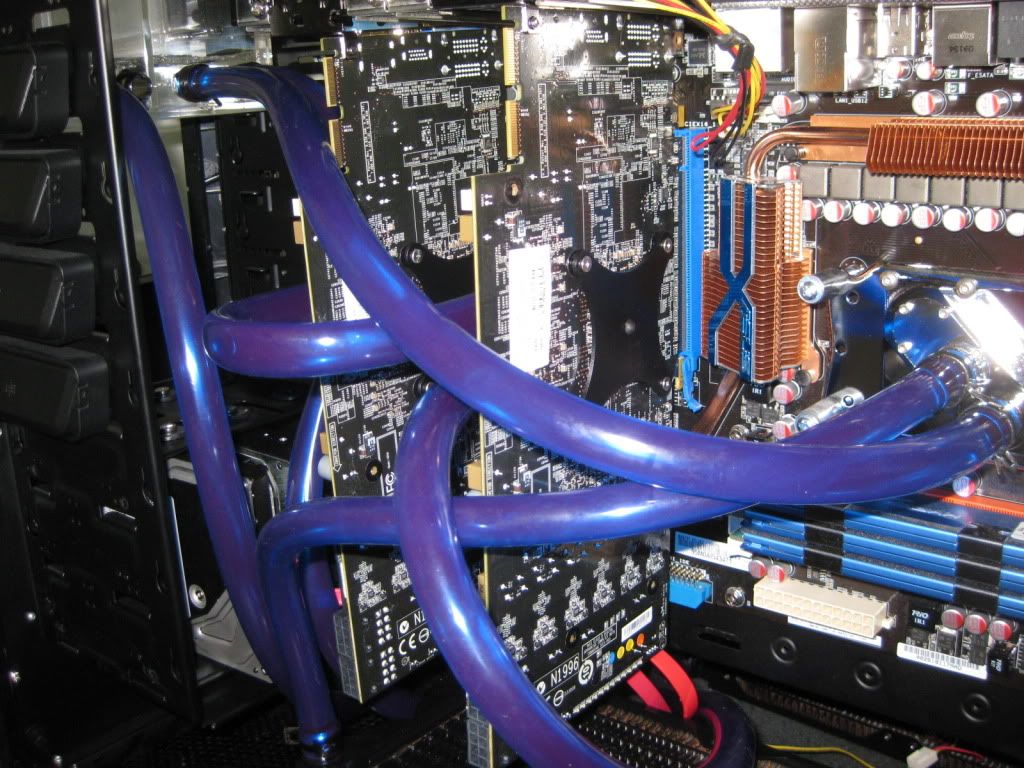 __
I have a TON of thoughts after assembling my first loop. A lot of thoughts about setting one up with the equipment I decided to use as well.

The Mcp655 pumps are waaay bigger than I thought. I seriously over-estimated my space available in my case. If I had it to do again, I would have bought Mcp355's with after market tops. I would like to have planned the space requirements a little better than I did.

7/16" tubing does go over 1/2" inch barbs pretty easily. It does NOT go over the stock plastic barbs on the Mcp655 pumps easily. I had to boil water, soak the tube for 15 seconds and then stretch it out with needle nose pliers.

While I'm on the subject, I will probably never use straight barbs again. I'm sure the 7/16" over 1/2" made it harder for me, but I wouldn't want to deal with the hassle of trying to rip the hose off of barbs if you need to re-adjust anything. When I had to adjust tube routing, it would start to unscrew the barb from the block.

Since I am SOL until I get my new reservoir, I ordered compression fittings for my setup. There is no way I want to go through cutting tube off of all my fittings when I do my 6 month or 1 year maintenance. 7/16 tube is NOT coming off of 1/2" fittings. I had to cut the tube off. People did warn me of this, so it's my fault. If I could have done 1/2 tube over 1/2 fittings, it would probably have been fine.

Anyhow, I feel like water-cooling has been de-mystified after setting this up. Yes, it does require you to do your homework and plan properly, but setting it up is not rocket science. It's actually very straight forward and very enjoyable. I would be on hour 6 of leak testing right now of my XSPC res didn't have a factory crack in it.

Can't wait to finish up!
__
Alright.
I let the loops run their bleeding course. The gpu loop still makes a squirt noise every 30 seconds or so, but it has gotten MUCH better.
Anyhow, here are some results.
Gpu loop
2x Msi 5870's in Crossfire on
stock cooler
: Idle 34-39c/79-82c in furmark extreme burn.
2x 5870 on
liquid loop
: Idle 29-32/43-46 in furmark extreme burn.
Cpu Loop:
Phenom x4 955 3.2 stock @ 3.8ghz oc: Idle 39-42/48-50 OCCT torture test.
AMAZING results! Especially on the Gpu loop. I could not be any happier with the outcome. It goes to show you, when it is done right you will get some spectacular temp drops at load!
Thank you to everyone who has helped me in this process.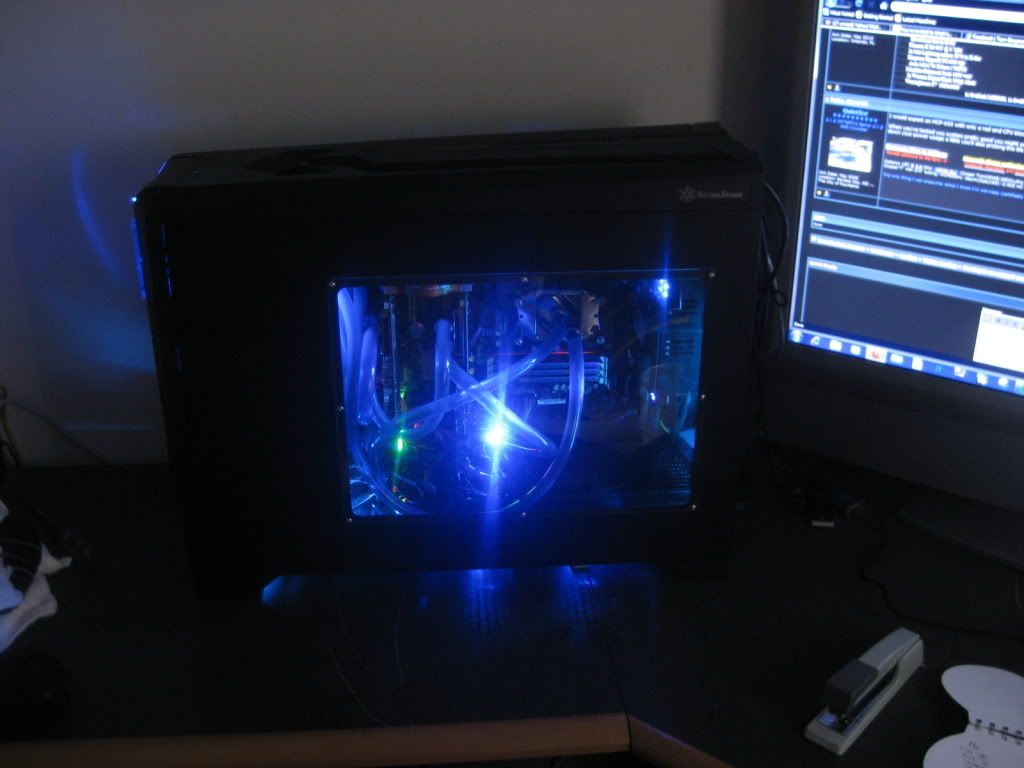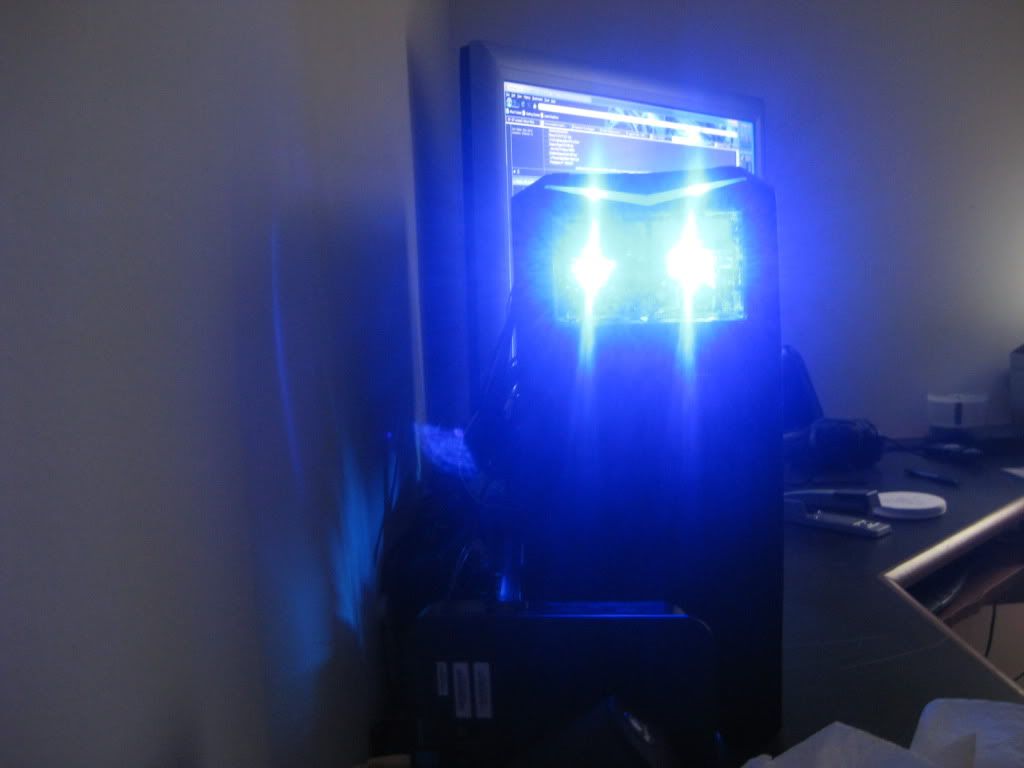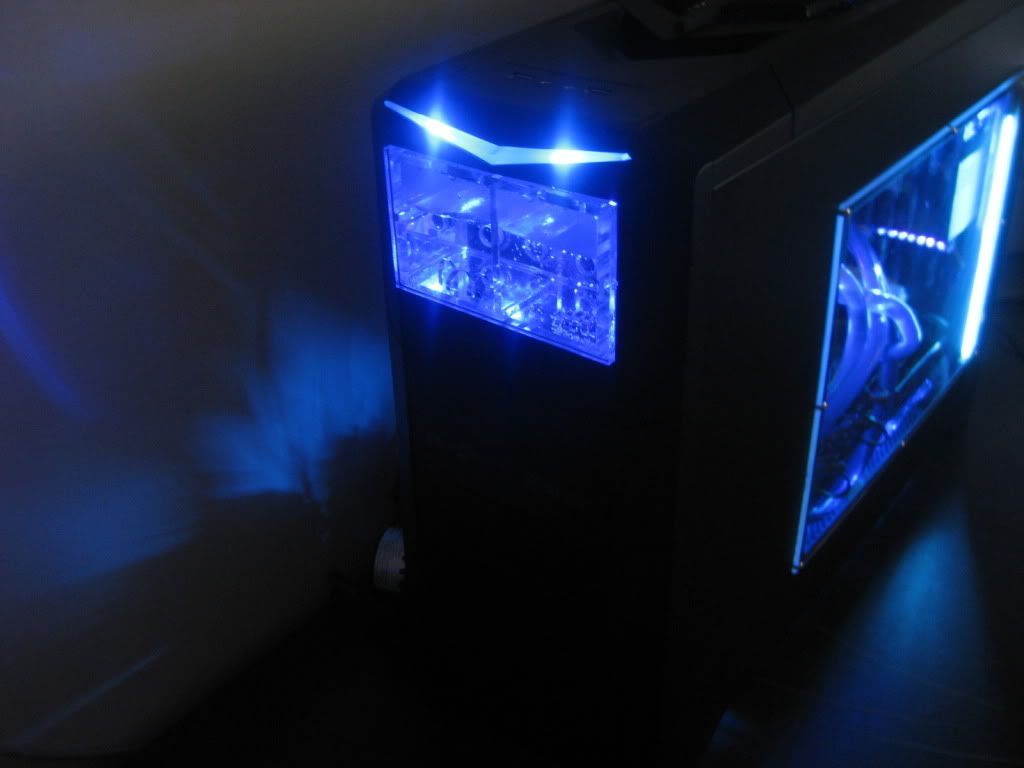 __
Noise is finally gone. The 955BE is not the greatest overclocker in the world, but I am creeping towards 4ghz right now. I'm still shocked with the GPU load temps on my 5870's. Water-cooling dropped them 40c, which is pretty incredible.
__
I don't have a fan controller, so right now I just have the radiator fans daisy chained to the motherboard. I have Amd cool and quiet regulating them but they could go much lower and still provide great results. I think I am going to get the sentry 2 or the Kazemaster 02, and will probably order that today.
__
I ended up going with the Sunbeam Rheobus Extreme. I had heard that the Sentry 2 may use PWM for controlling the fans which induces a whining noise when you power them down.
The Sunbeam allows 35w max on each of it's 6 channels, so I could actually hook all 7 of my rad fans to one channel! (I won't)
__
Here is my furmark extreme burn test and the gpu temps after 1 hour of running.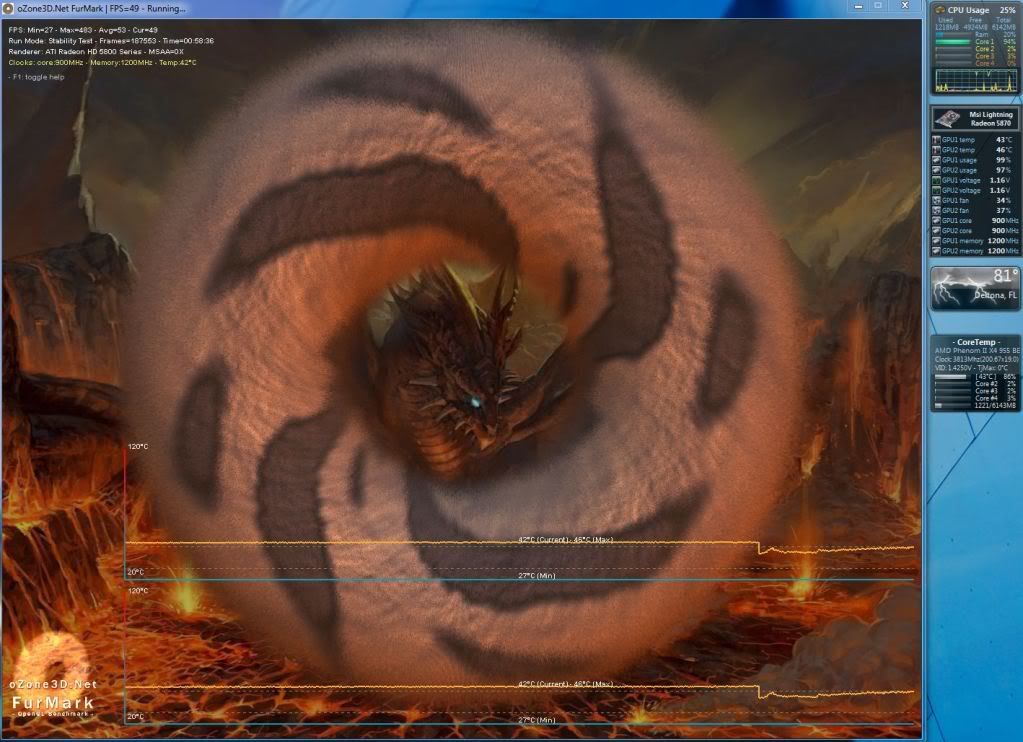 __
I keep looking for things to buy and add to the setup! hah I'm kinda sad that it's all finished and running well.
Installed the new Sunbeam Rheobus fan controller and it works great. It's a little bright as you can see from the pics but no big deal. Have the 4 high speed yates hooked to channel 1, and the 3 mediums hooked to channel 2. Each channel can handle up to 35 watts!
Started doing some nice overclocking on the 5870's. Up to 1050 on the cores from the stock 900, and up to 1325 on the memory from the stock 1200. Maxing out temps in furmark burn in the low 50's. I <3 water-cooling!