This Classified is Closed
For Sale:
Samsung T240HD 24" TV/Monitor **PRICEDROP**
Will Ship To: US48

Time to sell my TV/Monitor.
It's a Samsung ToC T240HD, and it was one of the last 1920x1200 monitors with the combined TV functions.
I haven't beat it up or anything, so the finish is still great, and there aren't any blemishes on the screen. No dead pixels.
It has:
2 HDMI ports (As well as the 3.5mm passthrough so you can connect external speakers to it.
VGA and DVI inputs
Component
SPDIF/Optical connection
I have all the standard stuff with it, including:
Remote (No batteries, batteries were dead anyway.)
Power Cable
DVI and VGA cables
Micro-HDMI to HDMI cable
I used this for my primary monitor for about a year, then used it for my Wii and a TV for the rest of the time.
It performs great at all of those things, it's a pretty kickass monitor.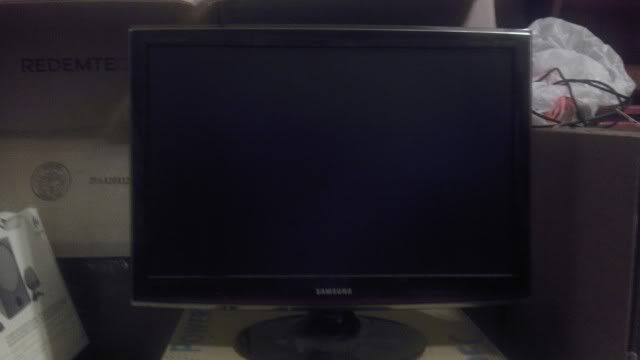 I'm looking to get
$190 Shipped
for it. I think they went for somewhere around $350 + new. I can't remember, it's obviously been a while since I've been shopping for these kinds of monitors.
Any questions, just PM me. I'm usually pretty quick about responding.
Edited by Ch13f121 - 11/30/11 at 3:35pm
CPU
Motherboard
Graphics
RAM
Intel Core i7-3540M
Dell Latitude E6430
Intel HD4000
6GB DDR3
Hard Drive
Optical Drive
Cooling
OS
128GB Samsung 841 SSD
DVD-ROM drive
Stock
Windows 7 Professional 64-bit
Monitor
Keyboard
Power
Case
1600x900 Latitude E6430 screen
Das Keyboard Model S Professional
Stock
Dell Latitude D6430 Chassis
Mouse
Mouse Pad
Audio
Steelseries Kinzu V2 Pro
None
Onboard
View all
hide details
CPU
Motherboard
Graphics
RAM
Intel Core i7-3540M
Dell Latitude E6430
Intel HD4000
6GB DDR3
Hard Drive
Optical Drive
Cooling
OS
128GB Samsung 841 SSD
DVD-ROM drive
Stock
Windows 7 Professional 64-bit
Monitor
Keyboard
Power
Case
1600x900 Latitude E6430 screen
Das Keyboard Model S Professional
Stock
Dell Latitude D6430 Chassis
Mouse
Mouse Pad
Audio
Steelseries Kinzu V2 Pro
None
Onboard
View all
hide details