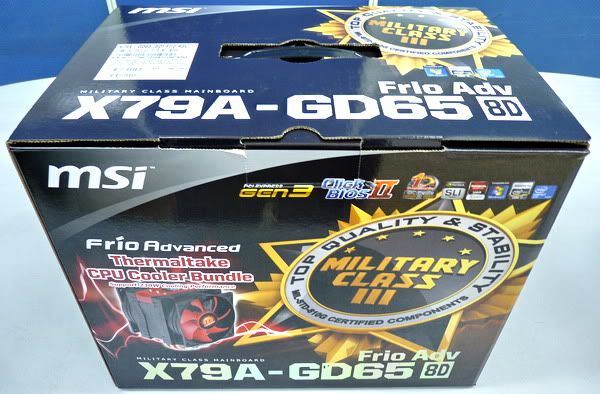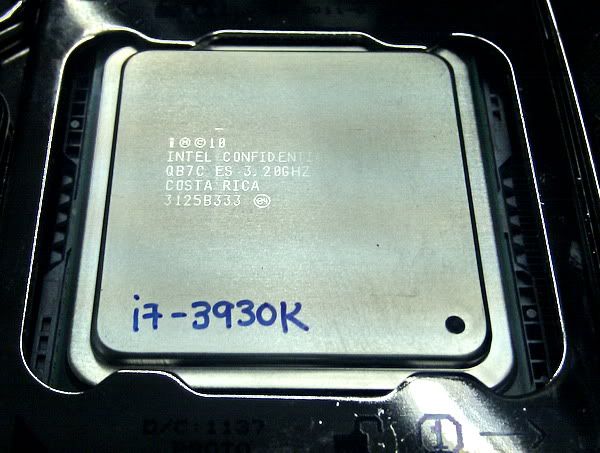 Here is my share after testing the MSI X79A-GD65 8D with Intel Sandybridge-E i7 3930k processor.
Starting with the X79 chipset, it now natively supports PCIE Generation 3 and SATA 6GB/s connectivity. PCIE Gen3 doubles the bandwith from 16GB/s to 32GB/s, thus improved efficiency and better performance for current and next gen PCI Express cards. But ofcourse until now there are still no Gen3 cards available in the market. The only way you can test these new slots is by using PCIE Solid State Drives. Next, SATA configuration. You will only get 2 SATA 6GB/s ports and four SATA 3Gb/s which you may configure RAID 0, 1, 5, 10. Adding more SATA ports into the board requires using 3rd party controllers. So how about the USB support? the chipset only supports 2.0 and same case they need to use 3rd Party Controllers to have USB 3.0 connectivity.
Moving on, let's talk about the Sandybridge-E processor. If you check out in the internet the meaning of the letter "E" after the name Sandybridge . You will see results such as E stands for "Excessive", "Enthusiast", "Expensive" , "Enhanced" and many more hehehe. Anyways, Intel will release two types of processor for their LGA 2011 lineup. They will be available in 6 cores with 12 threads or 4 cores with 8 threads. All are capable of quad memory DDR3-1600 channel and increased L3 MB Cache. "X model" (i7-3960X) will be Intel's Extreme Edition processor and max turbo clock will be 3.9 GHz with 15MB L3 Cache and unlocked multiplier. Next "K model" (i7-3930K) which is slightly lower end processor yet max turbo clock is at 3.8 GHz with 12MB L3 Cache and same unlocked multiplier. Then the quad core i7- 3820 with max turbo at 3.9 GHz with 10MB L3 Channel up to 40x multi. Lastly, these new processors have strong integrated memory controllers which are capable of doing speeds as high as 24XXMHz for memory modules.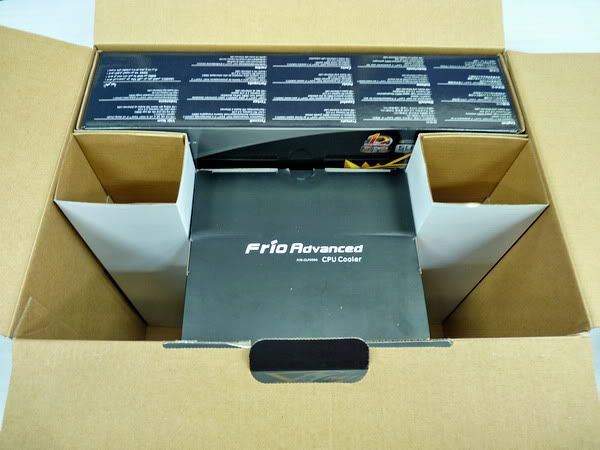 I have here with me is a Limited Edition MSI X79A-GD65 8D package bundled with Thermaltake Frio Advanced CPU cooler. This is already a good bargain because all Intel Sandybridge-E Processors does not comes with a stock fan.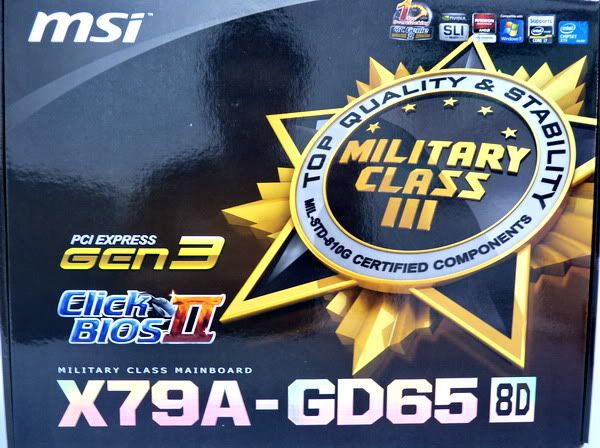 Here is the inner motherboard box. Check out the new Military Class theme logo. Having 5 Stars means that the board is composed of Solid Capacitors, SFC Chokes, Hi-C Caps and DrMos II components.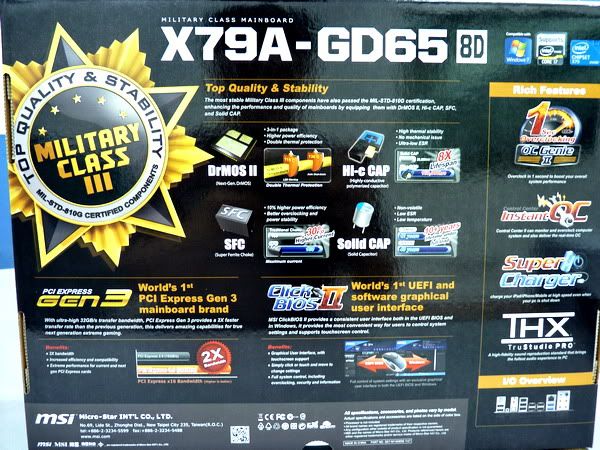 Main features of the board with short descriptions at the back side of the box.
Following are the manuals, dvd utility software and the Certificate of Quality and Stability
The certificate looks really cool.
As always, MSI bundles their board with complete accessories. SATA cables, SLI Bridge, USB 3.0 PCI Bracket and E-SATA PCI Bracket
Checkout the 8Dimm Slots. Max is 128GB of Memory capable of running 2133MHz speed. Insane.... If you are looking for a Server type of motherboard? here is the answer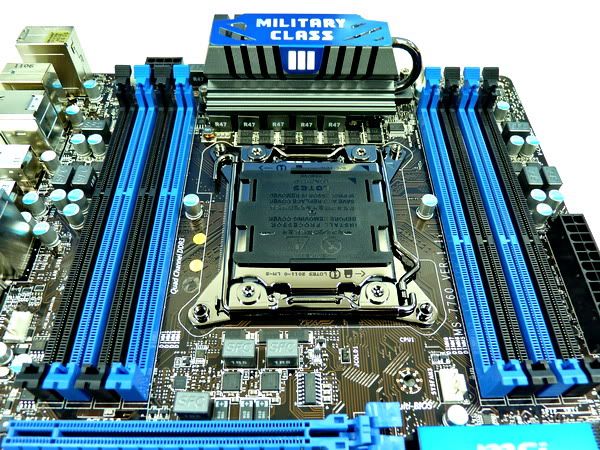 Nice clean layout with Solid Capacitors, Hi-C Caps and SFC Chokes around the CPU socket . The CPU is powered by a 5 + 2 power phase while the memory by 4.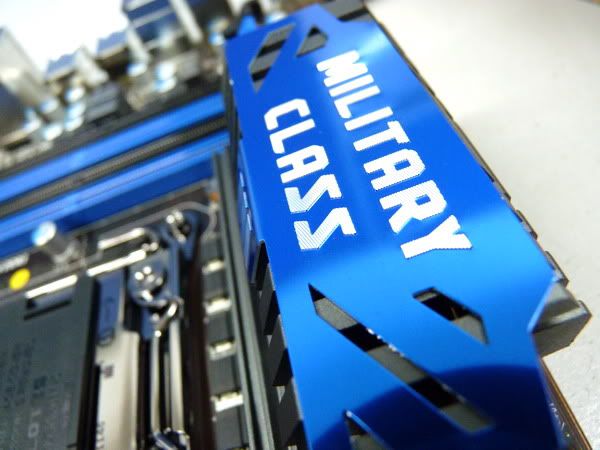 Simple yet still effective heatsink design for the DrMOS II chips & VRMs.
Same white and black color coding for the SATA 6GB/s or 3GB/s connections. You will also find here the Multi Bios Switch.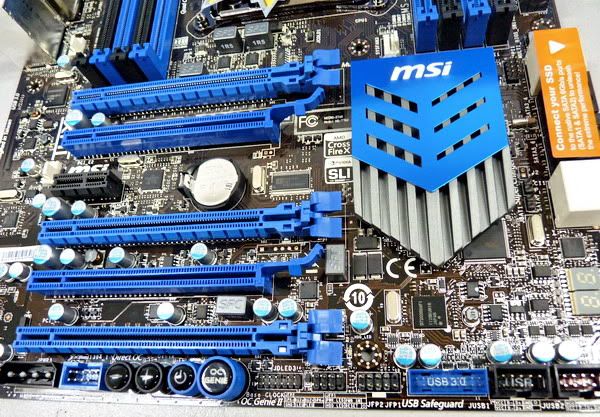 From bottom left to right. 4 Pin power molex connector to give additional power for multi-GPU configuration. Direct OC - + buttons for increasing the bclock on the fly. You also have the typical Power and OC Genie Buttons. USB 2.0 color black header while the blue one is for USB 3.0. Debug Led Indicator.
Gen3 x16:x16:x8 in three way SLI or Crossfire. While the other 2 PCIE X16 are the old Gen2 slots.
IO terminal ports. PS2 KB/Mouse port, 8 USB 2.0 Ports, 2 USB 3.0 Ports, Clear Cmos Button, Firewire, Gigabit LAN, Digital SPDIF/Coaxial Audio output and 6 Analog Audio Jacks.
Aside from the motherboard. I will also show you guys the bundled Frio CPU Cooler.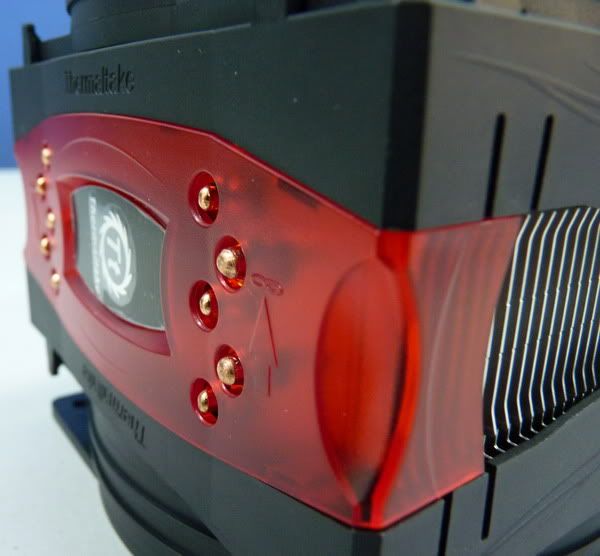 120mm Push Pull Airflow Design.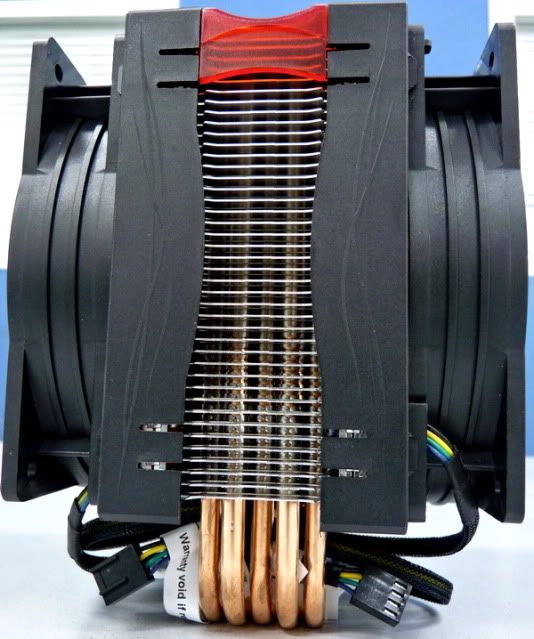 The cooler is a bit wide but so far it didn't gave my any problems installing it on the board. Quick and easy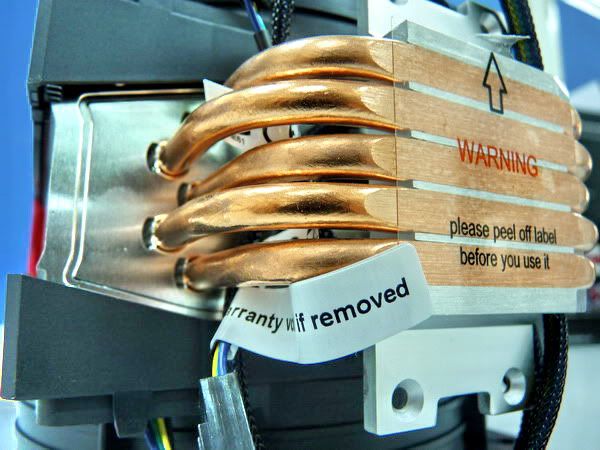 5 direct touch heatpipes for faster heat dissipation on the processor.
During the test period of the system.Instead using the Frio Advanced Cooler, I opted using the Intel Stock fan that they lend me. So far the cooler's performance is quite impressive. You can already use it for mild overclocking. Below is the shot of the system.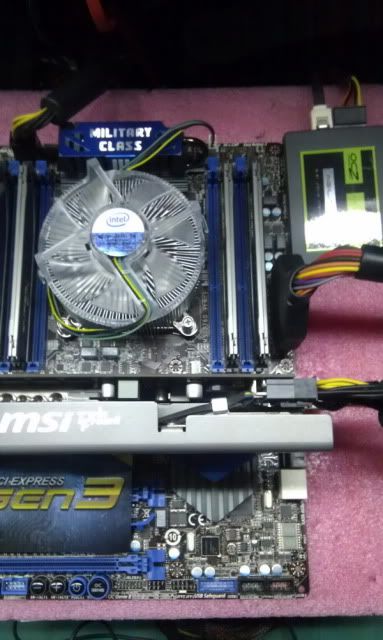 My System Configuration Below:
•Processor: Intel i7 3930K running @ 4.5Ghz
•Memory: Kingston Hyper X DDR3 4GB @ 2133MHz
•Harddrive: Corsair Agility 3 120GB
•VC: MSI N460GTX Hawk
•PSU: Antec TPQ 1200W
•Softwares: Windows 7 Ultimate 64Bit
Benchmark results below:
Wprime
SuperPi 32m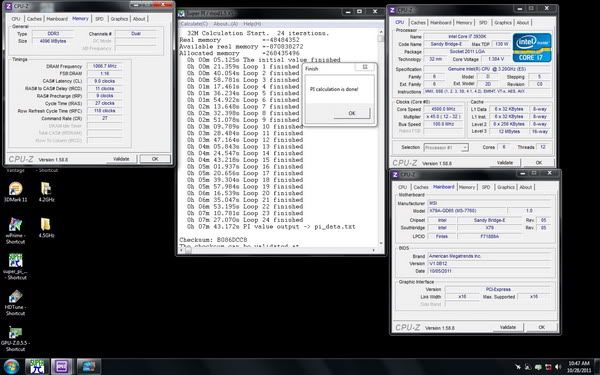 3dMark06
Vantage
3dMark11
4.5 Ghz OC Validation
That's it. Thanks