yeah man, the most expensive single part in the whole rig and thats the one that gets ruined. i couldnt believe myself, i couldnt believe i let that happen. i could have prevented it too if i was more careful about the fittings since i was moving the ram block around. i'll never forget it, and its definitely a learning experience.
no problem, glad to share the good, even the bad
you should make a build log, there always fun and its cool to catalog the whole process from start to finish. people have told me that many watch my log but not post, i guess thats fine lol but its nice getting replies on this.
i wish it didnt happen either, trust me.
9/1/12 - Minor Update
well i looked into diamond's warranty information and such, heard from many people that the customer service for that company sucks big time, but i put in a ticket for replacement anyway. its weird that the card died 100%, because there barely was any water on the actual pcb, the black plate caught most of it. anyway, cleaned it up so well theres no way to tell there is water damage on it. i'd like to slap the stock cooler back on there and ship it to diamond, hopefully to get it replaced. i read something about a guy sending his gpu in to diamond and after 2 months he hadnt heard from them or received a new gpu so im kinda nervous about that. plus if they find out i slapped a waterblock on there they'll void it, and i wont get it back.
i'd like to put it on ebay, because for some reason people still buy video cards that are dead. make 50 bucks or something who knows. but if diamond takes it and refutes the warranty, i wont get it back.
but in the mean time, i went to microcenter after looking on their website..
picked up a Vision Tek 7970 for $368!
so Narada is back up and running, im just outta pocket 3 bills which definitely wasnt the plan for my friday night. i just need to figure out what to do about my dead 7970.
here are some pics..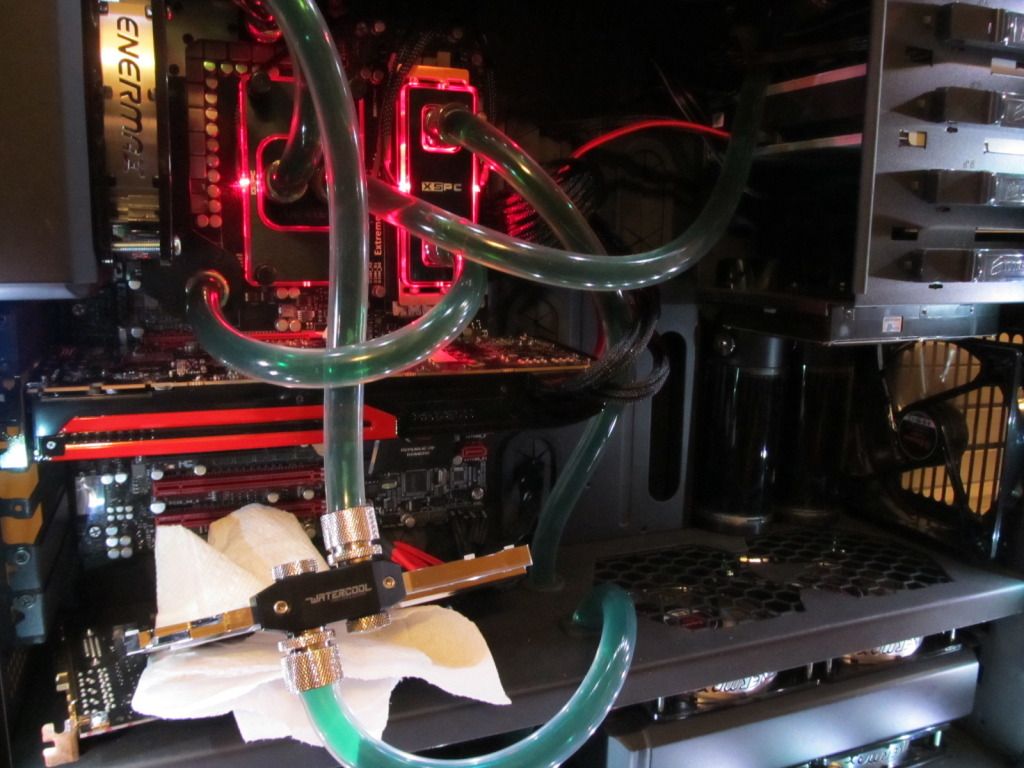 since the pics i slapped the waterblock on the vision tek and flashed the bios to ghz edition.
that's another thing im wondering about with the diamond, its also flashed to the ghz edition as well
if you guys know anyone who'd want a dead 7970 send em my way lol