What the title says.
I have a m4a79xtd evo partnered with amdbe955 and ripjaws series X 4x4gb. Tried to set the timings and clock at factory settings of the ram, but it would just hang at
Test #5 [Block move]
of memtest. I tried
G.Skills guide AMD CPU + G.Skill DDR3-1600
, but method #3 was the only thing that worked which was the 1333mhz method.
EDIT: Also FYI, my old ram which was also g.skills 4x2gb 1600 F3 4GBNQ, ran at 1600 9-9-9-24 with no problems in memtest and prime95 using the method #1 of the g.skill guide above.
EDIT: Also FYI, method #1 of g.skill guide works for me when I only run 2 sticks at a time.
I ran Prime95 and memtest and pc passed with the following bios settings:
Bus Speed @250.0 Mhz
Multiplier @14.5x
DRAM Freq. @1333 1.5v and timings of 8-8-8-24
Questions:
1. Will I ever get these ram to work @1600mhz or is there something I'm missing?
2. Is there a difference between running these ram @1333 8-8-8-24 and @1600 9-9-9-24? Speed difference?
3. Or should I get a different brand ram like corsair vengeance?
4. Am I missing anything at all if i cant run my ram at 1600mhz 9-9-9-24?
Here are some CPU-Z pics if that will help.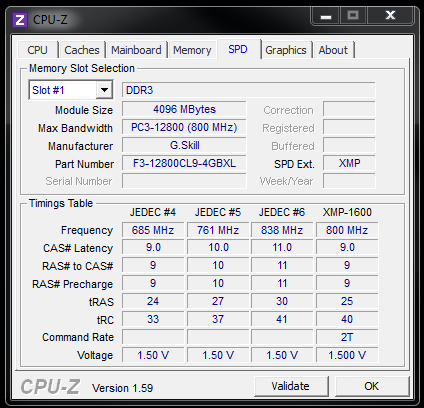 Edited by YanYan001 - 12/14/11 at 9:12pm
CPU
Graphics
RAM
Hard Drive
i7 2670QM 2.2Ghz Turbo Boost to 3.1
Nvidia GT 555M
8GB 1333
WD32BPVT, WD10JPVT
Optical Drive
OS
Monitor
Keyboard
6x Bluray
Win7 Home x64
Full1080HD LED LG TL(TrueLife)
Full Keyboard (Backlit)
Case
Mouse
Audio
Belkin Evo Backpack
Logitech Anywhere MX
JBL Built-In Speakers
View all
hide details
CPU
Graphics
RAM
Hard Drive
i7 2670QM 2.2Ghz Turbo Boost to 3.1
Nvidia GT 555M
8GB 1333
WD32BPVT, WD10JPVT
Optical Drive
OS
Monitor
Keyboard
6x Bluray
Win7 Home x64
Full1080HD LED LG TL(TrueLife)
Full Keyboard (Backlit)
Case
Mouse
Audio
Belkin Evo Backpack
Logitech Anywhere MX
JBL Built-In Speakers
View all
hide details