What the title says. Basically help this noob here -->
I am trying to figure out the optimal settings of my rig without crashes, errors, bsods or hangs.
I have C2 PhenomIIx4955 and limit for OC is 3.6Ghz, so I set bus speed at 240Mhz and Multiplier at 15.00x which defaults my HT Link to 2400Mhz and my ram at 1600Mhz. Problem is my system can't handle all 4 sticks(16Gb total) running at 1600mhz, 9-9-9-24 and 1.5v. So I have to set it lower than 1600mhz to 1333mhz, but the lowest speed after 1600mhz is 1280mhz. If Bus Speed is @240Mhz then I can only select 1280, 1600, 18??, and another option lower than 1280. However, if I set my Bus Speed @250mhz and lowering the Multiplier to 14.50x only then 1333mhz is displayed and 1666mhz something.
EDIT: It did however handle my old 4 sticks of gskills @1600 9-9-9-24 1.5v(4x2GB total).
Also should I folow the timings table of my rams displayed on CPU-Z? If so then I can go with JEDEC #4 which is 685MHz 9-9-9-24 1.50v. Is this how they are set normally?
Check the pics for more info of my system.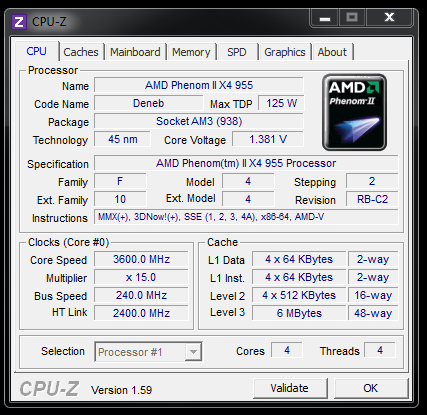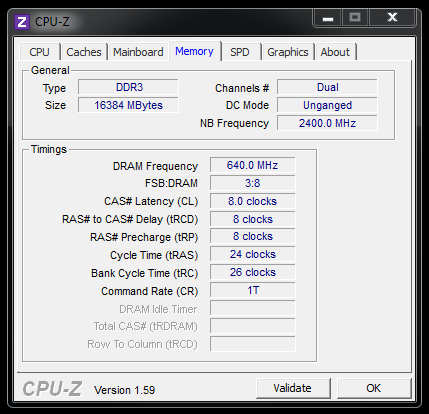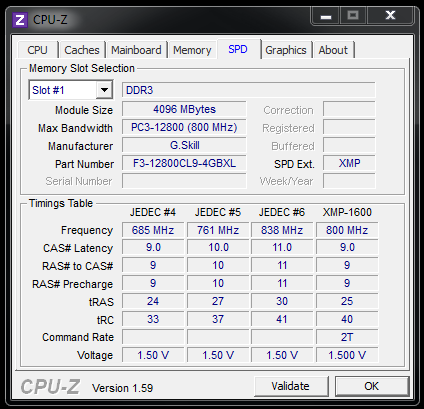 CPU
Graphics
RAM
Hard Drive
i7 2670QM 2.2Ghz Turbo Boost to 3.1
Nvidia GT 555M
8GB 1333
WD32BPVT, WD10JPVT
Optical Drive
OS
Monitor
Keyboard
6x Bluray
Win7 Home x64
Full1080HD LED LG TL(TrueLife)
Full Keyboard (Backlit)
Case
Mouse
Audio
Belkin Evo Backpack
Logitech Anywhere MX
JBL Built-In Speakers
View all
hide details
CPU
Graphics
RAM
Hard Drive
i7 2670QM 2.2Ghz Turbo Boost to 3.1
Nvidia GT 555M
8GB 1333
WD32BPVT, WD10JPVT
Optical Drive
OS
Monitor
Keyboard
6x Bluray
Win7 Home x64
Full1080HD LED LG TL(TrueLife)
Full Keyboard (Backlit)
Case
Mouse
Audio
Belkin Evo Backpack
Logitech Anywhere MX
JBL Built-In Speakers
View all
hide details