I getting ready to order my final parts for my rig. I just got the Magicool Extreme Triple 180mm Radiator in that I'm planning on putting in my RV02.
http://www.frozencpu.com/products/14196/ex-rad-287/Magicool_Extreme_Triple_180mm_x_35mm_Slim_Radiator_MC-RADI180X3.html?tl=g30c95s1552
Basically I'm looking to cool my Crossfired 6950s and my CPU. I have a XSPC Rasa kit that I'm going to pull the CPU block, Pump/Resevoir Combo, and barbs from.
This is the cheapest I have gotten so far:
Untitled.png

73k .png file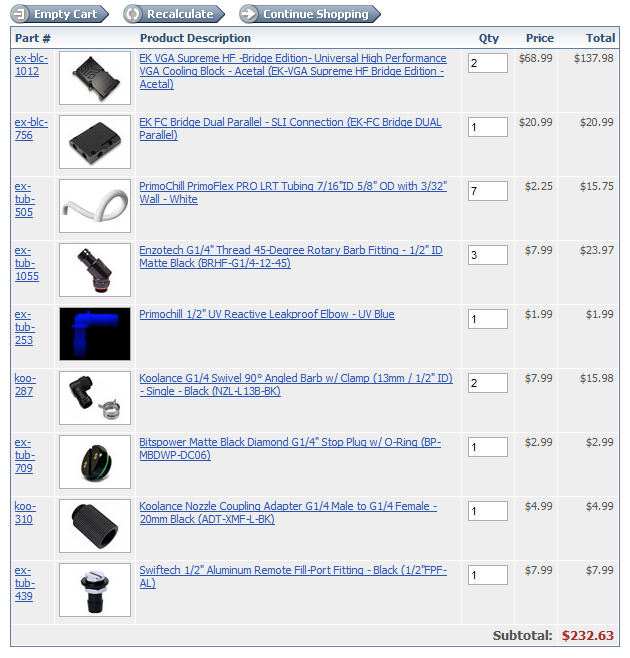 I'm looking to try to bring it down to the $125-$150 range if possible. I'm willing to use any kind of GPU block as long as it's an not a super old one. I'm not partial to full cover blocks and I'm willing to use those if I can find them cheaper. I just don't want to speed $500 just on cooling in my computer.
Edited by Triedge1991 - 12/16/11 at 11:56pm
CPU
Motherboard
Graphics
RAM
Xeon X5660
EVGA FTW3
Radeon HD 6950 2GB REF. Crossfire
12GB DDR3 Muchkin Blackline
Hard Drive
OS
Monitor
Power
Kingston 64GB SSD and 2TB Secondary
Windows 7 Ultimate
23" Acer Eyefinity
900Watt
Case
Silverstone Raven RV02
View all
hide details
CPU
Motherboard
Graphics
RAM
Xeon X5660
EVGA FTW3
Radeon HD 6950 2GB REF. Crossfire
12GB DDR3 Muchkin Blackline
Hard Drive
OS
Monitor
Power
Kingston 64GB SSD and 2TB Secondary
Windows 7 Ultimate
23" Acer Eyefinity
900Watt
Case
Silverstone Raven RV02
View all
hide details