After posting last night I stayed up pretty late working on the rig. Once the mods were finished, I wanted to dry fit everything again and see how it all lined up to figure out whether I needed any additional fittings, so I could order them right away. Also to see how boned I would be given that my
90° triple rotaries
were both damaged in shipping and I will be subbing in straight barbs until the replacements arrive.
First thing I tried was mounting the DD Monsoon res, and unfortunately another required mod popped up. The monsoon dual-bay res/pump mounts with a single vertical row of screws on each side, four on the left and four on the right.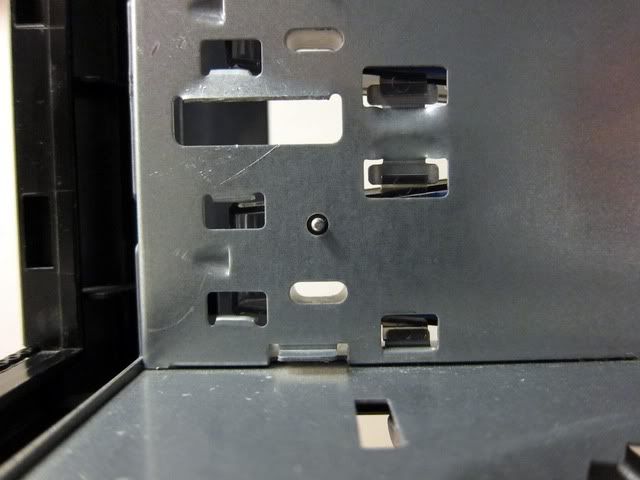 This is the left-hand side of the 5 1/4" drive cage (as viewed from the front). The oval in the middle towards the bottom is one screw point, and the little pin right above it is the working end of coolermaster's tool-less quick release mechanism for the optical bays. It's a nice feature for optical drives but it doesn't stick through terribly far so I'm skeptical it will do much work holding the res in place. On the other hand, it would be yet another minor hassle to remove them so I'm gonna leave it and see whether I can get by with two screws on this side instead of four.
And, this is the right-hand side of the drive cage. Instead of pins there's little tabbed springs which really won't do much for a big res filled with water. And there's no light behind the upper hole which means that screw hole is blocked off entirely
I definitely don't want to risk using only one screw on this side so it's back to modland.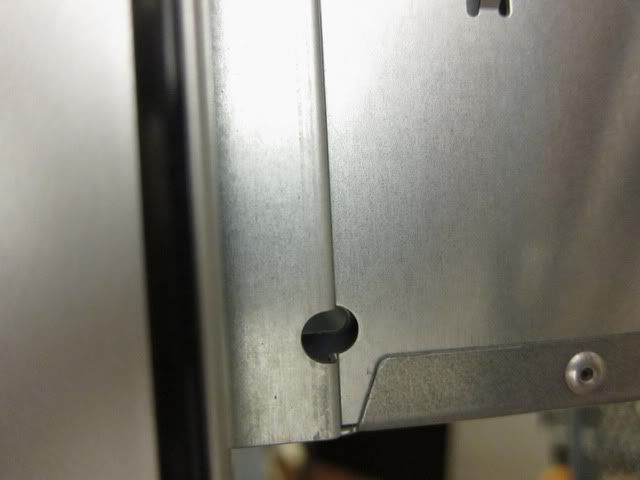 Here's the view from outside, before I went at it, and...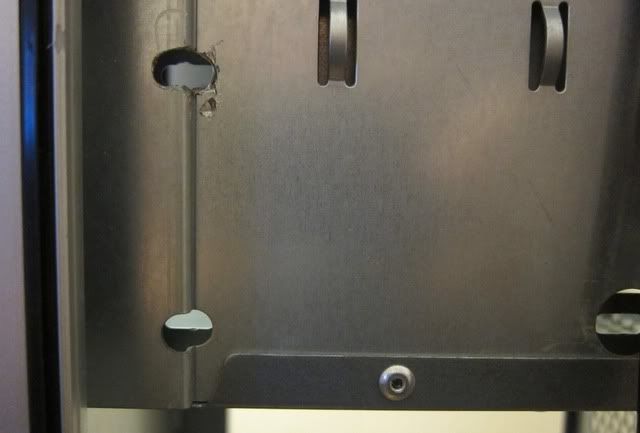 Here's after I mangled it
Once again, I used a standard drill to bore through and finished with a conical grinding stone on the dremel. The metal used on the cage is a little harder than some of the other case elements, and I had a hard time getting the drill bit to bite given the complex surface. The little divot under the new hole is a result of the bit skipping a little. Not work I'm especially proud of but this area won't be seen too often.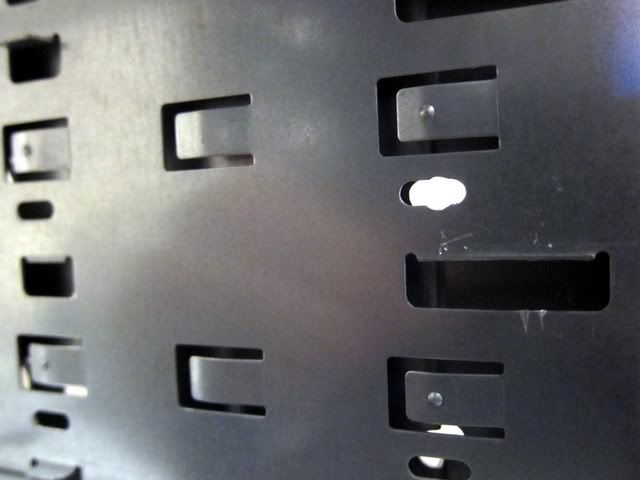 I tried my best while drilling to be as controlled as possible, but punching through the harder metal for one of my pilot holes took a fair deal of force and the bit jumped through and nipped the outer oval a little.
Luckily the slot is still smaller than the screw head I will mount the res with so I dodged a bullet there.
But it's in! Now I finally feel like I'm getting somewhere.
Edited by threephi - 1/6/12 at 8:59pm