My system:
P6T Deluxe V2 1202 Bios watercooled
I7 920 D0 watercooled
3x2GB GSKILL PI DDR3 1600MHZ 1,5v CL7
Evga GTX560 Ti SC watercooled
Corsair TX650 V2
218x21= 4578MHz stable HT off
Bios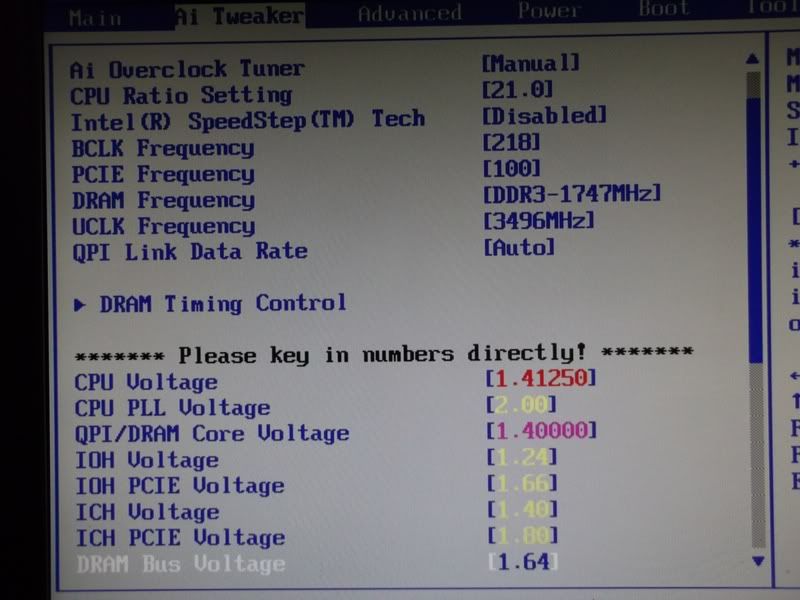 Ram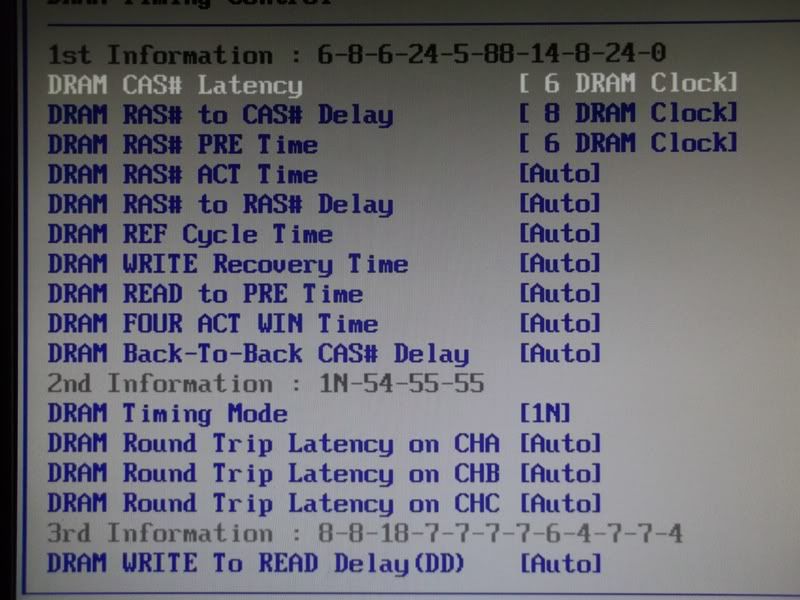 I've been trying 220x21 and 219x20 but even after rising the cpu voltage until the max the pc will not boot.
But I've been trying to raise other voltages and if I raise the QPI/DRAM voltage from 1,40000 to 1,41250 the pc boot with 219x21 and is stable enough to run 3D mark 2011.
How far can I go? I just want to know how much I can squeeze of my system, if I continue to raise the QPI/DRAM voltage can I go up to 230 + BCLK?
Have not tried 220x21 after rising the QPI/DRAM voltage because I do not know how far I can go without burning anything, The temperatures are still far from the limits recommended by the intel.
How far can I go?
Edited by Proserpine - 1/5/12 at 12:56pm
CPU
Motherboard
Graphics
RAM
i5 4670K
Gigabyte Z87X UD3H
EVGA GTX560 Ti SC
GSkill PI 3x2GB 1600MHz CL7 PSC @ 2200
Hard Drive
Optical Drive
Cooling
OS
WD Green 1TB 64MB Sata II
Slim Toshiba USB
WC powered by Swiftec MCP35x
Seven Ultimate x64
Monitor
Keyboard
Power
Case
Acer 24" / Asus 23" / 2 Samsung 19"
Logitech
Corsair TX-650w V2
Modded Silverstone Raven 2
Mouse
Mouse Pad
Audio
A4Tech Bloody Gaming Mouse Gun3 V7
Microsoft xbox360
Logitech
View all
hide details
CPU
Motherboard
Graphics
RAM
i5 4670K
Gigabyte Z87X UD3H
EVGA GTX560 Ti SC
GSkill PI 3x2GB 1600MHz CL7 PSC @ 2200
Hard Drive
Optical Drive
Cooling
OS
WD Green 1TB 64MB Sata II
Slim Toshiba USB
WC powered by Swiftec MCP35x
Seven Ultimate x64
Monitor
Keyboard
Power
Case
Acer 24" / Asus 23" / 2 Samsung 19"
Logitech
Corsair TX-650w V2
Modded Silverstone Raven 2
Mouse
Mouse Pad
Audio
A4Tech Bloody Gaming Mouse Gun3 V7
Microsoft xbox360
Logitech
View all
hide details