Quote:
Originally Posted by
Rob0rz
I've been messing around with my card and testing Lucid VirtuMVP to see what kind of effects it has and here is the comparison.
http://3dmark.com/compare/3dm11/3634452/3dm11/3634574
I just upgraded from a GTX 480 I had bought a month before getting this card. I think I can probably do some more tweaking and push the card more but I'm content with it at these speeds.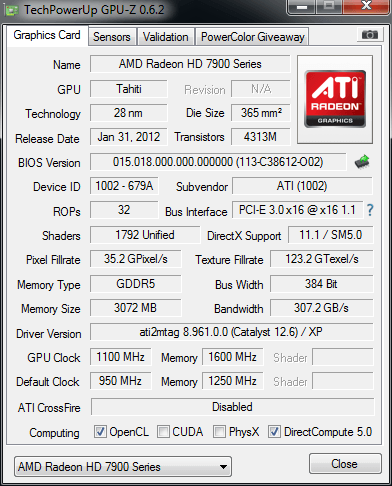 My ASIC Quality is 87.2%
This Lucid VirtuMVP is this only usefull for benching or also for real gaming performance?
CPU
Motherboard
Graphics
RAM
Intel i5 2500k @ 4,5GHz, 1.33v
Asus P8Z68-V Pro Gen3
Sapphire HD7950 OC Edition @ 1130 / 1550, 1.150v
8GB Corsair CML8GX3M2A1600C9 @ DDR3-1600, 9-9-9...
Hard Drive
Optical Drive
Cooling
Cooling
1x Samsung 830 Series Desktop Upgrade Kit
Sony Optiarc 24x DVDRW AD-7280S
Scythe Mugen 2 Rev. B
2x Front intake fans
Cooling
Cooling
OS
Monitor
1x Large intake side fan
1x Back exhaust fan
Windows 7 Enterprise x64 SP1
Samsung SyncMaster 2494hm
Keyboard
Power
Case
Mouse
Logitech Media Keyboard 600
Corsair Enthusiast TX850M
Corsair Carbide 500R Black
Logitech G5 Laser Mouse
Audio
Audio
Realtek High Definition Audio
AMD High Definition Audio Device
View all
hide details
CPU
Motherboard
Graphics
RAM
Intel i5 2500k @ 4,5GHz, 1.33v
Asus P8Z68-V Pro Gen3
Sapphire HD7950 OC Edition @ 1130 / 1550, 1.150v
8GB Corsair CML8GX3M2A1600C9 @ DDR3-1600, 9-9-9...
Hard Drive
Optical Drive
Cooling
Cooling
1x Samsung 830 Series Desktop Upgrade Kit
Sony Optiarc 24x DVDRW AD-7280S
Scythe Mugen 2 Rev. B
2x Front intake fans
Cooling
Cooling
OS
Monitor
1x Large intake side fan
1x Back exhaust fan
Windows 7 Enterprise x64 SP1
Samsung SyncMaster 2494hm
Keyboard
Power
Case
Mouse
Logitech Media Keyboard 600
Corsair Enthusiast TX850M
Corsair Carbide 500R Black
Logitech G5 Laser Mouse
Audio
Audio
Realtek High Definition Audio
AMD High Definition Audio Device
View all
hide details