Hello OCN
I now turn to you after attempting to fix this issue myself without success...
I am now running a dual monitor setup via DP+DVI and the first out of my two HD 6870s (AKA, the one with CrossFire Enabled ON) always seems to run the "GPU Memory Clock" at full load regardless of what I am doing on the machine and EVEN with my overclock disabled via Trixx.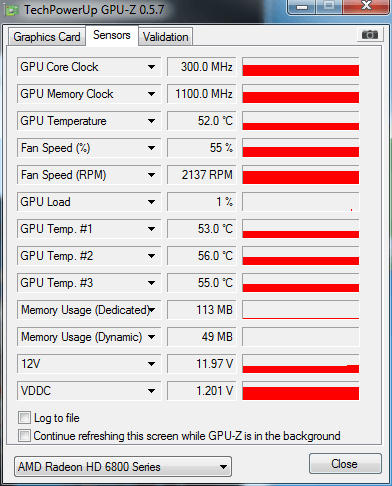 Meanwhile, my second GFX card doesn't even bother waking up until I start up a game...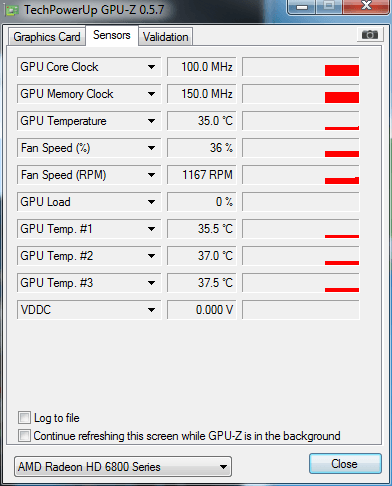 With my first GPU, I'm looking at idle temps in the 50s and this is starting to get in my nerves...I've re-installed, and re-installed and re-installed drivers. Reset and reset the clocks, all to no avail.
Am I bound to these idle temperatures as a result of the operation of the second monitor or is there a culprit?
Any help one can give would be greatly appreciated.
CPU
Motherboard
Graphics
RAM
Intel i5 3570K
Gigabyte Z77
Gigabyte GTX 970 Windforce 3X
16GB DDR3 1600MHz
Hard Drive
Cooling
OS
Monitor
90GB Corsair SSD + 2TB Raid
Corsair H100
Windows 8.1
2x Asus PA248Q
Keyboard
Power
Case
Audio
Razer Blackwidow Ultimate
SeaSonic X-1250
HAF 932
Beyerdynamic DT-990 600ohm w/ Soundblaster ZX
View all
hide details
CPU
Motherboard
Graphics
RAM
Intel i5 3570K
Gigabyte Z77
Gigabyte GTX 970 Windforce 3X
16GB DDR3 1600MHz
Hard Drive
Cooling
OS
Monitor
90GB Corsair SSD + 2TB Raid
Corsair H100
Windows 8.1
2x Asus PA248Q
Keyboard
Power
Case
Audio
Razer Blackwidow Ultimate
SeaSonic X-1250
HAF 932
Beyerdynamic DT-990 600ohm w/ Soundblaster ZX
View all
hide details