Alrighty... had to split up the other sale thread since some of the items were sorta kinda in the wrong for sale spots.
Items being sold are the:
SOLD
&
HP DV6000 Screen
Motherboard
Keyboard
CD/DVD Drive
CPU, AMD Turion 64 X2 (I think it's 1.86GHz)
2x1GB RAM DDR2 667[/U] - $50 shipped
Warning: Spoiler!
(Click to show)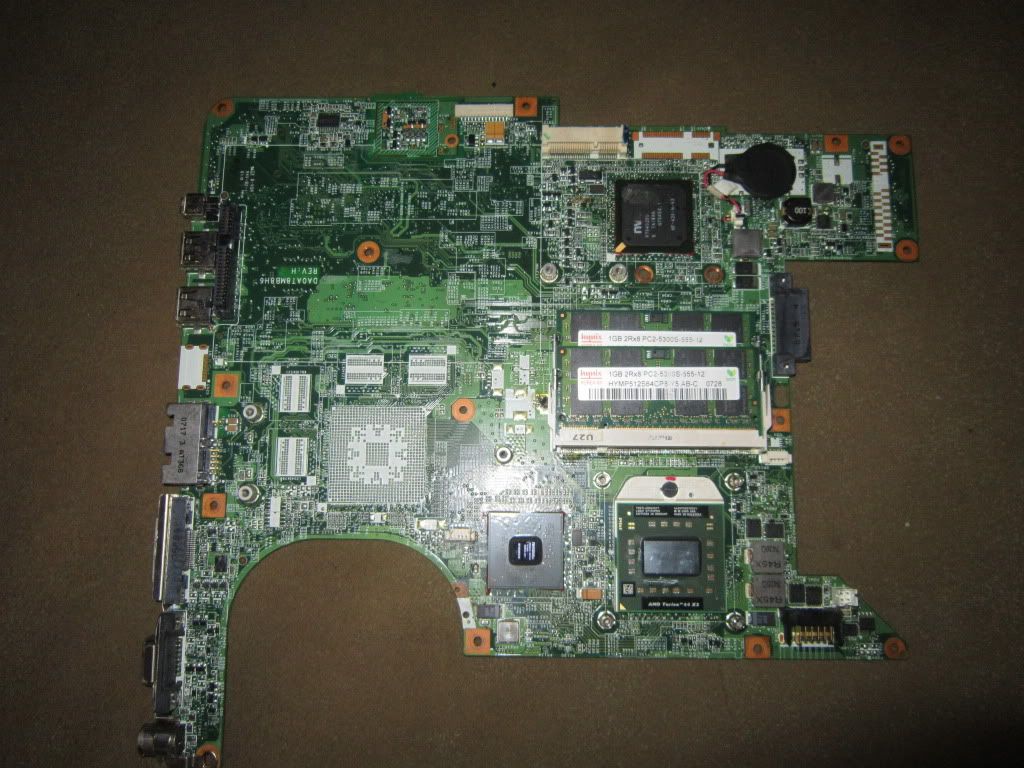 The laptop internal set comes with literally all the screws that came out of the machine when I took it apart.

I prefer Paypal as my primary payment function, at least for smaller sales like this one.
Edited by Imglidinhere - 2/11/12 at 6:34pm
CPU
Motherboard
Graphics
RAM
Intel Core i5-6300HQ
Dell Proprietary
4GB Nvidia GTX 960M
Samsung 12GB (1x8GB 1x4GB) DDR3L 1600 MHz
Hard Drive
Hard Drive
Cooling
OS
256GB SanDisk M.2 SSD
1TB HGST 7.2k HDD
Custom Cooling by Dell Solutions
Windows 10 Home 64-Bit
Monitor
Keyboard
Power
Mouse
15.6" 1920x1080 IPS Screen
Dell
130w PSU
Logitech G602 Wireless
Mouse Pad
Xtrac 'Ripper' Mouse Pad
View all
CPU
Motherboard
Graphics
RAM
Intel Core i7-2760QM
Toshiba Qosmio X775
Nvidia 1.5GB GTX 560M
8GB DDR3 1333
Hard Drive
Optical Drive
Cooling
OS
120GB Samsung 830 SSD + 1TB HGST 7200RPM HDD
CD/DVD-RW
Stock
Windows 10 Home 64-Bit
Monitor
Keyboard
Power
Mouse
17.3" - 1600x900
Standard backlit
180w Power Adapter
Logitech G500s
Audio
Harmon/Kardon Onboard
View all
hide details
CPU
Motherboard
Graphics
RAM
Intel Core i5-6300HQ
Dell Proprietary
4GB Nvidia GTX 960M
Samsung 12GB (1x8GB 1x4GB) DDR3L 1600 MHz
Hard Drive
Hard Drive
Cooling
OS
256GB SanDisk M.2 SSD
1TB HGST 7.2k HDD
Custom Cooling by Dell Solutions
Windows 10 Home 64-Bit
Monitor
Keyboard
Power
Mouse
15.6" 1920x1080 IPS Screen
Dell
130w PSU
Logitech G602 Wireless
Mouse Pad
Xtrac 'Ripper' Mouse Pad
View all
CPU
Motherboard
Graphics
RAM
Intel Core i7-2760QM
Toshiba Qosmio X775
Nvidia 1.5GB GTX 560M
8GB DDR3 1333
Hard Drive
Optical Drive
Cooling
OS
120GB Samsung 830 SSD + 1TB HGST 7200RPM HDD
CD/DVD-RW
Stock
Windows 10 Home 64-Bit
Monitor
Keyboard
Power
Mouse
17.3" - 1600x900
Standard backlit
180w Power Adapter
Logitech G500s
Audio
Harmon/Kardon Onboard
View all
hide details