I've decided to finally take the leap and install water cooling on my workstation. There are a couple of things that have lead me down this path. One of them is my motherboard got messed up from a power surge and now won't work properly. I've replaced the faulty surge protector and purchase a EVGA Classified SR-2. Since I got the SR-2 I'm finally able to overclock my cpu's and run SLI. Noise was one of the other reasons that I want to upgrade to water cooling. Finally, I've always wanted to have a water cooled system I just never had a system worth doing it to.
Current Setup
Supermicro MBD_X8DAH+-O Server Motherboard
2 x Intel Xeon E5620 Westmere 2.4GHz
2 x GTX 470 1280MB GDDR5
2 x 64GB SSD's in RAID0
2 x Corsair H50 CPU Coolers
24GB DDR3 1333 ECC
2TB HDD Backup
Kingwin Lazer 1000W Power Supply
Cooler Master COSMOS S Case
Here's some pictures of my current build: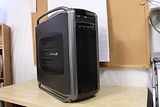 Now here's everything I'm going to add or change in my system.
New Components
EVGA Classified SR-2 Motherboard
Rosewill BLACKHAWK-ULTRA Case
Water Items
XSPC Reservoir for Laing D5
2 x EK Acetal + EN (Nickel) Waterblocks
Feser Tube Active UV Hose
12 x Enzotech Compression Fittings
Enzotech 90 Degree Rotary Compression Fitting
PrimoChill Fluid Red
2 x Swiftech Apogee HD WT CPU Waterblocks
Swiftech MCP655 Pump
Enzotech SLI Bridge Fitting
Swiftech MCR220 Radiator
Swiftech MCR320 Radiator
Water Layout Diagram
I'll post pictures once I get everything delivered and installed.