Add me to the list of completed Antec 620 mods.
GPU: nVidia EVGA GTX 470 (SLI)
Cooler: Antec 620
Lapped: 620 / IHS (IHS not removed)
I didn't create a work log because I didn't want to waste time updating a thread instead of actually doing the work.
I did, however, take a couple of pictures: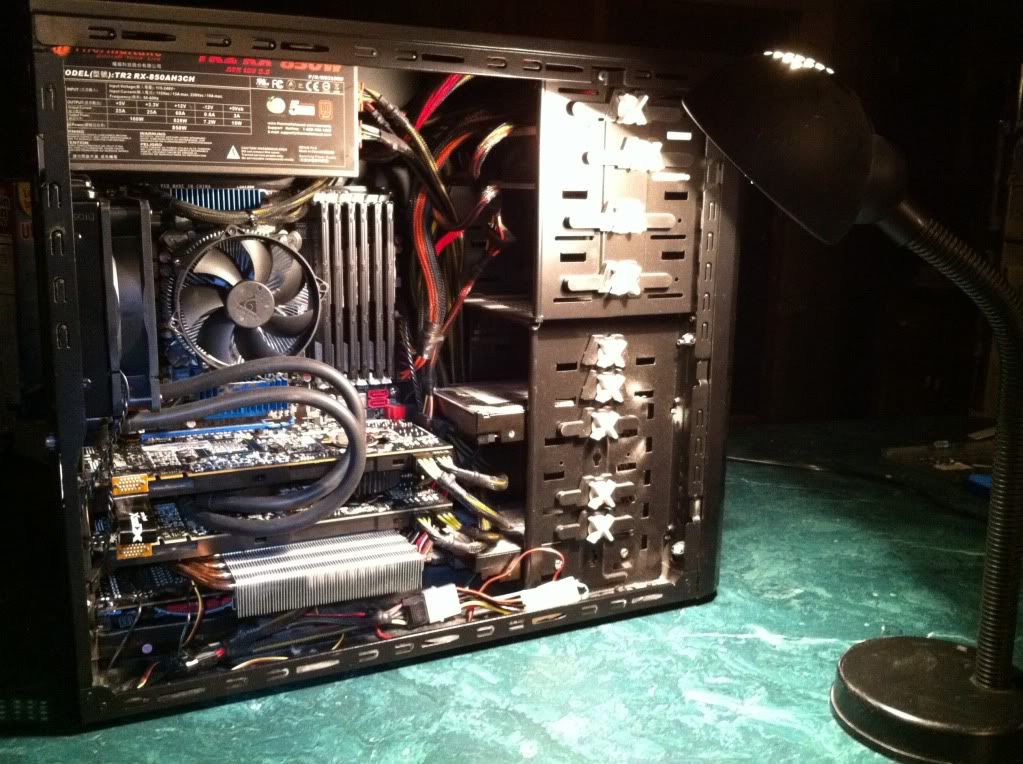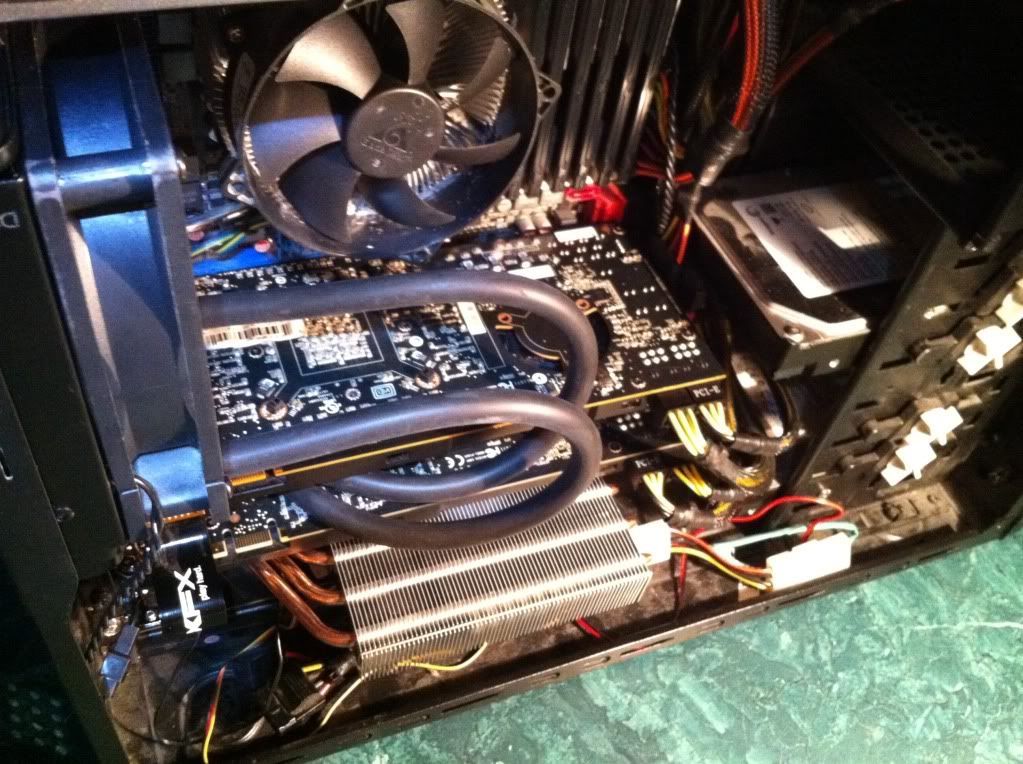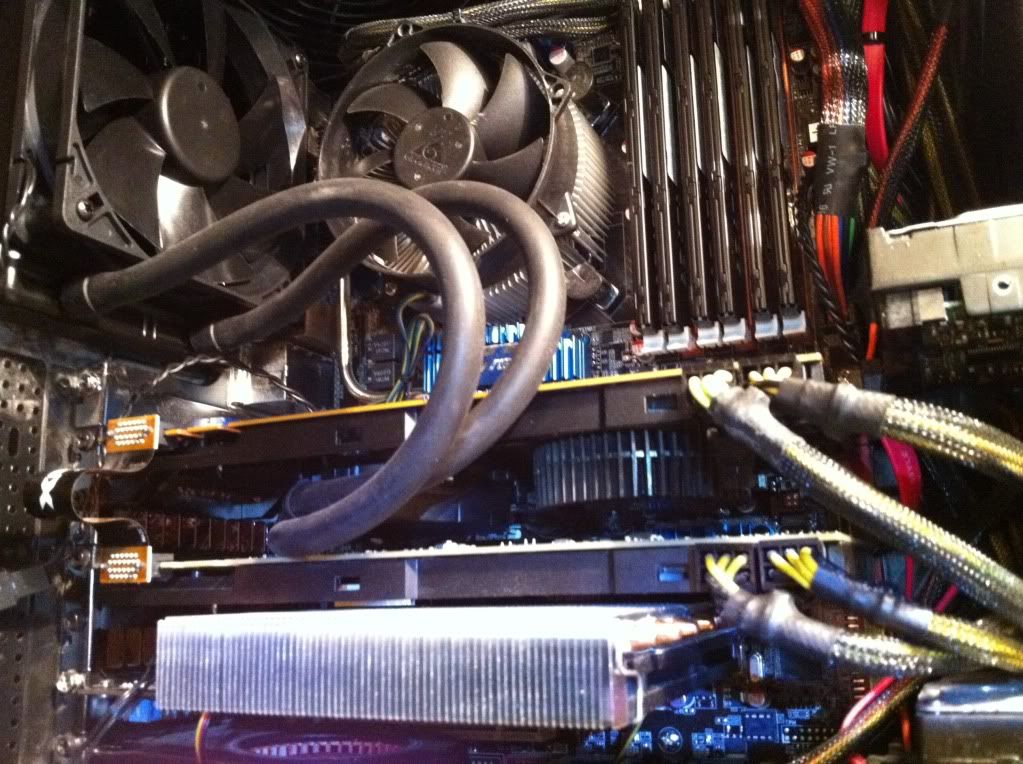 As you can see, my case is pretty packed. I don't really want to try to make room for a second 620, but if you notice, I have an aftermarket cooler on the bottom 470. It's a Scythe Setsugen 2, and it does a pretty good job of keeping the card cool.
After running furmark for 1.5 hours, my bottom card was holding at a consistent 92 C under 97-99% load. This isn't a low temperature, but it doesn't concern me as the GTX 470 is rated up to 105C. Seeing as how I don't really have room for another 620, the Setsugen is much more preferable over the stock fan because it is many times quieter, even at full speed.
The top card, however, (the one with the 620) peaked at 75C. I'm pretty happy with that. Most games/programs won't stress the GPU to 100% use for the whole time, so with these temps after 1.5 hours, I feel pretty safe that I won't be having any thermal issues.
Just for clarification, the last screenshot showing GPU temps needs a little explanation. The current temps should be ignored -- that just shows what the cards had cooled down to before I could take a screenshot. The max temps are what's important, because the max temps were sustained in furmark. I'm not sure how everyone else is getting their max temp readings, because some seem quite low (like a peak temp of 45C??). If you ran furmark for 1.5 hours and your max temp was 45C, I would be extremely impressed. Then again, I only have one fan blowing over the radiator (although it is a "push" fan), and my gpus are stacked closely, so I'm sure that has some effect. Still, I think my max temps are more realistic and compared to before (90-100C), it's a world of difference.
I lapped the 620 and the IHS. I didn't remove the IHS because I didn't feel like the risk to reward ratio was enough to justify it, but I certainly could've used the extra space removing the IHS would've provided. There is zero room between the cards, but they have just enough space so as not to be exerting an inordinate amount of pressure on each other.
In the near future, I'd like to buy a different case with a little more room. Eventually, I'd like to add two more 620's -- one for my other gpu, and one for the CPU (what the 620 is actually meant for). As I have an intel i7 920 @2.8GHZ, it would be nice to have overclocking capability, and I don't feel comfortable doing that with the stock air cooler. (That said, my temps don't go above 70C under full load as evidenced by Prime95).
So there you have it. I was inspired by all of the success stories here on OCN and decided to do it myself, mainly to reduce noise levels. So far, it's working wonderfully, and I'm extremely pleased with the results. The only bad thing about the install was that I had to bang out a small indentation on the side panel of my chassis because it was preventing the side panel from closing fully. It looks a little jacked up now, but the worst thing about it is that I have to use a little force to screw the panel back in because I changed the way the panel bends when I "modified" it. A new case (or new side panel) would fix that problem. Is it possible to get a generic black sidepanel that would fit my case?
Edited by lukeman3000 - 2/12/12 at 2:53pm