So i had a 2500k some ram and a psu with some hdds kicking around thought hey i would grab a mobo a small case and call it a build....
Parts:
PSU:
Corsiar HX 850w
(have)
Sleeving: 24 pin and video card extensions from NZXT
Case:
Silverstone Temjin TJ08B-E
(ordered)
Fans:
Yate Loons - High Speed
(have)
CPU cooling:Raystorm(have)
CPU:
2500K (will enter batch when i get home)
(have)
Ram:
Corsiar Vengance 2000mhz 2x2gb
(have)
Mother Board:
EVGA Z68 SLI Micro
(have)
HD:
F1's for a total of 2 tb (might raid)
(have)
Video Card: 2 fully blocked wcd 6970's
Radspace: 180mm in the fron and a 120 in the back
Fan controller: a small one for the bottom 3.25 inch bay in the front
Plan:
So as you can see there is alot of stuff going in this very small case. Im excited to finally build in this line of cases as i have yet to do so. Ill be updating the thread as much as i can and the ETA on this is end of april
This is going to be used to take to a friends house or lan parties as well as the KYGO rig (stands for: Keep your girlfriend occupied)
UPDATE TIME:
So i know ive been lacking on the pics so i got a lot here, if theres anyhting anyone wants to see ask ill do what i can.
This is the case. When i took it out i was in love
The case was so studry i was in awe. The finish so elegant i didnt even want to touch it incase i got it greasy. The fan grill that is displayed i must say is wicked. The magnets that hold it on and the elegant grove its designed to sit in are perfect. It complements the case so so well. You will also notice a piture of the bottom. THis is to show that the mobo tray is removable. A feature i was unaware about but extremly pleased to see.
Warning: Spoiler!
(Click to show)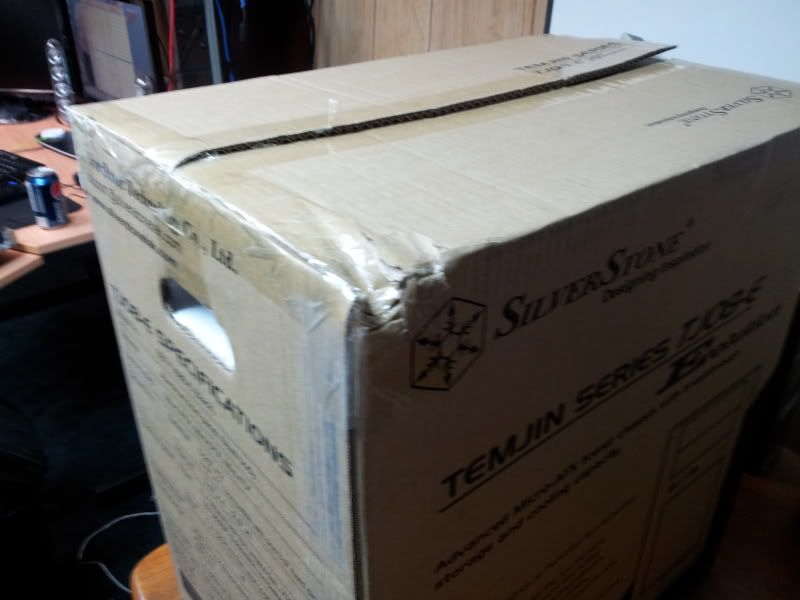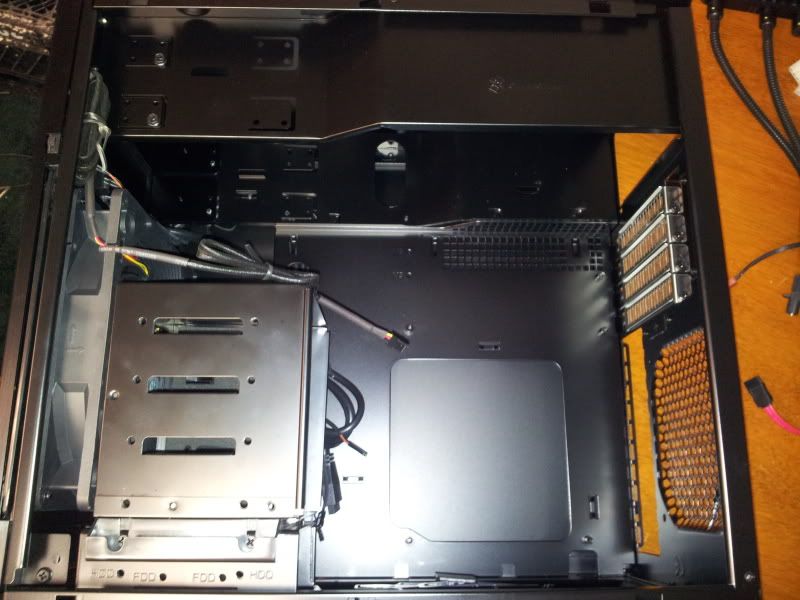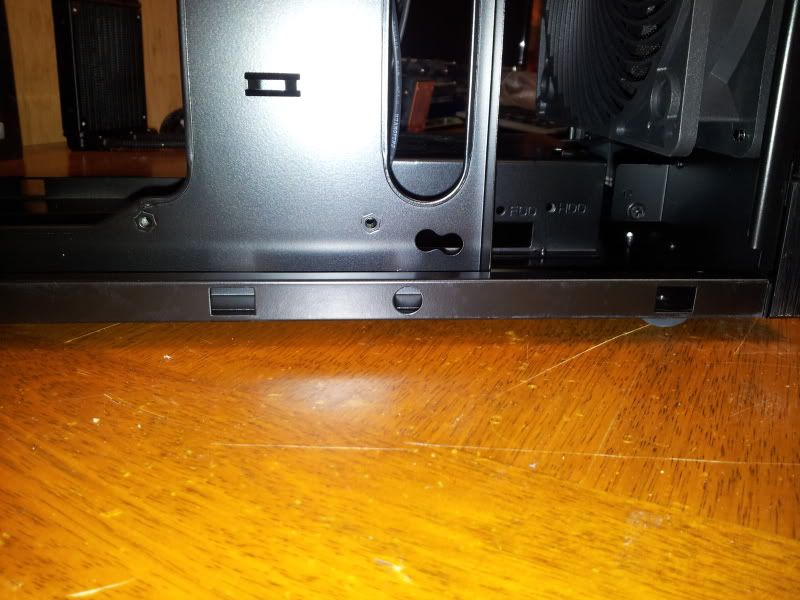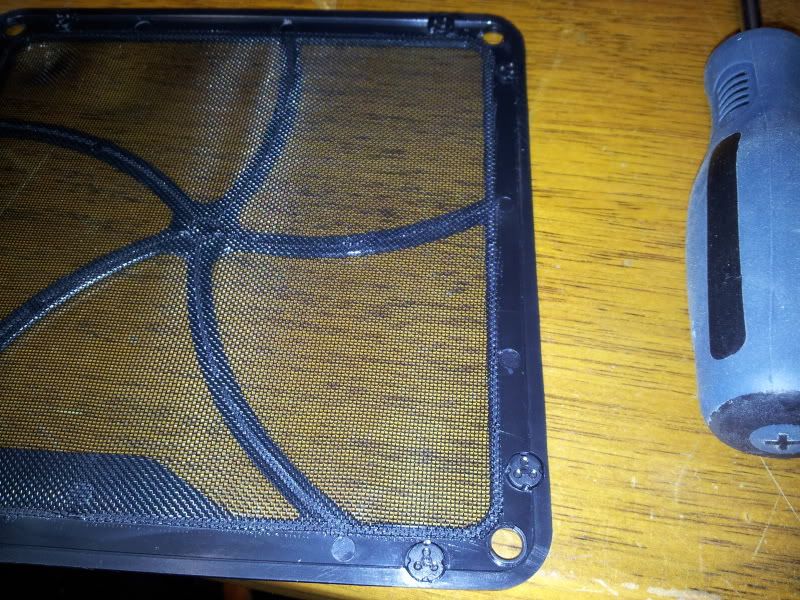 I started buy putting it all together with a closed loop system i had. Pics are to follow
Warning: Spoiler!
(Click to show)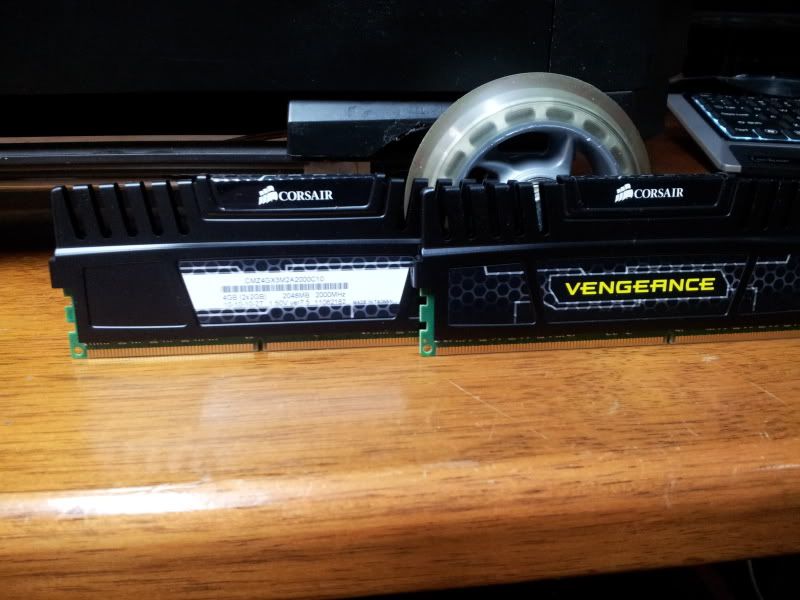 My ram
Mr upside down mobo
The fans
The fans mounted
I managed to mount the fans all stealth like
The GPU
The drivebay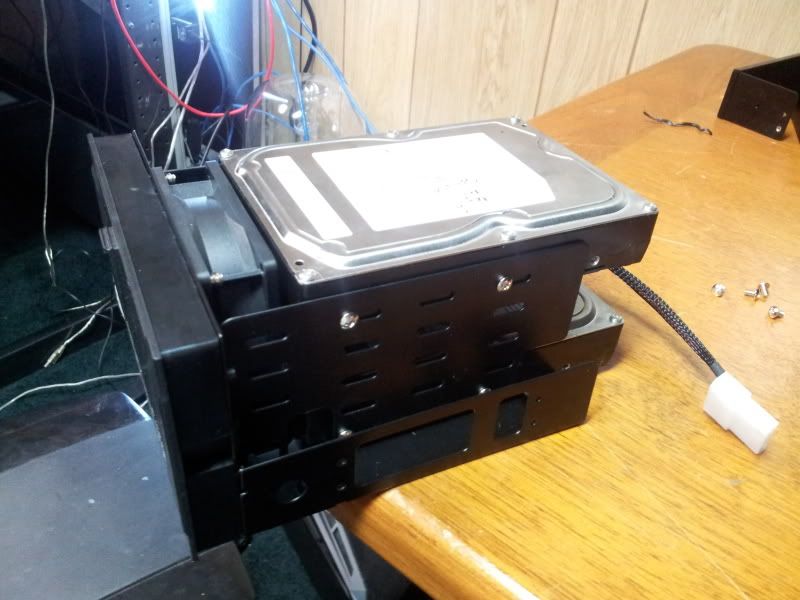 Drives in
I love these guys from toystory
The watercooling stuff goes here
Warning: Spoiler!
(Click to show)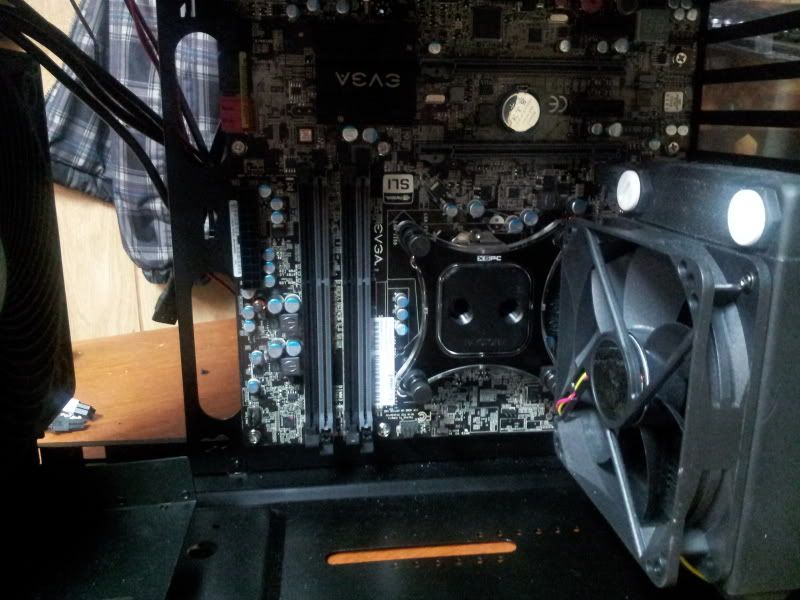 I didnt bother taking pics of the rad or the raystorm as there are tons already. Everything was easy as pie to mount
my sexy rad 180mm of wickedness
Whats this
O know my case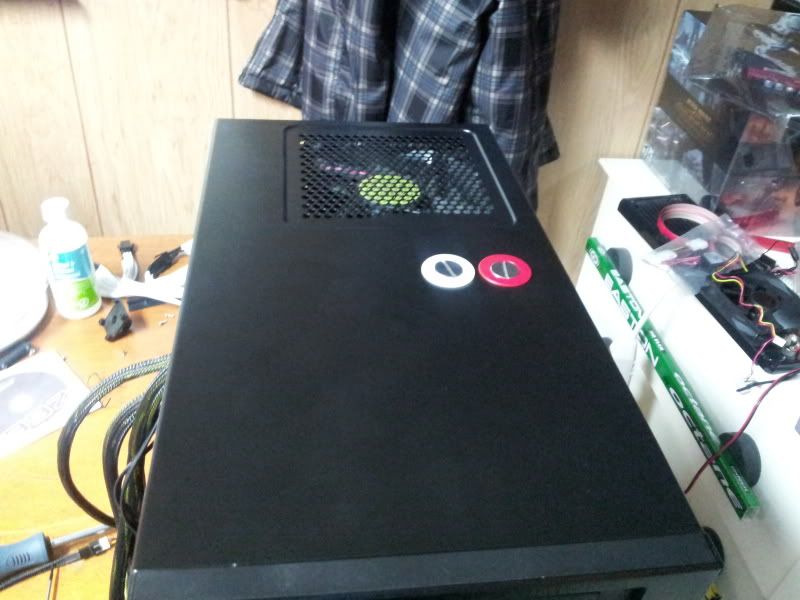 O sexy fill ports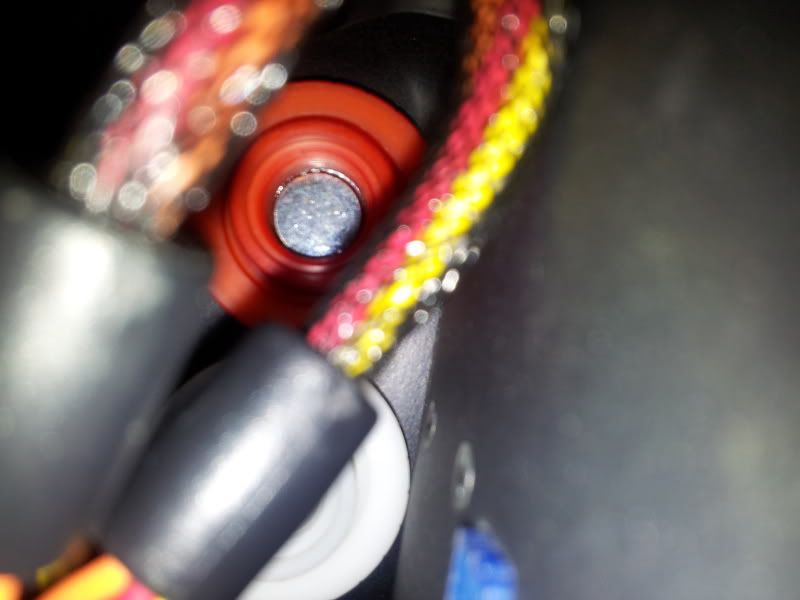 My dad does nothing but perfection.. i mean look at me right
but rly he cut the holes for the fill ports his margin of error was 0% there is less then 1mm of extra space.. he did a great job
my naked card
with the block on it, and the crystal link ill be using for my other card.. when it gets here
Randoms from the build
Warning: Spoiler!
(Click to show)
Bent screwdriver from sprippign a screw trying to take the front panel off... i finially got it off after my dad managed to get that screw out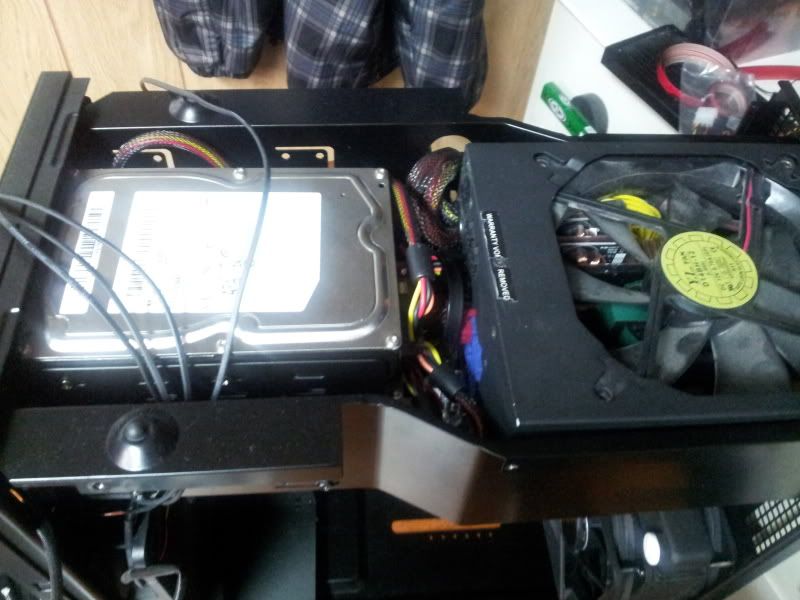 The mess up top
the tightest fit i have ever seen (and yes thats what she said)
Rubber thing for the video cards to rest on the hd if i used it
Moar updates because axipher wanted them
so i added these beauties to teh build... and the screws for my gpu block are in tn so ill be picking them up
Warning: Spoiler!
(Click to show)
update time again:
so yesterday i had a busy day. i bult 3 rigs and took a more indepth look at mine
pics
my gf's little rig
Warning: Spoiler!
(Click to show)
this rig has a 120gb ssd mounted under the dvd drive
a builder series corsiar 430w psu
a gtx280
i5 2500
8 gb of 1333 ram
lian li case
this is my first sff build and i must say nice case hard to work in but it looks so cute she loves it and i get some love back (if ya know what i mean)
my buddy dans rig
Warning: Spoiler!
(Click to show)
tho this rig costs about 600 ish
A8-3870K
ASUS F1A75-M mATX
hyper 212 evo
6670 for hybrid xfire
430w corsiar builder psu
sorry for no pictures of teh inside but i just forgot to take some
last one i did yesterday was petes rig
Warning: Spoiler!
(Click to show)
this one contains a amd quad core PII
antec 520 w psu
...... id like to comment this was the first time i have ever used a non corsiar psu and i must say im extremely happy. it was by far teh most fun ive ever had routing cables and using the modular system was amazing. i will def recommend these to others from now on.
the bitfenix merc alpha.... also a first time and im in love wioth this case its easialy the best budget case i have ever used the features are amazign and the simplicity is unparalleled
the board is a CROSSHAIR extreme board.
will eb running 8 gb of ram (ripjaws)
and a 460 (was DOA) so i had to rma it
so as you can see i was busy XD
but i did take a few pics of what im trying to do here adn im goign to have to drill otu a few hoels as the adapter i have isnt working with a thin fan in front. And because my psu is so long the wires are jsut not being cooperative
Warning: Spoiler!
(Click to show)
my little 80mm fan its only 15mm thithck XD also note i have cutom casebadge stickers i put on all rigs i build
there so much crap in teh drive bay its unreal. You have to see it in person to understand the headache im goign through trying to put a larg
e psu and 4 drives in teh top part of teh case
so ive got most of the plumbing done just need to put the drain ports in. I got a fast question for you all tho. I have a flow meter in there what can i hook it up to?
Warning: Spoiler!
(Click to show)
Edited by Onions - 6/27/12 at 7:50am