as the title shows, and my warranty gone lapsed and i'm on my own to deal with it
failing clicks really sucks to imagine, i searched how to 'dissect' this mice and see if ican find anything inside to fix that annoying issue. but my presumption was there might be something wrong with the button or anything that was hitting the switch to make it's function, worn or something like that.
and good that i found at youtube how to open this thing and off i go:
( images are not that clear cause later i found out that my point and shoot cam's ISO had been messed
)
here i carefully detached the 2 OEM teflon skates so that i can re-use them after, i cut that hole just above the lower skate to access the third screw: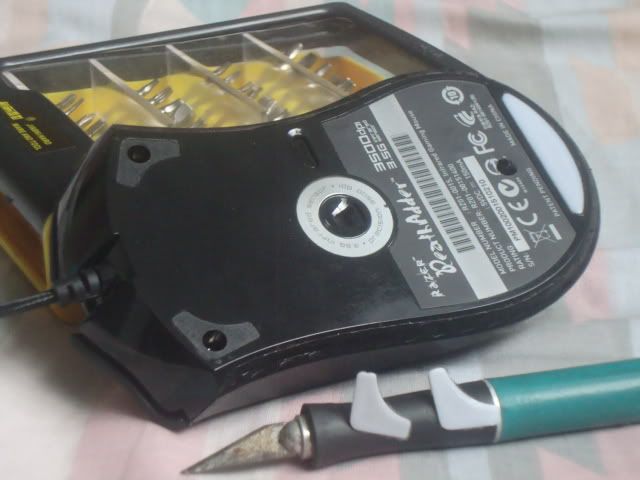 opened, and found nothing wrong with the mechanical s hitting the actual switch as i expected. just a few specs of dusts presented.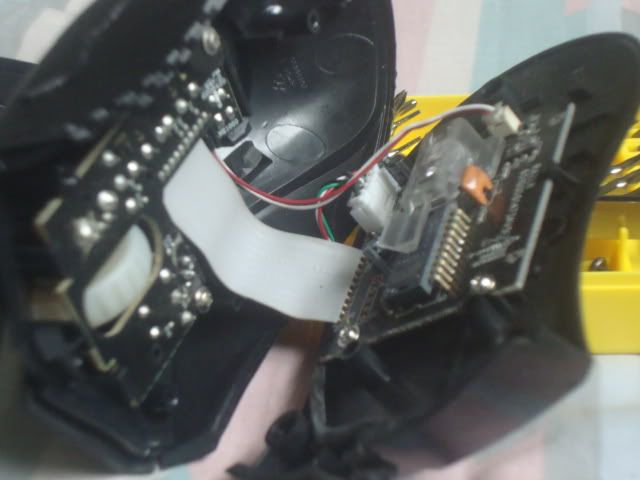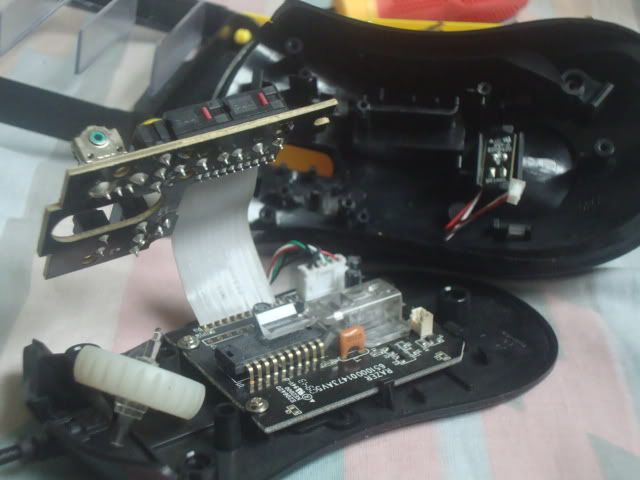 what i did was; gave those micro crevices at those switches some hard blows of air ( i dont have the compressed air in can at hand so my mouth did the job somehow
)
assembled it all back and great that my teflon skates got that nice stick still, but i will definitely get a new set of those soon.
now, what happened after that dissection and blowing those switches?
hah! left clicking now as it was new again, response gone back !
i've seen some complaints around regarding with the double clicking issues and i guess 'specs of dirt/dusts' might be causing them either, and it's not that hard to do that cleaning if your warranties had lapsed.... just be careful dealing with hte internals cause they seems that fragile
Edited by swOrd_fish - 2/15/12 at 3:44am
CPU
Motherboard
Graphics
RAM
Core i7 920
MSI X58 Pro-E
MSI GTX560-Ti TwinFrozr II OC
6 GB Corsair XMS3 Platinum 1333Mhz
Hard Drive
Hard Drive
Hard Drive
Optical Drive
2 x 500GB Wester Digital Caviar Blue @ RAID-0
640GB Western Digital Caviar Green (Storage)
500GB Western Digital Caviar Blue (Storage)
Asus DVD Lightscribe
Cooling
OS
Monitor
Keyboard
Cooler Master V8
Windows 7 Ultimate 64bit SP1
Asus VX239H
Razer Arctosa
Power
Case
Mouse
Mouse Pad
Antec TP750 750W
Lancool Dragon Lord PC-K56
Corsair M60
Razer Goliathus Alpha Speed
Audio
Audio
Yamaha RXV350 5.1 DD/DTS AV Receiver
Razer Piranha
View all
hide details
CPU
Motherboard
Graphics
RAM
Core i7 920
MSI X58 Pro-E
MSI GTX560-Ti TwinFrozr II OC
6 GB Corsair XMS3 Platinum 1333Mhz
Hard Drive
Hard Drive
Hard Drive
Optical Drive
2 x 500GB Wester Digital Caviar Blue @ RAID-0
640GB Western Digital Caviar Green (Storage)
500GB Western Digital Caviar Blue (Storage)
Asus DVD Lightscribe
Cooling
OS
Monitor
Keyboard
Cooler Master V8
Windows 7 Ultimate 64bit SP1
Asus VX239H
Razer Arctosa
Power
Case
Mouse
Mouse Pad
Antec TP750 750W
Lancool Dragon Lord PC-K56
Corsair M60
Razer Goliathus Alpha Speed
Audio
Audio
Yamaha RXV350 5.1 DD/DTS AV Receiver
Razer Piranha
View all
hide details