Apologies if I've put this in the wrong spot?.. Let me know & I'll move it if so.. Cheers
Thought I'd do a review of some PC Cooling fluid, Namely

"MAYHEM'S"

& specifically the

AURORA

range.
Below is just a very quick introduction to & how Mayhem's came about. (I think
)...
Now it used to be & not so very long ago, that, you had little choice as to what liquid you used for cooling your blocks e.t.c, & yes I know there were & are plenty of companies that sell various types ie: De-ionised, Premixes e.t.c but these all were pretty much clear fluids, No real bling.
So then, along came some dyes, So the water cooling fraternity could at least add abit of colour to those oh so drab clear tubes, Unfortunately not all dyes were as successful as hoped, many people complained about the dreaded "gunk" e.t.c that some seemed to produce, even after a fairly short period of time. Coloured pre mixes were also soon bought onto an ever increasing market for coloured cooling fluids & again some of these were abit hit & miss.
It was then that around mid to late 2008 to 2009 that a certain Michael Wood (Mick) decided to make his own dyes & after an awful lot of hard work & dedication he succeeded in producing what he though was a much superior product to what been available in the market place in the past & "MAYHEM'S DYES" were Born.

Not one to sit on his laurels, Mayhem's continued to develop & improve his Dyes, As well as setting out right from the beginning, to have & to maintain a very conscientious & healthy view to Customer Support. He soon established himself with the initial line of dyes & became synonymous for producing Dyes that were extremely powerful and reliable in a water cooled system & not leaving any residue or gunk. Building upon this, Mayhems then expanded into the bottled coolant sector of the industry.
Mayhems again responded to the challenge of manufacturing a superior range of products, of which customer feedback played a integral part. The bottled coolants that Mayhem's now produce, is probably coming on for the widest choice of colours that any water cooling company produces, along with the many coloured Mayhem's Dyes you can purchase this enables the more artistic nature in some coolant users to actually make up your own colours & go mad
..
OK!! Thats the brief introduction to Mayhem's done, Lets move on to the Fluid that I am reviewing here today for you.
It's the New AURORA range of coolant I'll be looking at today. This is a Brand New take on the currant fluids on the market today. This Aurora coolant has as it's centre piece... Micro PERLECSANT Particles infussed into it!!!..
The effect this has in the right Reservoirs & Clear Tubing Loops is a Kaleidoscope of Swirling Waves & Clouds tumbling around in the reseviour & blocks as well as providing a clear indication of movement in the the loop tubing themselfs.
There are eight Aurora fluids at present.
Chunky_Chimp edit: do NOT use white text on this site, it is possible Google could spam-list this page based on their policies regarding text color matching the background color.

Extinction Green
Galaxy purple
Gemini pink

Hydra gold

Nebula blue

Ring-Tail gold

Supernova clear

Tharsis red
This is all very nice I hear you say, but, How does it stack up against a clear premix fluid, like, does it cool as efficiantly, if not, whats the difference?, Do the Micro particles settle out or inhibit the cooling in anyway?..
Well, These were also questions I wanted to have answers for.
This review is being run in an, In-use every day PC (not a test bench e.t.c) It's been run in my Slightly Modded HafX Case with two cooling loops, A CPU loop & a GPU loop, the layouts of which are listed below..
I have the "Aurora Supernova Clear" & "Aurora Nebula Blue" coolants, I will be using the CPU loop for this particular review & some "Aurora Supernova Clear". I also have a selection of Mayhem's Dyes, which I will be trying out in the Aurora supernova clear at a later date.
OK!! So lets have a more detailed look at what I'll be using for this particular review.

As I said above, I'll be using the Aurora Supernova Clear for this intial review & the Aurora Nebula Blue at a later date, along with some Mayhem's Dye (havn't decided the colour yet)

Here is a pic of what I'll be using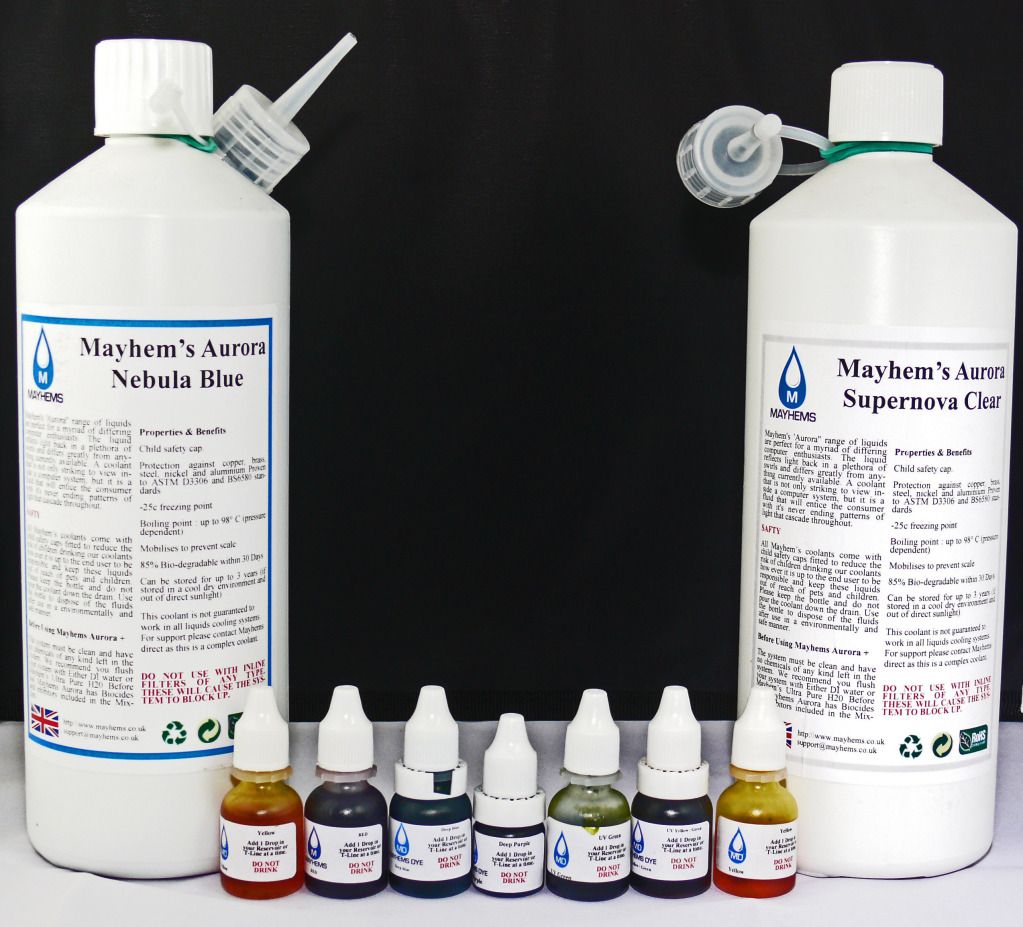 The Bottles are of good quality with a clearly written up label, with childproof safety tops including an extra pointed pouring cap that is held in place with an elastic band.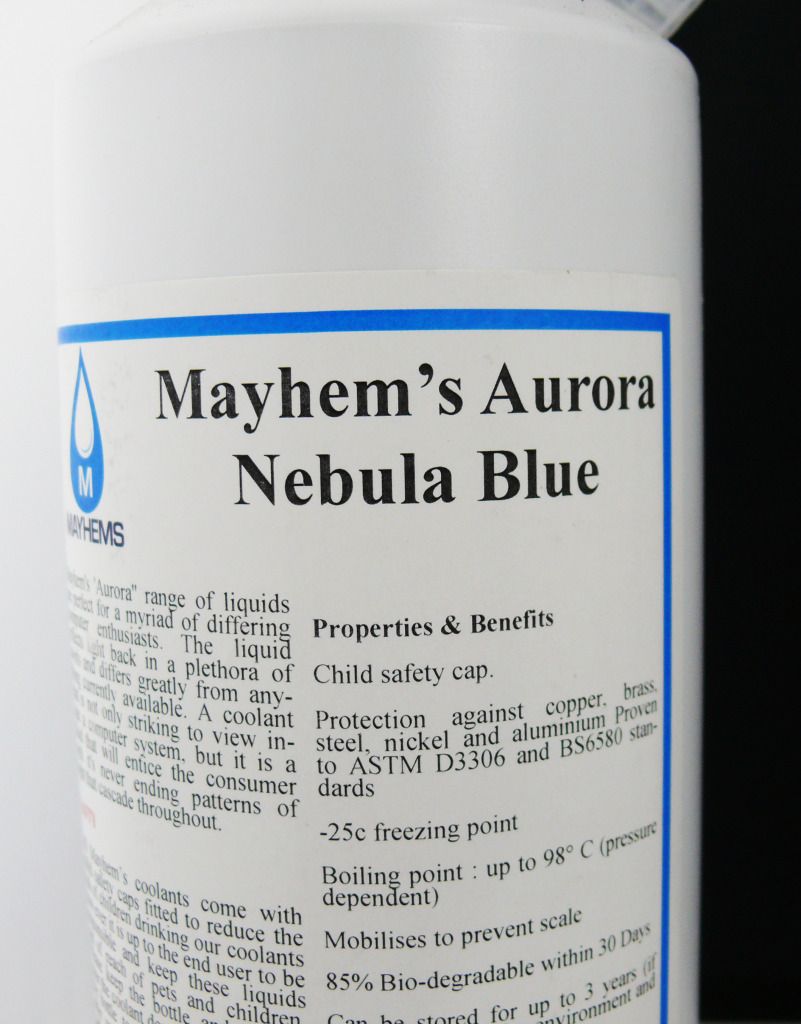 Here is a selection of Mayhem's Dyes, some of which I will be using a bit later on.
The Dyes come with a fairly substantial Information & Instruction leaflet (another nice touch)
Set up the test will be run on consist of:
• HafX Case (Modded a Little)
• Intel i7 860 @ 3.8Ghz with 1.32v (Stock 2.8Ghz)
• Asus Maximus III Extreme
• 8GB Corsiar XMS3 1600MHz (4 x 2GB) 1.65v
• 3 x N460GTX Cyclon's OC'd @ Core 935MHz Mem 2200MHz with 1062v
• 1 x OCZ Agillity3 240SSD & 2TB WD HD
• Cooler Master Silent Pro 1000W PSU



Cooling:


CPU Loop
• EK Supreme HF (Nickle/Plexi)
• Aquaero5 VRM Copper Waterblock
• 1 x Koolance High Flow 360mm Triple Rad (Roof of case)
• 6 x Scythe Kama Flow2 (in push/pull config) 1900rpm
• 1 x Laing DDC1 Plus-T-Ultra 600L/hr with XSPC V3 Acrylic Top
• 1 x Phobya Balancer 150 Gold Plated Res (I don't think it's real gold
)

GPU Loop
• 3 x Aquacomputer AquagraFX NVidia GTX 460 full cover blocks
• 1 x Phobya Xtreme 200mm Rad (side panel) & 1 x Hardware Labs Black Ice SR Series 280mm Dual Rad (front intake)
• 1 x NZXT 200mm 11 Blade Rifle Bearing fan
• 2 x NZXT FX-140LB 140mm case fans
• 1 x Laing DDC1 Plus-T-Ultra 600L/hr with XSPC V3 Acrylic Top
• 1 x Phobya Balancer 150 Gold Plated Res (I don't think this ones real gold either)

Temperatures (6 x inline sensors & 4 x bladed sensors plus M/B CPU & GPU die sensors) & Fans are all controlled by an Aquaero5 Pro & 1 x Power Adjust 2 Ultra....
FIRST IMPRESSIONS
My first impressions on taking the Aurora bottles out of the packaging was, How clear & imformative the labels are on the bottles, maybe could do with just one more bit of imformation on them, that is, A reminder to "*Shake the Bottle Well*" before pouring it into your system!!... Maybe obvious to most, but never the less, I can't help think that some will start pouring without first giving it a good shake... Anyway apart from that, It's the usual good packaged product you'd expect from Mayhem's..
The next thing I noticed & was somewhat surprised by, was, Just how fluid this Aurora is!!!!.... I'm sure that sounds screwed up to most of you, but, well I'm not sure what I expected to be honest... I did wonder when this Aurora was being tested by Micks little helpers, wether it was maybe a little thicker than water or de-ionised water e.t.c as the pics I was see'ing the fluid did look alittle like it had been thickened up by the adding of the particles, if you see what i mean
... OR....... Is it just me that thought that?...... If so....I'll get my coat now shall I!!...
...
Well....You'll be pleased to know, that is pretty much just as water is, you can't tell any difference when pouring it or by feel, apart from how this amazing stuff blows up these magical swirlls & clouds...

Now before I put the Aurora into my CPU loop, the loop needed emptying of the Mayhem's X1 Mix (with yellow dye) & give the loop a damn good flushing with a few litres of de-ionised water.
After connecting the loop up again it came to pouring in some Aurora Supernova Clear. So after giving the bottle a good shaking, I began pouring the fluid into my res & turned the pump on...... The Aurora is in full effect right from the start as you begin to fill the res, anyway more on how it looks later...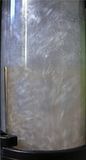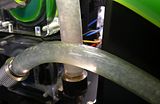 Now lets get down to how it performs thermally compared to a) Mayhem's X1 Primix & b) Distilled Water Only.
This test was run using three fluids & run through the same loop with all the same OC's, Voltages E.t.c. Room temp was kept with-in 1°c< @ between 23°c > 24°c for all three fluids & run for 8Hrs using prime95 blend. For the purpose of this review & for the graph below I'll be using 4 hours as the time frame (The temps beyond 4hrs had very little if no alterations from the 4Hr readings)
First up here's the graph with the results..
As you can see there is very very little difference in the temps between the three types of Fluids. So for my particular loop set-up this Aurora not only looks good but also it performs well compared to Pre-mix fluid & Distilled Water it's replaced..

Here are some screen shots right up to the full eight hour runs..

4½Hrs Prime95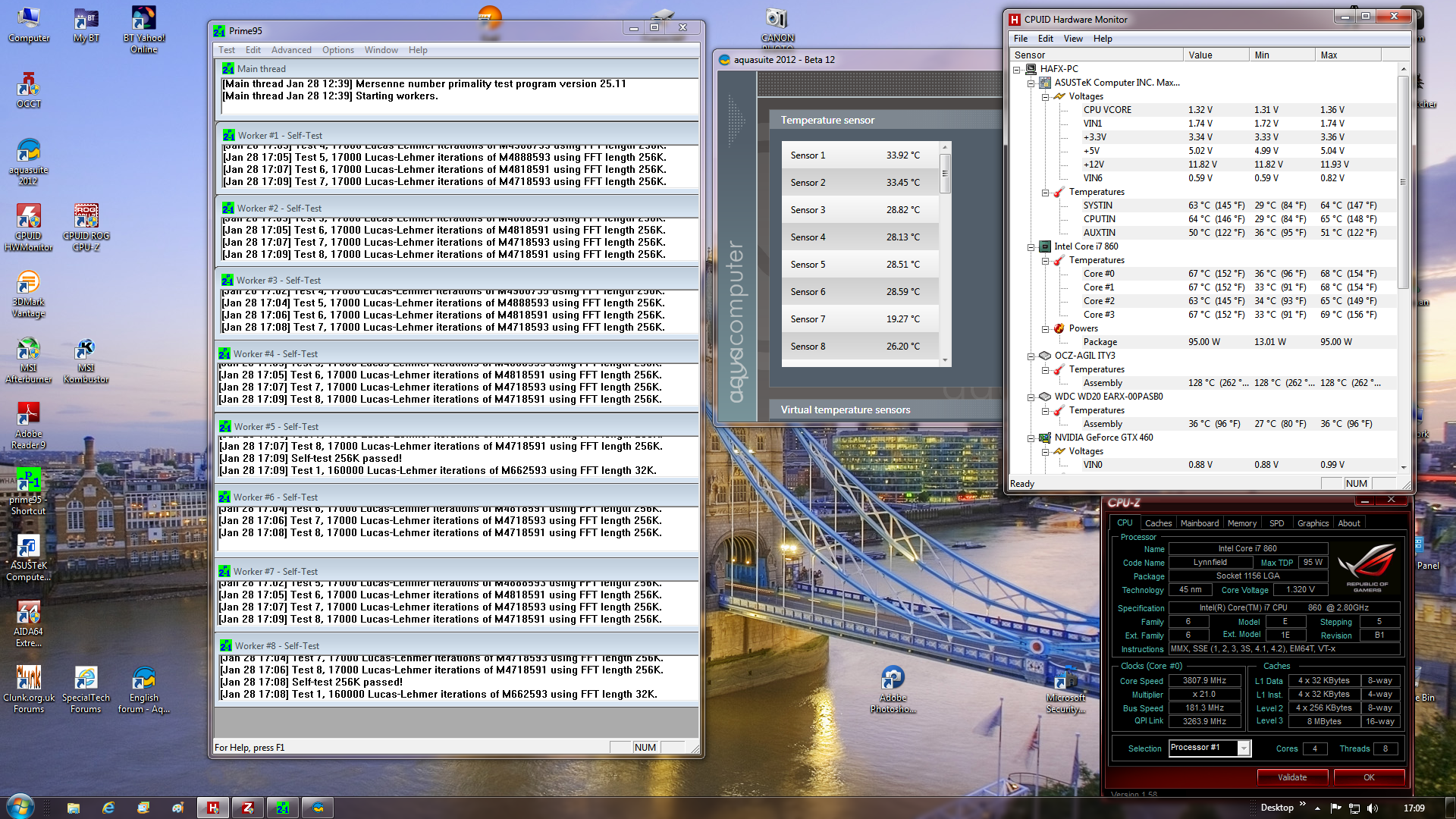 6Hrs Prime95
& Finally 8Hrs Prime95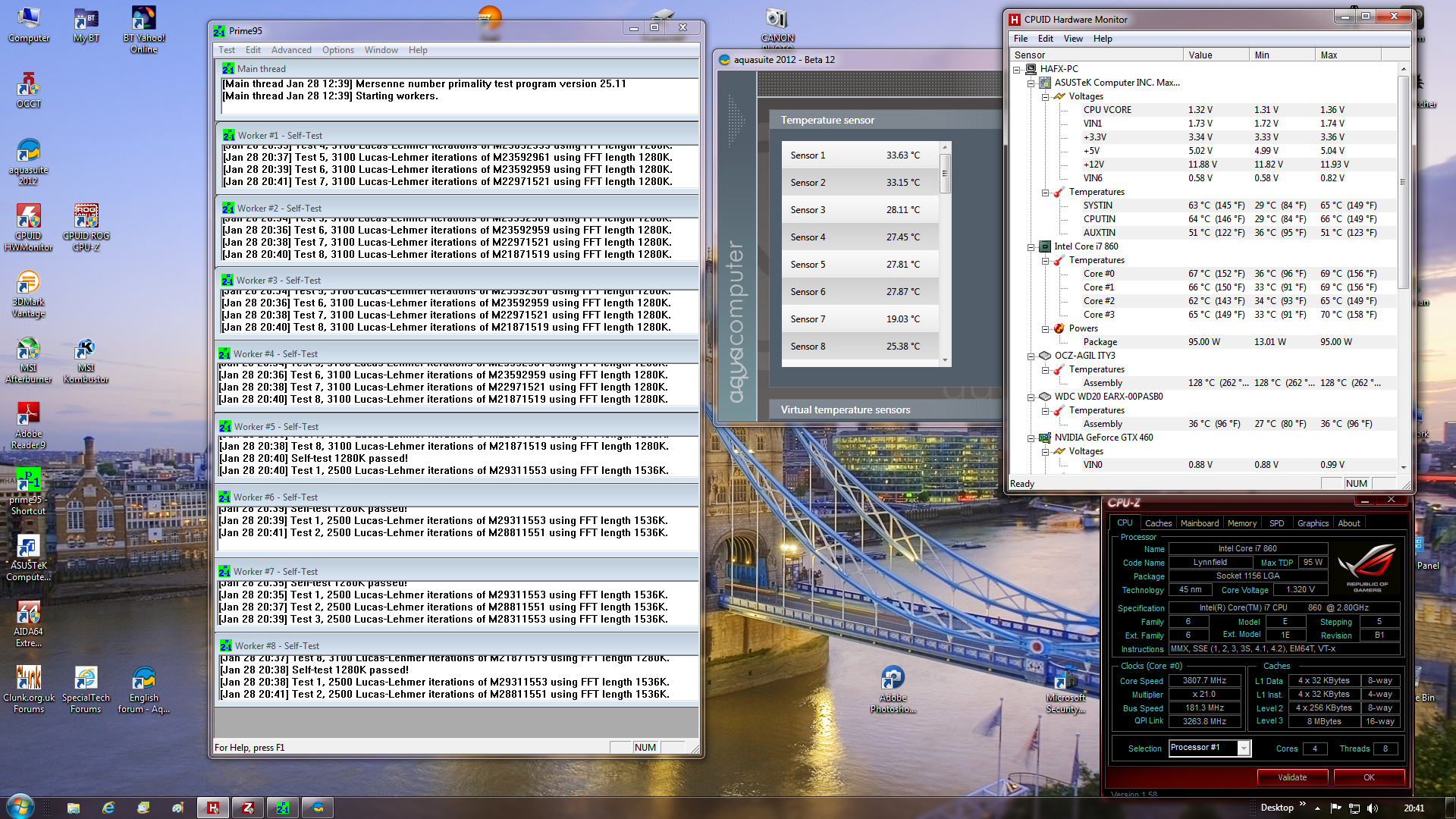 This Aurora Supernova Clear stuff looks Amazing!!... it really does....
I've tried to capture the movement e.t.c on Vid which I've included here. (I've not used a vid/camcorder before so excuse these first learning inane ramblings & miss focuses.. I did also try to get a Picture Vid link from the Youtube Vid, but failed to suss it out I'm afraid
)
Aurora Supernova Clear Vid.wmv - YouTube
Conclusion
Mayhem's has indeed given the PC coolant market a wake up call with this fluid, not just with how it looks, which is amazing by the way, but by producing a completely different slant on the coolant market that is also comparible in thermal results to the best liquid coolants out there, X1 Pre-mix being among the best...
When I first heard about this Aurora fluid that Mayhem's was working on in 2011 I wanted to have a PC that would show off the fluid to what I hoped would be it's best. Thats when I came up with idea of Modding my HafX case used in this review, Placing the two Res's on the front of the case was were I began to plan things out & the rest you have seen in the above Pics & Vid.
I'm glad I did!!!... As I truelly love the look of this fluid as it dances, swirlls & forms clouds that reflect light in the reserviour in a mesmerising way & the fact that it performs so well thermally is a real bonus..
It does state on Mayhem's site ( & I do recommend you read the Aurora guide from Mayhem's site, Link at the end) that the Aurora is suited only for fairly simple loops, multi GPU's & Rads with many 45° & 90° elbows e.t.c is not reccomended. But if you have a build that is crying out for a different look about it's coolant, you got a windowed side panel or even your res's placed outside your build, Then this Aurora will fill those loops to perfection & you know your not loosing out in thermal transition by doing so.
The Aurora fluid has been in place for around 4 to 5 weeks now & is still as good as the first day I put it in, No signs of the particles settling out or anything..

Here's a link to Mayhems Wiki page http://mayhems-aurora.wikispaces.com/ I suggest you give it a read before buying the Aurora, It gives you a list of compatible Blocks, pumps & Res's e.t.c..

As I stated above, Mayhem's aren't sitting on there laurels, with yet another fluid being brought onto the market, this being a PASTEL Coloured Range of fluids...
PLUS!!!!
Mayhem's is now producing a NANO fluid which by all accounts is reporting very impressive results in lowering loop tempretures by some significant degrees??.. Can't wait to get my hands on some of that
.....
All the Watercooling gear from the above set-up was purchased from Specialtech (link removed in case it broke the rules
)
So!!...Thats it Peeps Until a Next time hopefully... Take Care..
....
N.
*Since writting this review Mayhem's has now Included the Instuction to "Shake the Bottle Well" on the Label..
**I'm hoping to add some Distilled Water Temp results to the graph this weekend, though I suspect the Distilled results will not too different to the Pre-mix X1 fluid I first used as a comparison in the above results graph...**
PS. On a side note here's a very short Vid of what the Aurora Supernova Clear looks like with a few drops of Mayhem's Yellow dye that he used to manufacture (They stopped making the yellow dye some time ago now, too expensive & difficult to make) But I have since heard in the last couple of days that their looking into producing a new yellow Dye again & it's in testing at the moment.
Anyway here's that short Vid...
http://www.youtube.com/watch?feature=player_detailpage&v=Q7CZO9V8ivc
Thanks for your time :toothy:.....