Well I figured since I plan on buying a whole new loop for my system soon it's time to get my hands back in practice of working with water cooling gear. The last water cooled rig I had was back in the days of my Pentium 4 extreme. Oddly enough, this cooler was meant to cool that socket, not the one it will be put on.
I was browsing craigslist last week when I found a water cooled computer for $80. The guy was parting it out and wanted $10 for the water cooling loop. Not knowing what it was (and frankly not caring at all) I told him I wanted it. So after he got back in town I arranged to pick it up. I jumped in my car today after work and drove a couple of minutes to pick it up. Now.. this is where things take a turn.
When I found this ad there were no pictures of the computer, all I had was a part number off the pump. A part number used for both the 80mm and 120mm version of this loop. Like the giddy idiot I was I assumed it was the 120mm. No shock to me (mainly because it's just my luck) I showed up and it was the 80mm version. What ever, ten dollars is ten dollars, you've got to start some where.
So I throw it in the seat and spend the rest of my trip home looking at it laying lifeless in my passenger seat thinking of all the things I may be able to do with it. It's ugly horribly applied TIM, only being stopped from hitting my nice leather by a towel I luckily had in the trunk. I knew first thing was first, it needed cleaning but only slight (so I foolishly thought), and a nice lapping. Then my mind wondered to fans, and then I thought about a res mod. Looking over I noticed the hoses were held on with spring clamps and new immediately it was coming apart.
I bought some computer components off of some one who apparently is (was?) and OCN member near me from craigslist. Among the box of stuff she gave me when i bought a few parts from her was a XSPC res, and a Thermaltake V1 Heatsink of which I found out later the original owner is still an active member. Remembering the res I knew I had to use it, as it wouldn't be suiting for OCN if it wasn't done cheaply while using some hand me down parts.
So I get home and I decided I'll start cleaning it. This is what she looked like when I got her on the bench.
She looked dusty, but I didn't think much as it didn't seem to be that bad, and went ahead with the tear down.
And then I hit this...
My initial reaction was something like this...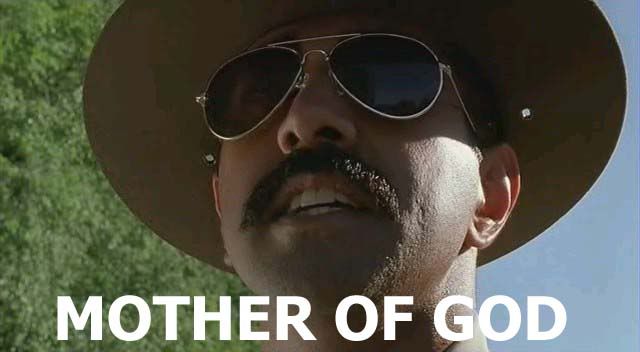 I figured it may have been from a smoker home, but the dust blew out easily and didn't carry an odor. My guess is it was never serviced and the rig always sat on the floor clear up until the day it was parted out.
So I made a trip to ace hardware to get some stuff (mainly canned air). I'll post pictures of that later on tonight.
Updates:
cleaning, preliminary assembly, and lapping
Edited by ne0h - 2/23/12 at 11:21pm
CPU
Motherboard
Graphics
RAM
Intel 3930K
Gigabyte GA-X79-UP4 UD5
EVGA GTX680 4GB
32GB Geil Evo Veloce
Hard Drive
Optical Drive
Cooling
OS
Samsung 830 Series 512GB
Asus BW-12B1ST
Noctua NH-D14
Windows 7 Ultimate X64
Power
Case
Audio
PC Power and Cooling Silencer MKII 950W
Lian Li PC-100
Asus Xonar Essence
View all
CPU
Motherboard
Graphics
RAM
Phenom II X4 965 Black Edition 4.0Ghz 24/7 @ 1.4v
ASUS M4A88TD-V
MSI GTX 560Ti Twin Frozr II
8GB OCZ Gold DDR3
Hard Drive
Hard Drive
Hard Drive
Hard Drive
1x250GB Seagate
1x320GB WD Black
1x150GB WD Raptor
1x160GB WD Caviar
Optical Drive
Cooling
OS
Monitor
Writemaster
Thermaltake V1 With Noctua NF-P12
Windows 7 Home Premium X64
19" and 23"
Keyboard
Power
Case
Mouse
Logitech G510
Antec HCG-750W
Lian Li PC-100
Logitech G9x +28g
Mouse Pad
Audio
Mionex Propus 380
Onboard Realtek HD :( > 3.5mm to RCA> Pioneer ...
View all
hide details
CPU
Motherboard
Graphics
RAM
Intel 3930K
Gigabyte GA-X79-UP4 UD5
EVGA GTX680 4GB
32GB Geil Evo Veloce
Hard Drive
Optical Drive
Cooling
OS
Samsung 830 Series 512GB
Asus BW-12B1ST
Noctua NH-D14
Windows 7 Ultimate X64
Power
Case
Audio
PC Power and Cooling Silencer MKII 950W
Lian Li PC-100
Asus Xonar Essence
View all
CPU
Motherboard
Graphics
RAM
Phenom II X4 965 Black Edition 4.0Ghz 24/7 @ 1.4v
ASUS M4A88TD-V
MSI GTX 560Ti Twin Frozr II
8GB OCZ Gold DDR3
Hard Drive
Hard Drive
Hard Drive
Hard Drive
1x250GB Seagate
1x320GB WD Black
1x150GB WD Raptor
1x160GB WD Caviar
Optical Drive
Cooling
OS
Monitor
Writemaster
Thermaltake V1 With Noctua NF-P12
Windows 7 Home Premium X64
19" and 23"
Keyboard
Power
Case
Mouse
Logitech G510
Antec HCG-750W
Lian Li PC-100
Logitech G9x +28g
Mouse Pad
Audio
Mionex Propus 380
Onboard Realtek HD :( > 3.5mm to RCA> Pioneer ...
View all
hide details