Hi
Today when I entered a game, after like 30 seconds the computer became extremely slow then froze and the colors on the screen were "corrupted".
So I restarted and it even froze on the Windows 7 welcome screen (with corrupted colors) so I restarted again and the screen resolution is 800x600 (usually it's 1920x1080), GPU-Z is showing 0 Core\Memory\Shader and other unknown stuff.
Here is a pic: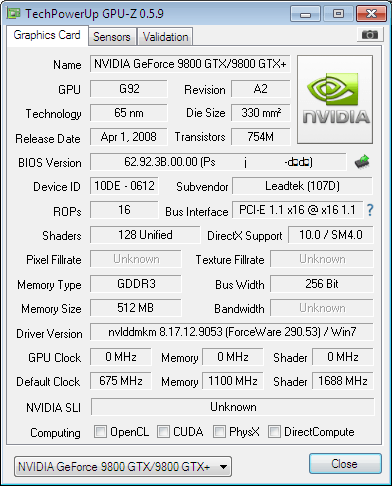 and the Device Manager is showing in the display adapters 9800GTX device status: "Windows has stopped this device because it has reported problems. (Code 43)"
Actually, this happened the first time yesterday so I reinserted the GPU and it ran fine until now.
This started to happen when I updated the drivers to 295.73 WHQL so i went back to 290.53 and as I said, it happened again today.
Is it a driver issue?
Do I need to use Driver Sweeper to completely remove the drivers?
What do think is the problem?
CPU
Motherboard
Graphics
RAM
Intel i5 3570k
MSI Z77A-G45
MSI GTX660 OC 2GB
G.Skill 2x4GB 1600Mhz
Hard Drive
Monitor
Power
Case
Seagate 1TB Barracuda 7200.14
Samsung BX2335 23"
SeaSonic S12II 620W
CoolerMaster 690
View all
hide details
CPU
Motherboard
Graphics
RAM
Intel i5 3570k
MSI Z77A-G45
MSI GTX660 OC 2GB
G.Skill 2x4GB 1600Mhz
Hard Drive
Monitor
Power
Case
Seagate 1TB Barracuda 7200.14
Samsung BX2335 23"
SeaSonic S12II 620W
CoolerMaster 690
View all
hide details