This Classified is Closed
For Sale:
FS: Fully Watercooled X58/5970 system - "White Venom" - A White & Black TJ07 Mod w/full loop *PRICE DROP*
Will Ship To: UK

Looking to start on some new projects, so I'm selling my beloved PC. Originally posted this last April, most of this post is copied from that.
I PROMISE I WILL FINISH THE WORKLOG WHEN I SELL IT.
Specs can be found under my profile systems "Ode to a 9800GX2", everything will be included apart from the regular hard drives (SSD will be included). Would rather sell as a whole.
i7 920 D0 - Stock @ 1.1v, never OC'd
Gigabyte GA-EX-58-UD3R
6GB Supertalent DDR3 (3x2GB) - 1600MHz @ 7-7-7-21
MSI 5970 w/EK Acetal Waterblock, never OC'd
Antec High Current Pro 850W
Mushkin Callisto 40GB SSD
It also has a full loop, inside a modded/painted TJ07, as well as a few cable sleeving extensions.
Full loop consists of:
EK Supreme HF Nickel/Acetal
EK5970 Acetal
MCP 355 (I think? I forget, it's in my system specs ) w/EK top
RX480 w/4 x Gentle Typhoons (1450RPM)
EK Multioption Res
White tubing
Black bitspower fittings
Loop is around a year old, actual system is around a year and a half old. Loop probably needs a clean, but it runs smooth as silk and quiet as it always was.
Bad points:
The PSU fan does catch a little on the grille when it spins up under load, can't hear it in the case, only with the back panel off and your ear right next to it, but something to consider.

Although, I did speak to Christoph@ANTEC (OCN Member, Rep for Antec) via PM and he said that there would be no problem RMA'ing it if it became a real issue. Can forward this PM on to the buyer if they'd like.

Paintwork on the inside is a little chipped, nothing a new coat won't fix.
No filling port for the loop, you have to unscrew the top of the res to do so. Tedious, but simple.
Newest (Nov '11) Picture of insides, and overall: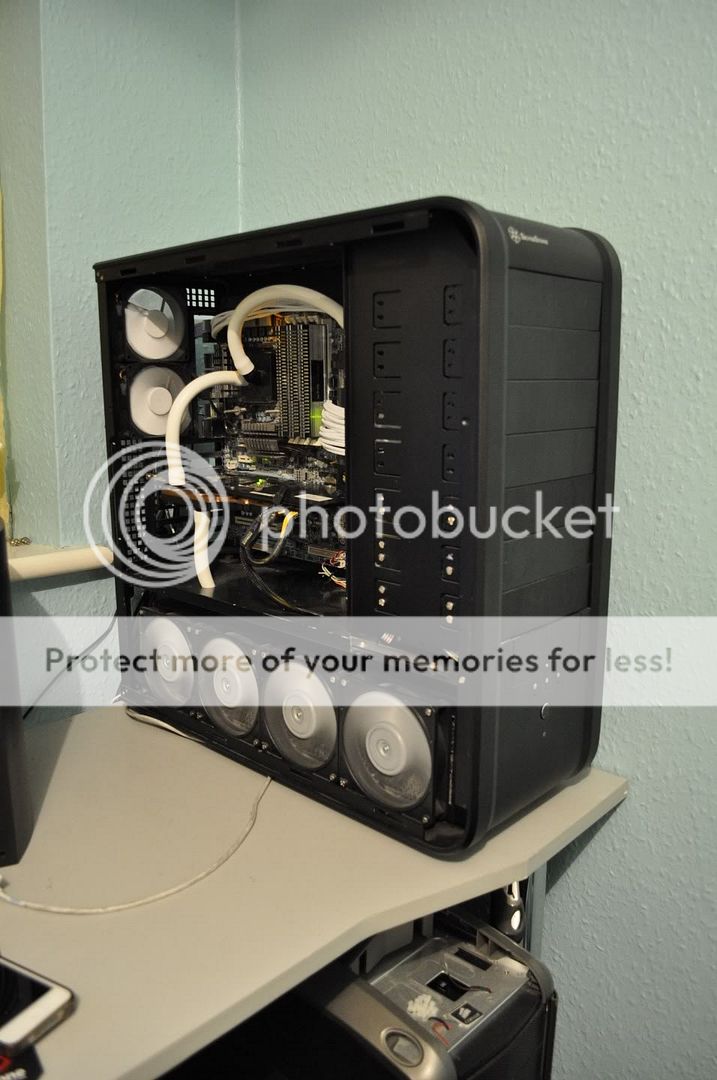 Remember, an awful lot of work has gone into this PC/loop/case, as you can see in my "White Venom" Worklog (which I've yet to finish, but you'll get the idea )
Would be
collection only,
as it weighs an absolute ton, especially with 3L of water in it!
Looking for

£850

£

800

for the lot
.
I will part out, but only if I got buyers for at least ½ of the system. Part out is global.
PM me for more info/pictures/offers or anything, or, even better,
email me
. You'll get a quicker response via email.
Edited by SmokinWaffle - 4/5/12 at 12:24am