Mods, if this is the wrong place, I apologize.
Got myself a q6600 complete system for 120. Even had a 9800gtx
So far have put the 4gb from my old amd on the q6600, and the 2gb the q6600 came with onto the amd. And stuffed the q6600 into the monster case.
Here are a couple pics....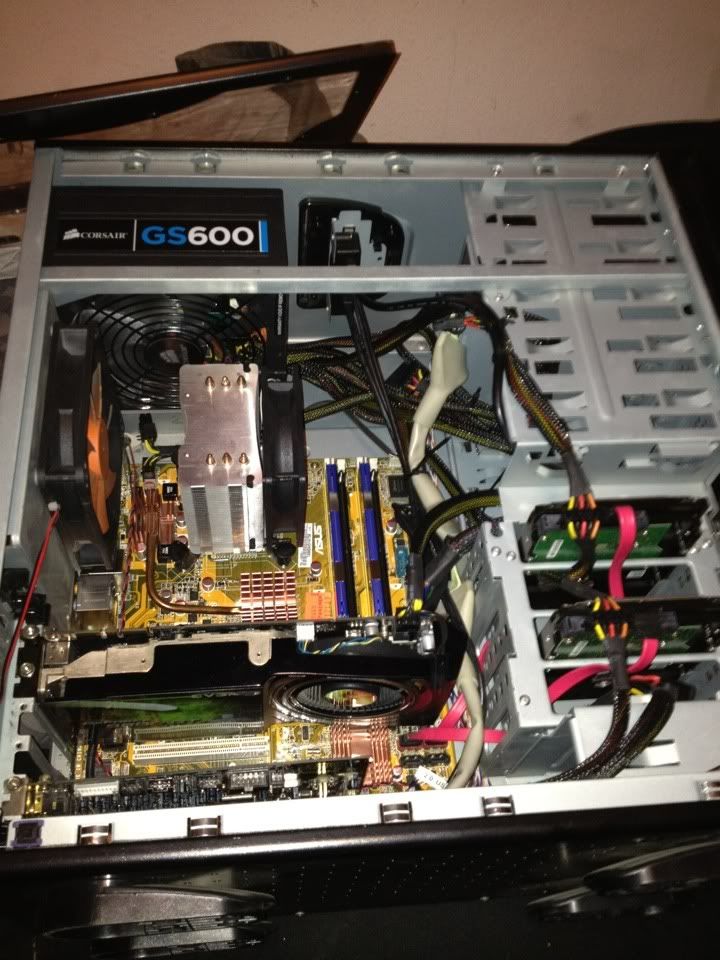 Here's how it was when I got it. Yes, that's a thermal take armor jr case. Didn't look good to me, plus small cases bug me. Huge heat sink!
Here it is on the motherboard tray for the monster case. ( case is an old server case I modded, and has removable tray... Ended up having to put in the tray then motherboard, since the heatsink was too tall)
Pics of it in the case are coming when I get home. (I'm on lunch on my iPhone)
So far, here are the specs.
Q6600 core 2 quad 2.4 (overclocked to 2.9ghz stable... Prime ran 13 hours... Max temp 55c)
Asus P5K motherboard (standard p5k not deluxe or anything)
EVGA GeForce 9800gtx 512mb stock speeds
2x2GB patriot ddr2-800 memory
2x250GB Samsung SATA drives ( snow leopard on one, lion installed on other)
500GB Western Digital black SATA hard drive (windows 7/windows 8(both 64 bit)
Sony USB DVD-RW ( pata dvdrw took a dump and using the USB for now)
22" emprex LCD 1680x1050 (frys brand I think. Beautiful display though!)
19" Dell widescreen LCD
T-Link pci wifi card
600w corsair power supply
Just some questions... I know the max safe temp for q6600 is around 65-70c...
Is 2.9ghz at 55c a good temp, or am I running a tad warm? Stock it idles around 30-35 in bios.
What are some good starting points in bios to manually configure? The "auto" option kind of makes me nervous, I know asus boards tend to over volt a tad..plus I like everything being in MY control, and I can't find ANYTHING online about it.
Currently I have speedstep and c1e enabled, but from reading the VERY IMFORMATIVE post on here about disabling c1e, I'm going to disable it when I get home.
Thanks for dealing with my newbie ness... Again if this thread is in wrong place I apologize! this forum is great btw!