So after investigating and noticing NCIX had a sale on TrendNet GigE switches ($29.99 for an 8 port) and armed with a $100 Future Shop gift card, I got these (this and all images are clickable thumbnails):
TrendNET S80g and D-Link DIR-825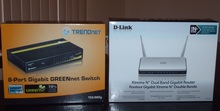 The TrendNet switch looks like this: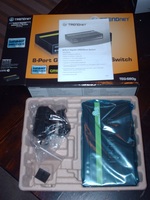 And the Dlink has this stuff inside: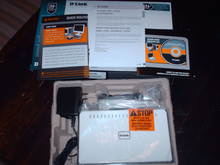 So questions.
1. How much fiddling with my GigE NIC settings should I expect to have to do in order to optimize throughput (e.g. Jumbo Frame size etc)?
2. This D-link is recommending I "run the wizard first". Do I seriously need to do this? I've always liked being able to just access the router and configure it by hand without needing some silly baby-steps utility. That said, if it's necessary to configure the router - well, I'll just have to do that.
2a. Are there any known issues with the 825 I should be aware of that are patched in a new firmware? I will probably install the latest one on general principle, but it'd be good to know how urgent the matter is.
3. How should I best configure my D-Link for a mixed G/N network? I ask because my laptop supports n. as does my roomie's latest, but I'm not sure roomie's other laptop or a guest's laptop will necessarily support it.
Thanks in advance, all!
I look forward to migrating from 10/100 to GigE. The next step will be getting Shaw to upgrade my cable modem so that the entire network here can truly take advantage of the higher speeds.