So last week I got a new 55" LED Samsung Smart 3D TV and the sound isnt good at all. I use the TV for gaming and as a computer screen for my Rig. Last night I broke down and ordered me a reciever and I would like you guys thoughts and opinions on what I got.
I purchased this pioneer on newegg for 149.99 shipped.
http://www.newegg.com/Product/Product.aspx?Item=N82E16882117398
Did I get a good deal, and will it sound good in you guys opinion? This TV is in my bedroom. It isnt a big room at all, and there are no windows. Also, can I hook my PC up to it too? if so how would I go about doing that? at the moment I have a logotech system for my pc, but if I could eliminate that all together it would be great.
Also, here is where you guys are probably going to rip me up. I looked around at speakers, and the cheapest set I could find was almost 300.00 and I just couldnt bring myself to spend that much on speakers. So my solution was, I went on ebay and found someone selling a 5.1 set of samsung speakers for 59.99... here is that set that I went ahead and got..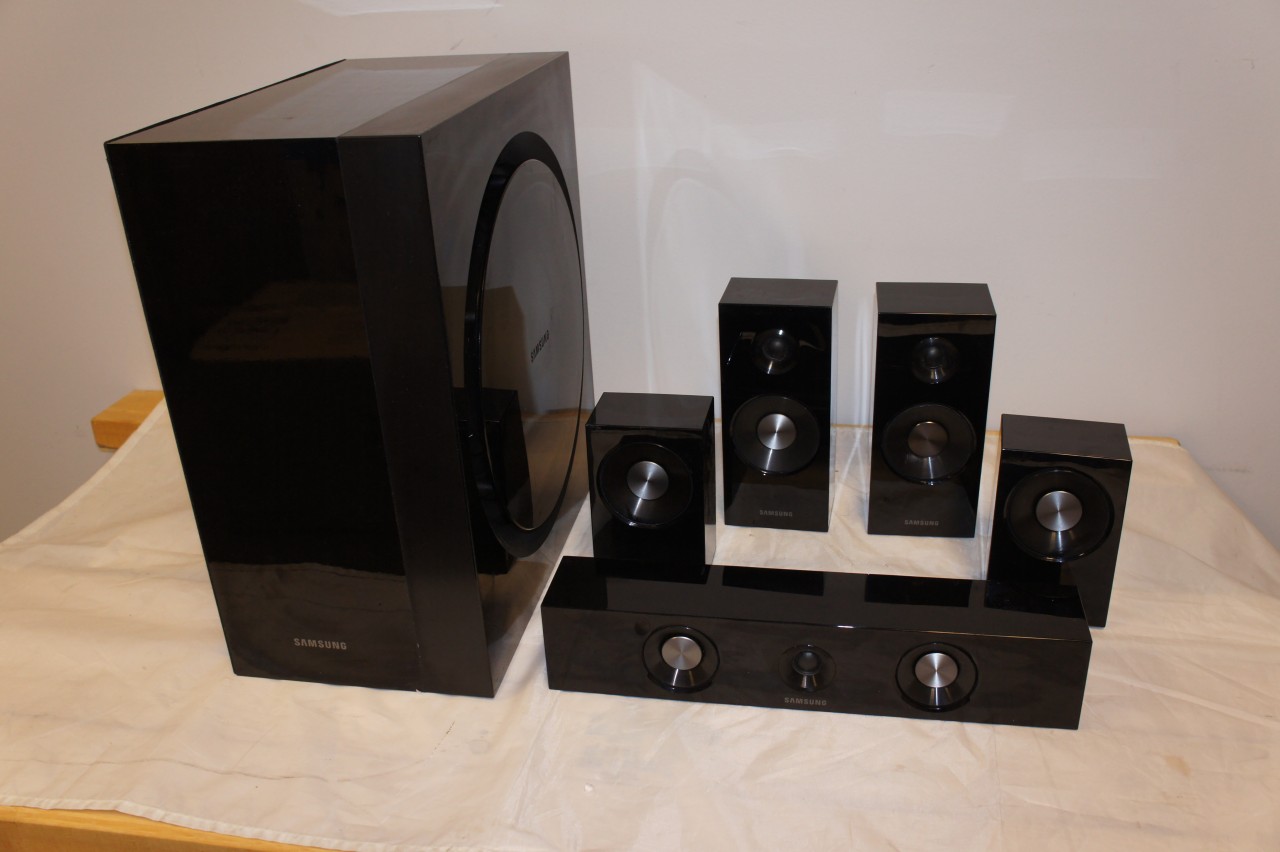 How do you guys think that will sound? and please if someone knows a better option for speakers, I would love some pointers...
CPU
Motherboard
Graphics
RAM
Intel Core i7 2600k 4.5 1.325v
Asrock Z77 Pro 1155
EVGA GeForce GTX 670 4GB
Corsair Vengeance 16GB (4 x 4GB)
Hard Drive
Hard Drive
Hard Drive
Optical Drive
Crucial M4 256GB SSD
Corsair Force Series 60GB SSD
Western Digital 3TB 7200RPM
Asus DVD-RW Drive
Cooling
OS
Monitor
Power
Corsair H80 Liquid Cooler
Windows 7 Ultimate 64-bit
60 inch 1080p 120hrz 3DLED
1000W Coolermaster Silent Pro Gamer
Case
White Corsairl 600T SE
View all
hide details
CPU
Motherboard
Graphics
RAM
Intel Core i7 2600k 4.5 1.325v
Asrock Z77 Pro 1155
EVGA GeForce GTX 670 4GB
Corsair Vengeance 16GB (4 x 4GB)
Hard Drive
Hard Drive
Hard Drive
Optical Drive
Crucial M4 256GB SSD
Corsair Force Series 60GB SSD
Western Digital 3TB 7200RPM
Asus DVD-RW Drive
Cooling
OS
Monitor
Power
Corsair H80 Liquid Cooler
Windows 7 Ultimate 64-bit
60 inch 1080p 120hrz 3DLED
1000W Coolermaster Silent Pro Gamer
Case
White Corsairl 600T SE
View all
hide details