hmm tell that to the cinebench benchmarks that have the 2700K beating the 12 core opterons in rendering. if that translates at all into folding, then the opterons just suck. The SNB Xeons are massively powerful, i dont think you know how powerful they are. in cinebench, two 12 core opterons take a 12 point score home, and my 990X gets 11.45. the processing power of these opterons SUCKS.
http://www.anandtech.com/show/5553/the-xeon-e52600-dual-sandybridge-for-servers/6
Cores are not everything. There is a reason Intel charges a lot of money for the top grade Xeons. because they are top grade.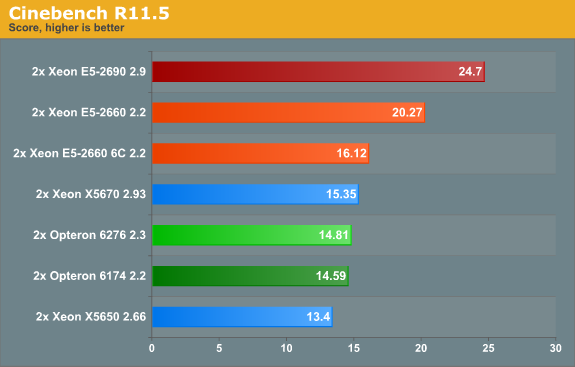 Edited by srsparky32 - 3/15/12 at 11:10pm
CPU
Motherboard
Graphics
RAM
Intel Core i7 3770K @ 5GHz 1.43V
Gigabyte GA-Z77X-UP4 TB
MSI Twinfrozr III 7870
2x4GB Samsung Wonder Ram
Hard Drive
Hard Drive
Hard Drive
Cooling
128GB Crucial M4
1TB Caviar Blue, 640GB Caviar Blue
2x2TB Western Digital Reds coming
Prolimatech Megahalems w/ 2x San Ace H1011's pu...
OS
Monitor
Keyboard
Power
Windows 8 Pro
32 inch Toshiba LCD, 24 inch Dell ST2412L
Coolermaster Quickfire Rapid
Antec Truepower New 750W
Case
Mouse
Mouse Pad
Audio
Antec P280
Razer Deathadder 1800dpi
frankenstein!
just hdmi audio to the tv for now
View all
hide details
CPU
Motherboard
Graphics
RAM
Intel Core i7 3770K @ 5GHz 1.43V
Gigabyte GA-Z77X-UP4 TB
MSI Twinfrozr III 7870
2x4GB Samsung Wonder Ram
Hard Drive
Hard Drive
Hard Drive
Cooling
128GB Crucial M4
1TB Caviar Blue, 640GB Caviar Blue
2x2TB Western Digital Reds coming
Prolimatech Megahalems w/ 2x San Ace H1011's pu...
OS
Monitor
Keyboard
Power
Windows 8 Pro
32 inch Toshiba LCD, 24 inch Dell ST2412L
Coolermaster Quickfire Rapid
Antec Truepower New 750W
Case
Mouse
Mouse Pad
Audio
Antec P280
Razer Deathadder 1800dpi
frankenstein!
just hdmi audio to the tv for now
View all
hide details