As some of the more regular members will know,i have been lusting after an SR-2 rig for some time and now i am in the position to get one.
After much consideration and head scratching,i went for the Little Devil V8 inverted HPTX case.
I was VERY tempted by the caselabs MH10 but the shipping costs and VAT crippled that idea...£700 for a case is unacceptable to me!!
Hardware:
Board: SR-2 ,MIPS mobo block with VRM block and 2 Watercool HK 3's (black)
CPU: x5650 Hexacores
Ram:12-24Gb Corsair or G Skill....not decided yet
GPU: 3x EVGA 580 GTX or 3x 7950...this really depends on the availability of reference layout cards
Storage: 2x Force GT 120Gb SSD (1 for OS,1 for games and everything else) 1x 2tb HDD for storage
PSU: 1 Enermax 1500w Platimax.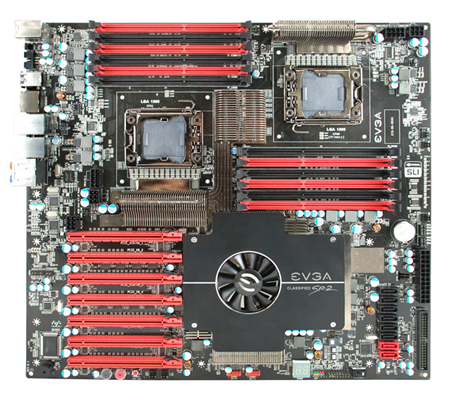 I was looking into going the Dual PSU route with 2 AX 850s but eventually decided to get a whacking great Enermax beast instead.
This rig will be dual loop,the reasoning behind this is the sheer amount of blocks and rads will make a D5 cry if left on its own to do the work!
As usual SpecialTech is my vendor of choice for this,i may even try and get some sponsorship from them,not likely as they have put into quite few builds on this community already and Ayd needs a new warehouse chair...anyway TO THE PR0N!!
Cooling:
3x Hardware Labs SR series 480 rads.
2x Bitspower 400 or 200mm Res (depending on how much room the PSU takes up)
2x Watercool HK blocks in Black
1x MIPS SR-2 mobo block
2x 24v D5 pumps
1x Koolance 24v twin pump controller
2x D5 pump tops and Mod kits (Bitspower or Koolance)
Noiseblocker Multiframe S2 fans......need to read up some more on these,otherwise GT 1850's
Bitspower fittings
Quite a list! But a rig that will be a life achievement and still plenty powerful years from now.
Some components may change but this is how i see it coming together.
Thanks for reading,build pics to follow and feel free to leave constructive criticism!
Edited by B NEGATIVE - 5/8/12 at 3:25am
CPU
Motherboard
Graphics
Graphics
5820k
X99m WS
980ti strix
980ti strix
RAM
Hard Drive
Power
Case
KLEVV Cras DDR4
3tb Red
Corsair 600w SFX + 450w SFX
Caselabs BH4
View all
CPU
Motherboard
Graphics
RAM
4970k
Z97 Gryphon
GTX 680 x2
Crucial Ballistix Elite 16Gb
Power
Case
Be Quiet Dark Power 850
InWin D Frame Mini
View all
hide details
CPU
Motherboard
Graphics
Graphics
5820k
X99m WS
980ti strix
980ti strix
RAM
Hard Drive
Power
Case
KLEVV Cras DDR4
3tb Red
Corsair 600w SFX + 450w SFX
Caselabs BH4
View all
CPU
Motherboard
Graphics
RAM
4970k
Z97 Gryphon
GTX 680 x2
Crucial Ballistix Elite 16Gb
Power
Case
Be Quiet Dark Power 850
InWin D Frame Mini
View all
hide details