what up guys!?
finally, after a long labor of love, she is done... 95% done... still waiting on my seller to send me my second 6950, and im going to get a noctua NF-F12 PWM fan for the cooler.
Don't cry to me about the way the cooler is, i set it up like that on purpose, for 2 reasons, number one it wouldn't fit the other way... and number 2 i think they perform better oriented like that... all the fans are setup as intake except the top 200mm fan that is exhaust
here are the specs:
Corsair 600T
EVGA X58 SLI
i7 920@ 4.2ghz
crossfire 6950s (unlocked to 6970s)
Thermalright True extreme 120 CPU cooler
here are the pics!
First things first, before i got this case i looked at how other people were setting up this case and i got a lot ideas, and took those ideas and tweaked them... the goal of this build was to make it silent first, then perform well, also i wanted the inside to look like it was freakin empty... so this is how it turned out.
both hard drive cages in the 600T are remvable, and there is a spot just behind the powersupply where you can put one of the cages if you dont want it where they are located from the factory... well i didnt want it there so i found a better place to put it, in the optical bays, had to do a little modding to get it to fit right, just bent a couple tabs, didnt have to cut or drill anything. so i put double sided tap on the bottom of one of the cages and stuck it in the optical cage. turns out i put it in backwards, but i ran with it because this way it would look better, thats why you cant see any wires going up to the hard drives. here are the pics showing what i did with the hard drives: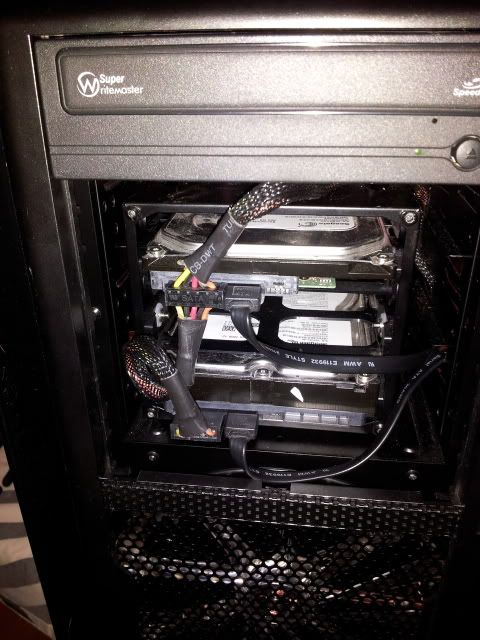 other than that, everything else went pretty smoothly. so i dont have any other progress shots, other than showing how much thermal compound i used: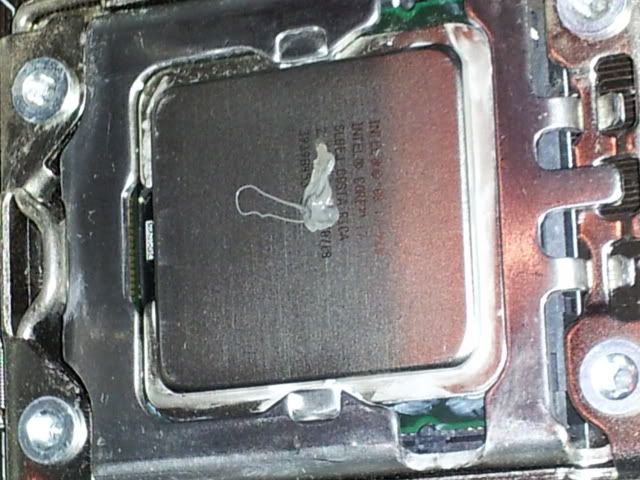 here it is, all done!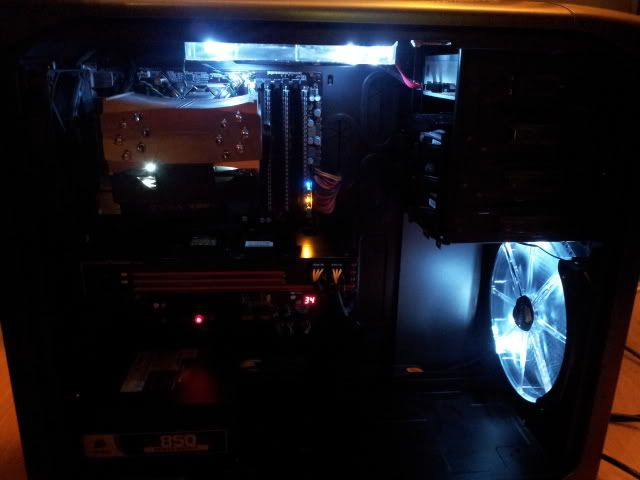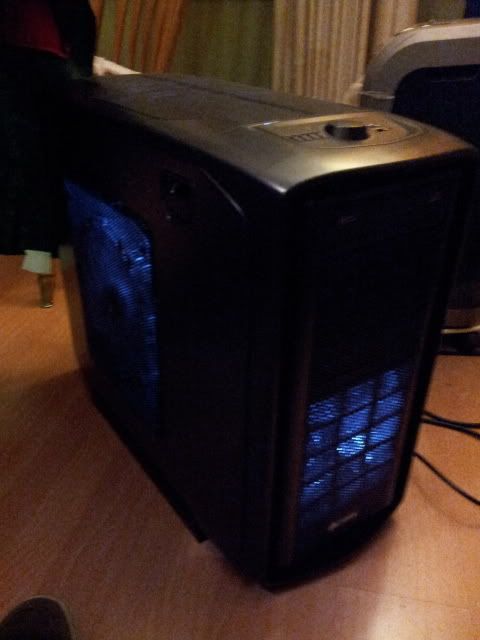 so like i said before, the goal was to make it absolutely silent, and i think i NAILED it. there is only 5 fans in the whole thing, 3 of which are 200mm fans that spin at 800RPM at 12v. the the rear fan is 120mm and the the fan on the cooler is a 120mm PWM fan, at idle its at about 600rpm. all the case fans are plugged into the built in fan controller and when i ramp them down its absolutely silent. couldnt be happier, i can actually hear the HDDs spin up and down.
CPU
Motherboard
Graphics
RAM
i7 5960X @ 4.7ghz
Asus X99-A
SLI MSI GTX 980
Corsair Vengace 48gig 2440mhz
Hard Drive
Cooling
Cooling
Cooling
Samsung 850 Evo 1TB
Thermaltake Pacific W1
Alphacool 480, 240, 120
MCP655 Vari
Cooling
OS
Monitor
Power
2x EK full cover 980 waterblocks
Windows 10 pro
LG 34" 34UM95 Ultra Wide
EVGA 850W G2
Case
Rosewill Rise
View all
hide details
CPU
Motherboard
Graphics
RAM
i7 5960X @ 4.7ghz
Asus X99-A
SLI MSI GTX 980
Corsair Vengace 48gig 2440mhz
Hard Drive
Cooling
Cooling
Cooling
Samsung 850 Evo 1TB
Thermaltake Pacific W1
Alphacool 480, 240, 120
MCP655 Vari
Cooling
OS
Monitor
Power
2x EK full cover 980 waterblocks
Windows 10 pro
LG 34" 34UM95 Ultra Wide
EVGA 850W G2
Case
Rosewill Rise
View all
hide details