Hi people. just thought id post this here aswell as the original one on Guru3d forum (apologies if anyone has to read it twice lol)
May be of interest to some of you.
Decided to do some testing with the latest 12.3 beta drivers and the new MLAA 2.0 and Adaptive MSAA for DX10/11 games.
Time to fire up some BF3
Wanted to know how the MLAA 2.0 faired against SMAA in terms of IQ and performance, as well as what the Adaptive MSAA feature offers us in this game.
First up....
MLAA 2.0 vs SMAA
(note X2MSAA on in all these tests)
No Shader AA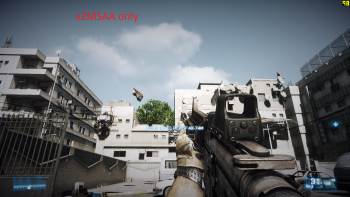 MLAA 2.0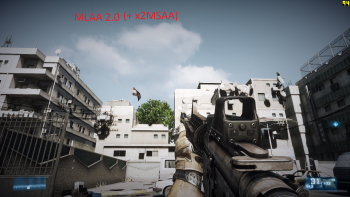 SMAA
Conclusion:
Performance winner = MLAA 2.0 (6 fps hit vs 8fps hit)
IQ winner = SMAA (better smoothing of building edges)
---
Next at look at...
Adaptive MSAA
(note shader AA disabled for this test)
No AA
X2MSAA only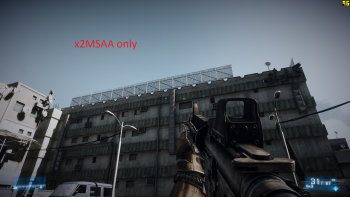 x2MSAA Adaptive ON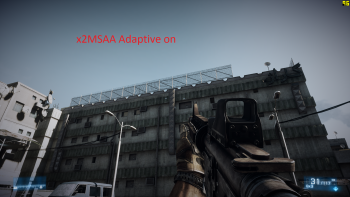 x4MSAA only
x4MSAA Adaptive ON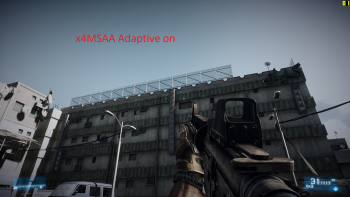 Conclusion:
Adaptive AA clearly works well on the fencing, for not much of a performance hit. Clearly works better in combination with x4MSAA, but does work on x2MSAA also
If anyone wants to have a look at the original full size pics they are here
Code:

https://rapidshare.com/files/1112581057/Cat_12.3__AA_Comparisons.rar

CPU
Motherboard
Graphics
RAM
4770k @ 4.7ghz
MSI Z87 GD65
eVGA FTW Hybrid 1080 @2126/11000
16gb GSkill TriX 2666mhz
Hard Drive
Cooling
OS
Monitor
Sandisk Extreme Pro SSD
Corsair H90
Win10 x64
AOC G-Sync
Power
Audio
Corsair GS800
Realtek 1150
View all
hide details
CPU
Motherboard
Graphics
RAM
4770k @ 4.7ghz
MSI Z87 GD65
eVGA FTW Hybrid 1080 @2126/11000
16gb GSkill TriX 2666mhz
Hard Drive
Cooling
OS
Monitor
Sandisk Extreme Pro SSD
Corsair H90
Win10 x64
AOC G-Sync
Power
Audio
Corsair GS800
Realtek 1150
View all
hide details