I can only get to use a 20Mhz increase for folding so maybe I can get a better OC from the bios mod.....but how hard was it?
Quote:
Originally Posted by
ChrisAfric
hi guys! I just recently bought EVGA GTX 680 sc signature 2, I am just worried about my video card because I am not getting good FPS with guildwars 2. I am getting around 30-50 FPS sometimes it drops to 8 then jumps back to 20 then runs to 30-50. I am using nvidia driver 306.02.
I am also experiencing sudden drops of FPS in diablo 3. FPS is 60 then all of a sudden it will drop to 38 then goes back to 60. Its like there will be a delay of 0.1 second. It is not that the game is unplayable, I am just expecting that this video card would perform great as it is a GTX 680. I have also tried other nvidia drivers, reformat my pc but still nothing. Would you be able to tell me if there is a problem with my video card? HELP!
Here is my Unigine Benchmark by the way, thanks!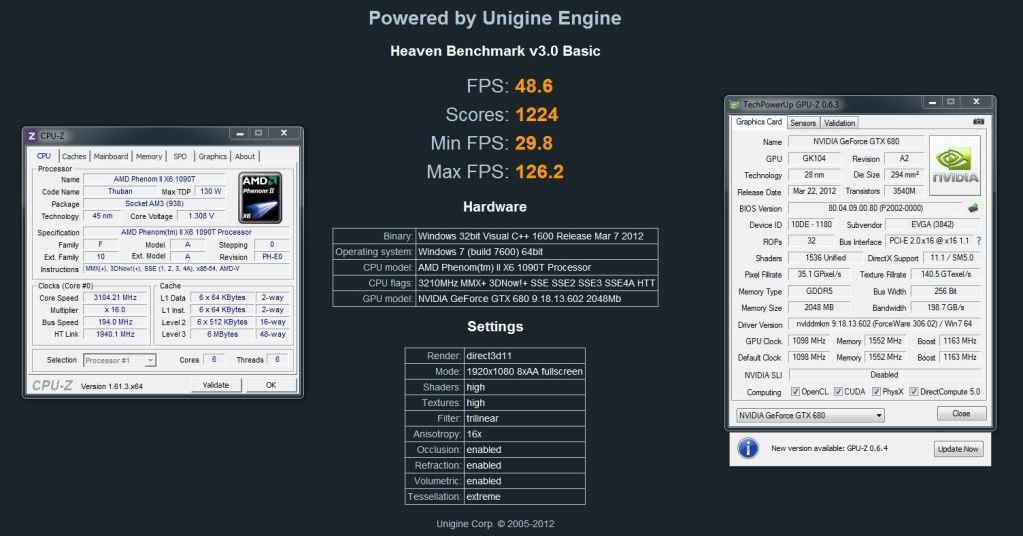 Go to EVGA and get the new beta driver I thunk it's the 306.2 drivers They help a lot for me as well. also for the GW2 drops take into account the servers are getting hammered right now and that connection can affect the FPS lag a bit. but get those drivers they will help a ton trust me I'm using them and it's noticeably better! ^.^