Case Labs TH10 Review – By Sleinous
Today it's time for a short review on the Case Labs TH10. This case will be used in an upcoming build but more on that in the coming month. Firstly, let me just run through the packaging for this box – The whole thing comes in a very tough outer cardboard box, followed by 8 polystyrene corner blocks to keep the case firmly maintained within the box during transport. The case itself was wrapped in a protective plastic sheeting to prevent any damage to the paintwork and chassis. Lastly, all accessories that you may have bought plus the standard accessories that come with the base unit are all placed in plastic sealed bags which are then wrapped in very thick bubble wrap. All of this is placed inside the chassis which is then filled with packaging paper to prevent any damage to the inside of the case and prevent the accessories from moving around during transport. Of all the cases I have ordered over the years this has to be by far the most protected and well thought out packaging of them all.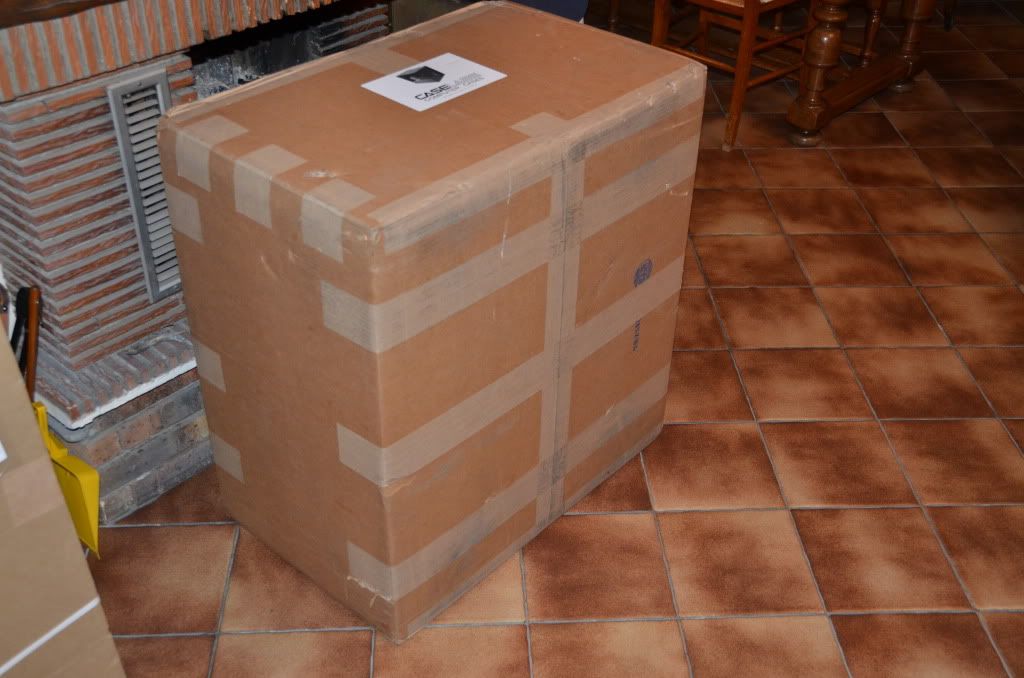 The Parcel!
Now that we've been through the packaging aspect let us move on to the paint job. I ordered the case in a matte white finish to match the build I have in mind. The paint finish is of excellent quality, I couldn't find any issues with the finish. All the accessories that come in white are also of the same outstanding quality.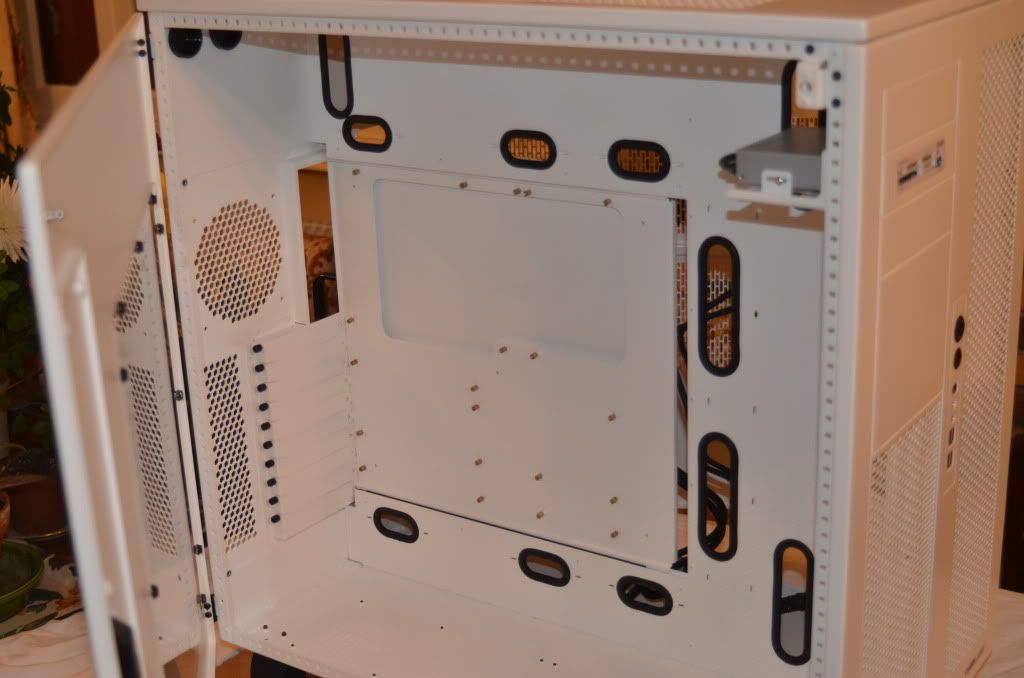 Motherboard Compartment
In my opinion one of the most important features of the Case Labs cases is the expandability and customisability of each case by the end-user prior to purchase. There are so many different accessories and configurations to choose from, you really can order yourself something that will fit the build you had in mind. They have a vast array of accessories to choose from including extra HDD drive bays, PSU support brackets, caster kits, flex bay mounts for 5.25" bays (allowing additional radiator mounting), mounting plates, radiator side mounts, extended tops, extended pedestals, SSD adapter plates etc. You can also purchase spare parts from their store. Below are photographs of accessories you will receive by default when ordering a TH10: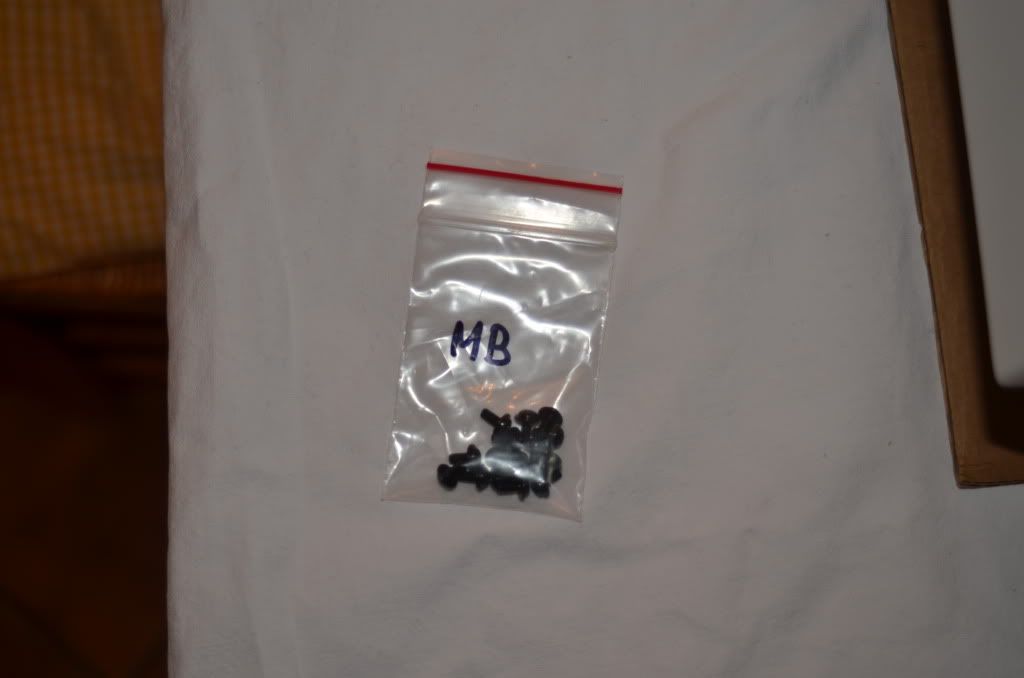 Motherboard Screws
Front Panel Extension Cables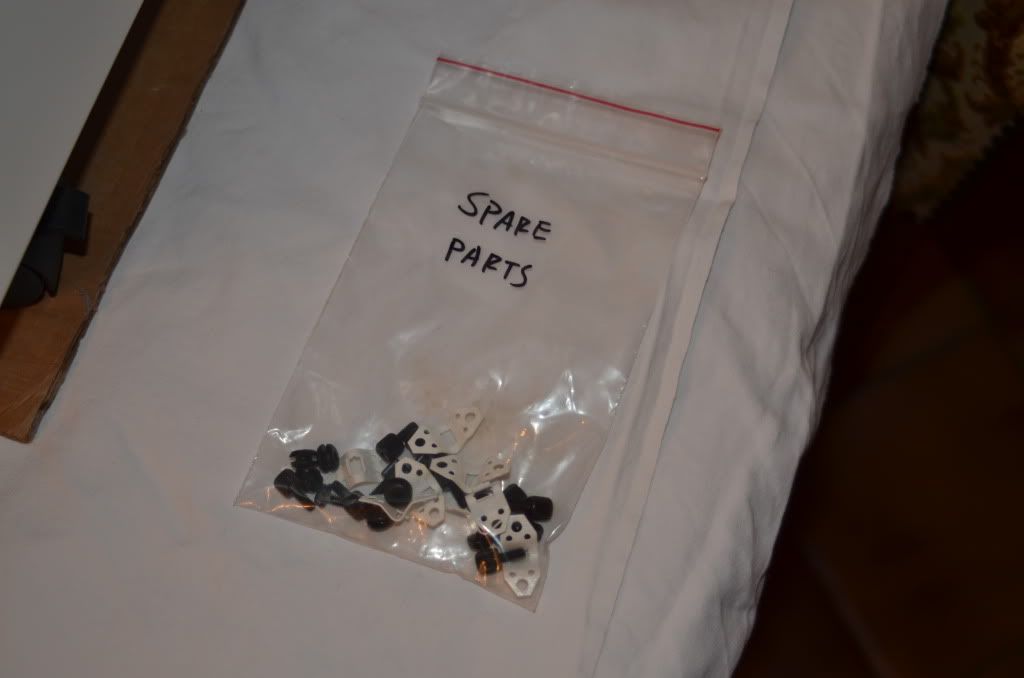 Spare Parts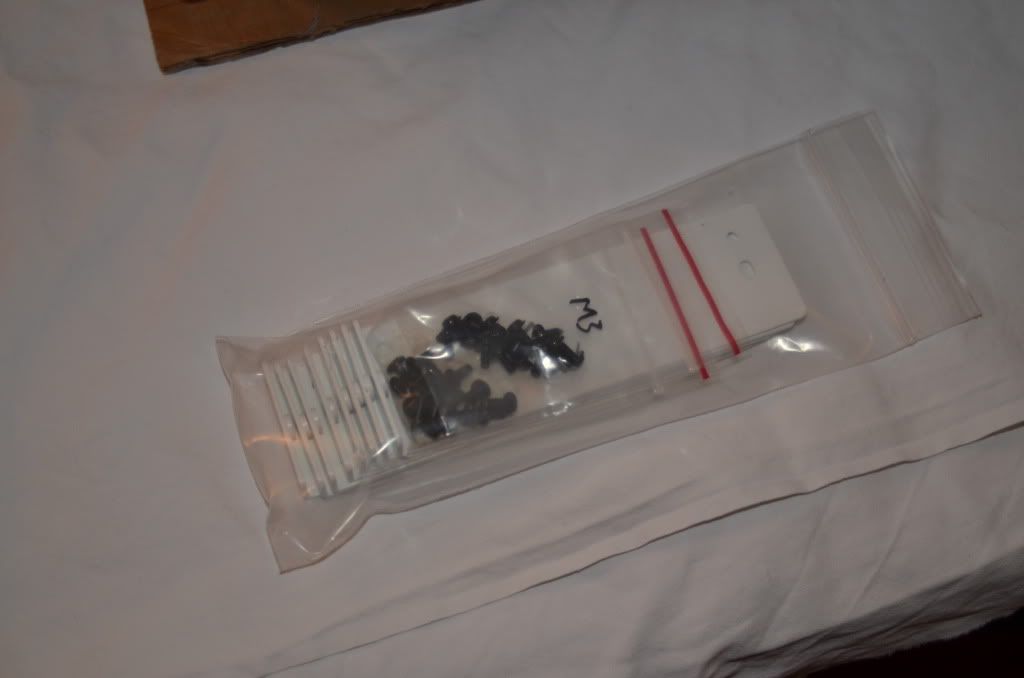 Flex-Bay Mounting Hardware and Accompanying Screws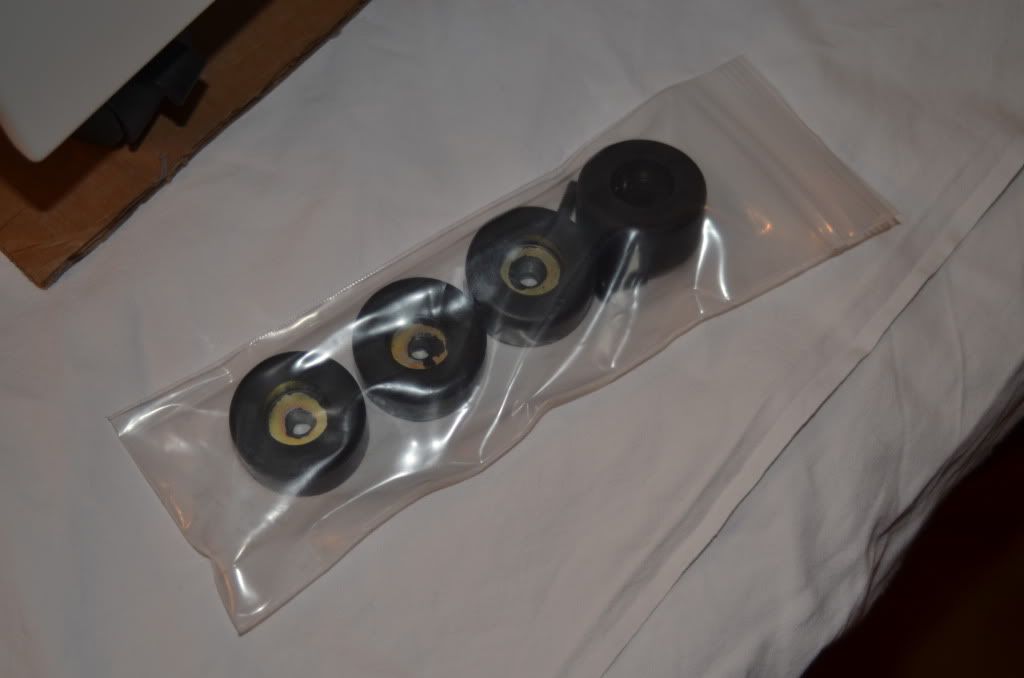 Rubber Feet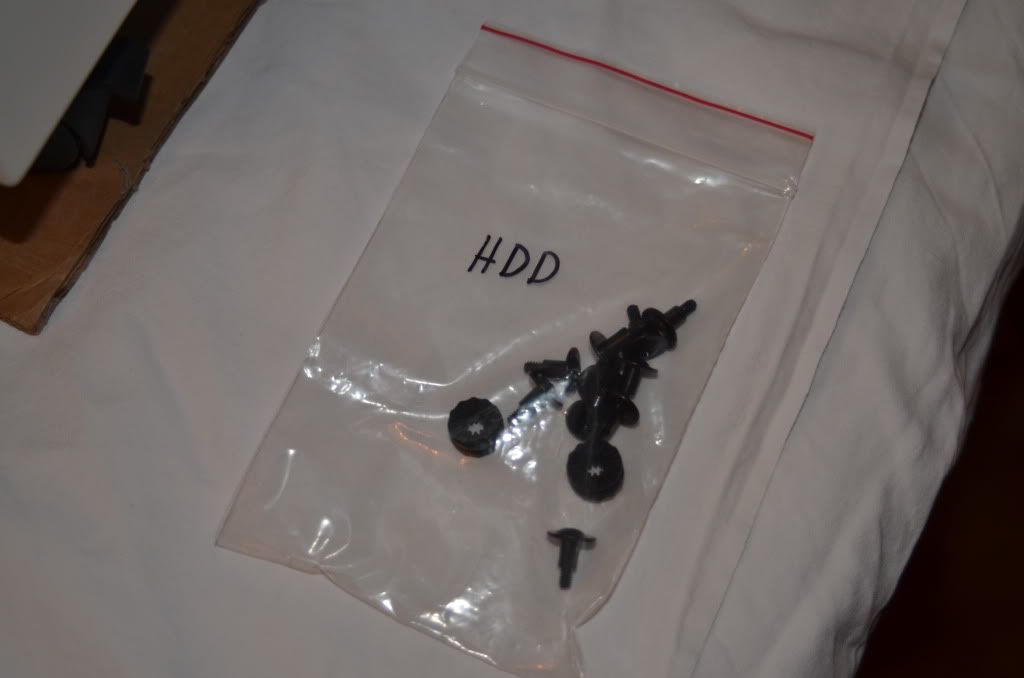 HDD Mounting Kit
Motherboard Tray Tech Station (Rubber Feet)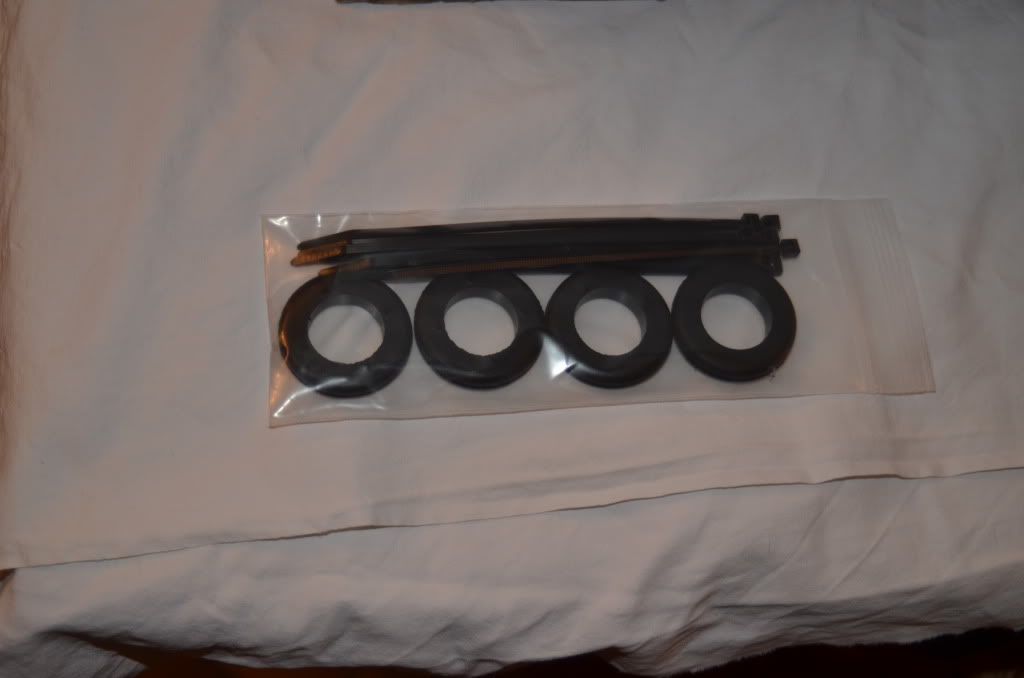 Zip-Ties and Pass-Throughs for Rear of Case
The TH10 can hold a huge number of radiators, with up to a 480mm radiator in the 5.25" bays, a 480mm radiator through the use of a horizontal accessory mount, two 480mm radiators on the top of the chassis and also two 480mm radiators on the bottom of the chassis. If you really wanted, you could even attach a 120mm at the rear exhaust of the case although with all the expandability options already available that would likely just clutter the case. You can add a 240mm, 360mm or even 480mm radiator in the flex-bay mounts (located on the motherboard side of the case). The 240mm radiator flex-bay mount will take up 7 flex-bays, the 360mm will use 9 flex-bays and the 480mm will use 12 available flex-bays so beware as this means you will only be able to install one 5.25" device in your case. Ideally you would want to use all the other radiator mounts before using very large radiator mounts in the front of your case. I will be using a 240mm radiator at the front of my case, but there is a reason for that. You can even add 560mm radiators if you buy a pedestal mount for your TH10. It goes without saying that this case is perfect for creating a very neat or very large water-cooling setup. You have a huge amount of space to work with which makes cable management a treat!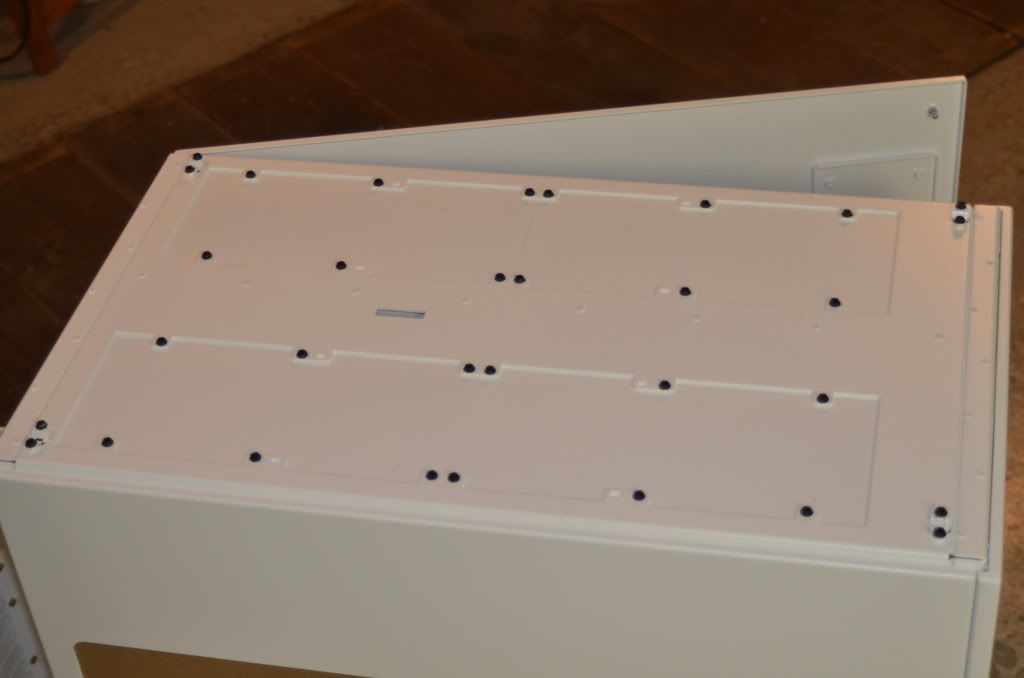 Access to Top 2x 480mm Radiator Mounts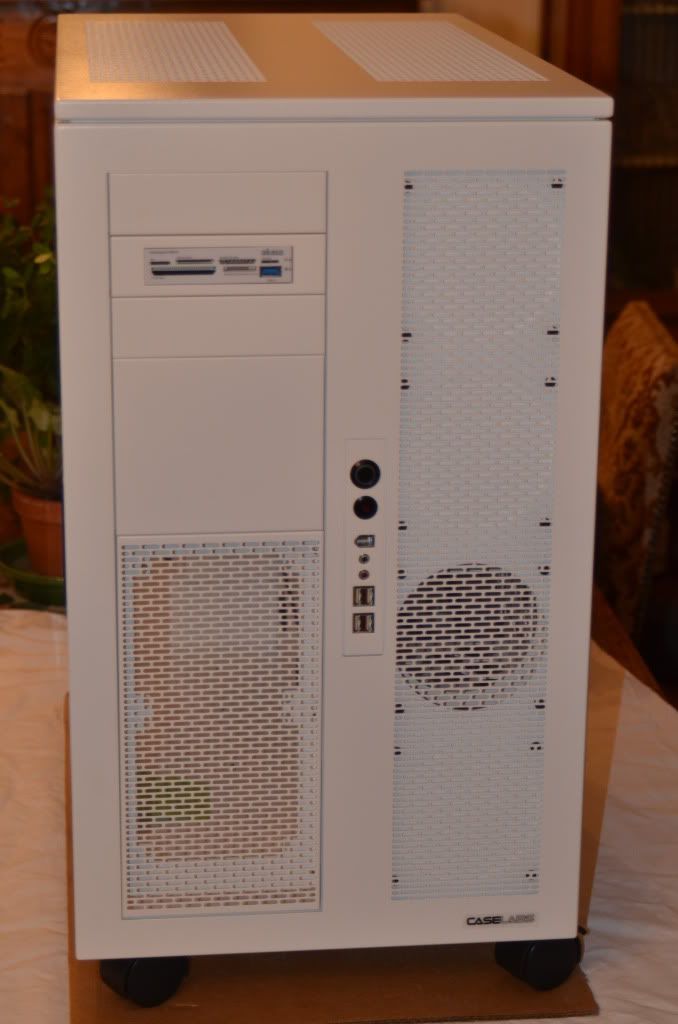 Front 240mm Flex-Bay Radiator Mount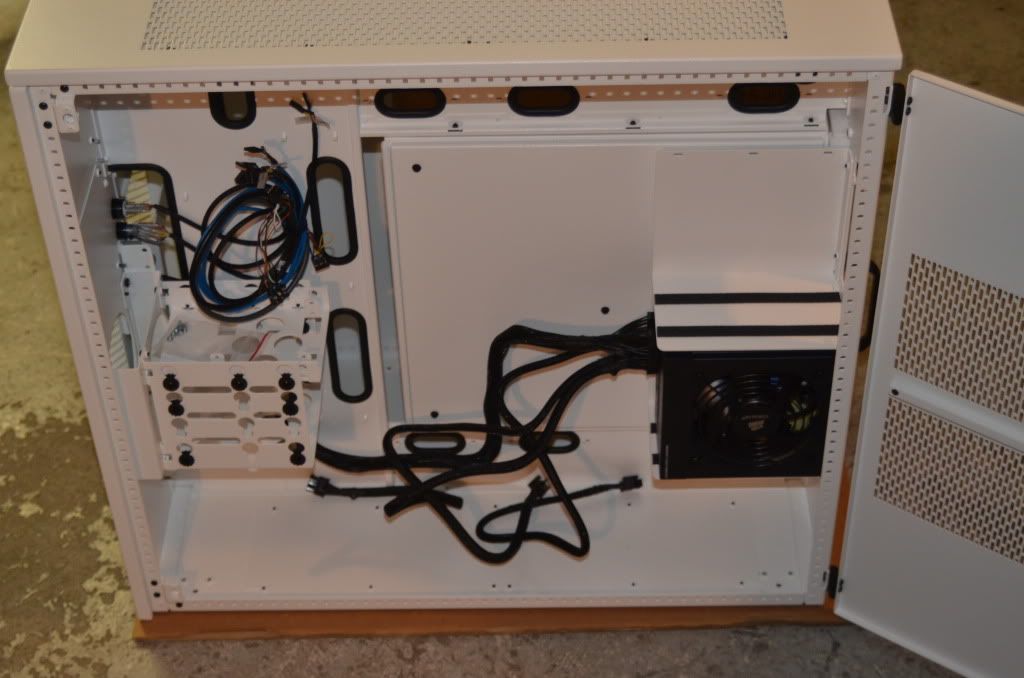 PSU Compartment - Yet More Space for 480mm Radiators!
In terms of front panel connectors the case comes with Lamptron anti-vandal switches. There is also an optional accessory panel that includes 4x USB 2.0 ports, an IEEE1394 Firewire port and headset/microphone ports. The LED, HDD cables are all braided in top quality black sleeving, another nice touch from Case Labs that makes their cases stand out from the rest. Most of the time front panel connectors are left un-sleeved and they rarely look nice like this. The USB 2.0 internal headers are individually split, so one cable per USB 2.0 port instead of the traditional 2 USB 2.0 ports per cable. These are the blue cables shown in the picture below:
Front Panel Cables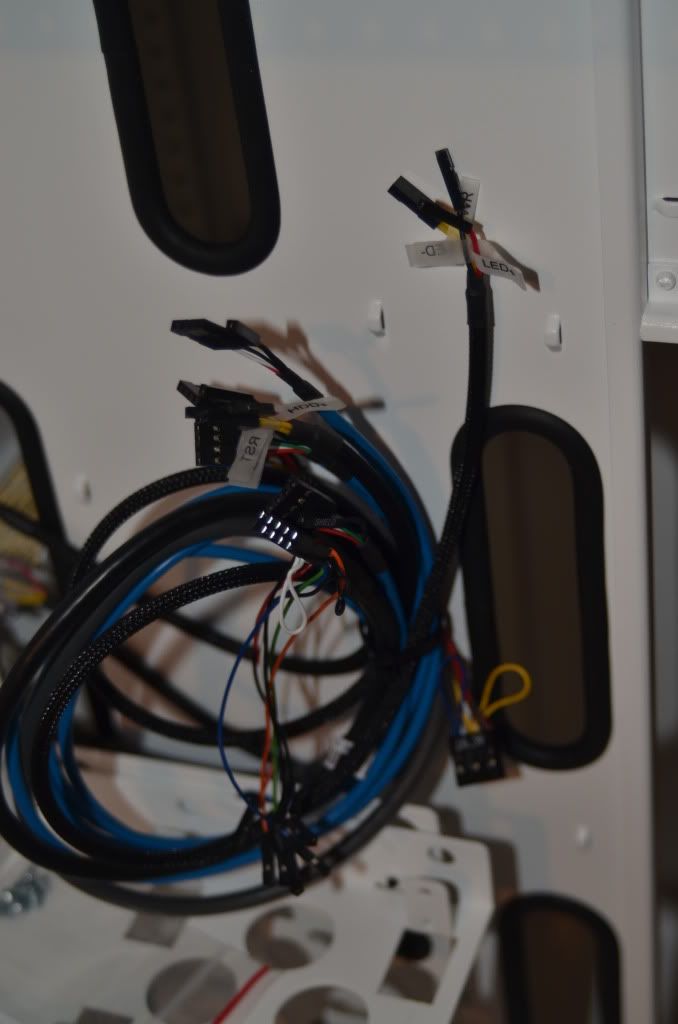 Close-Up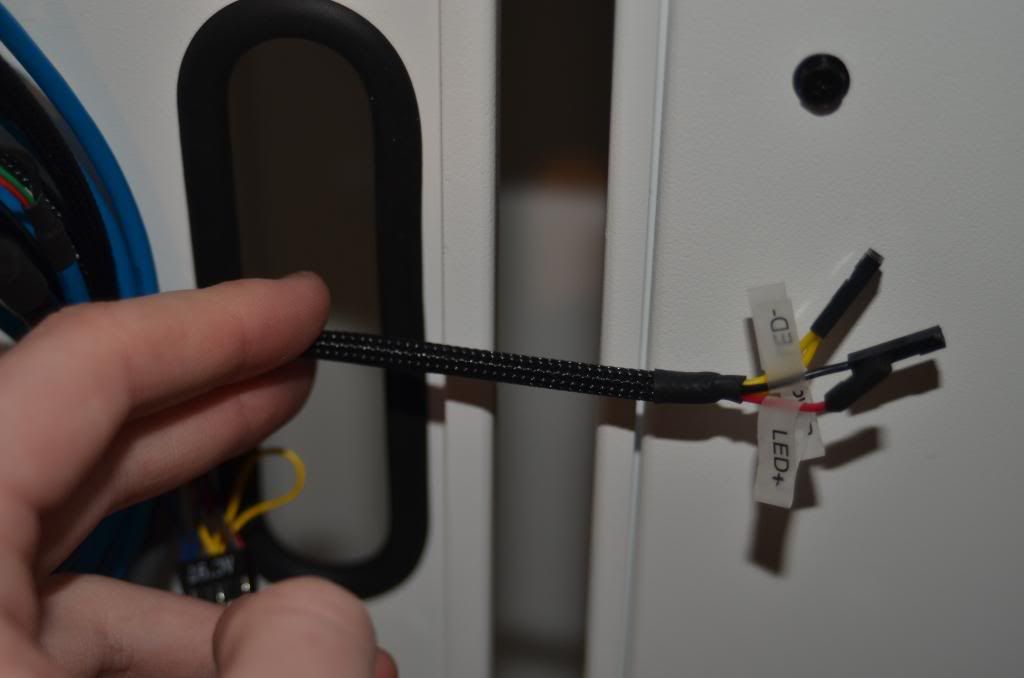 Braided Front Panel LED+-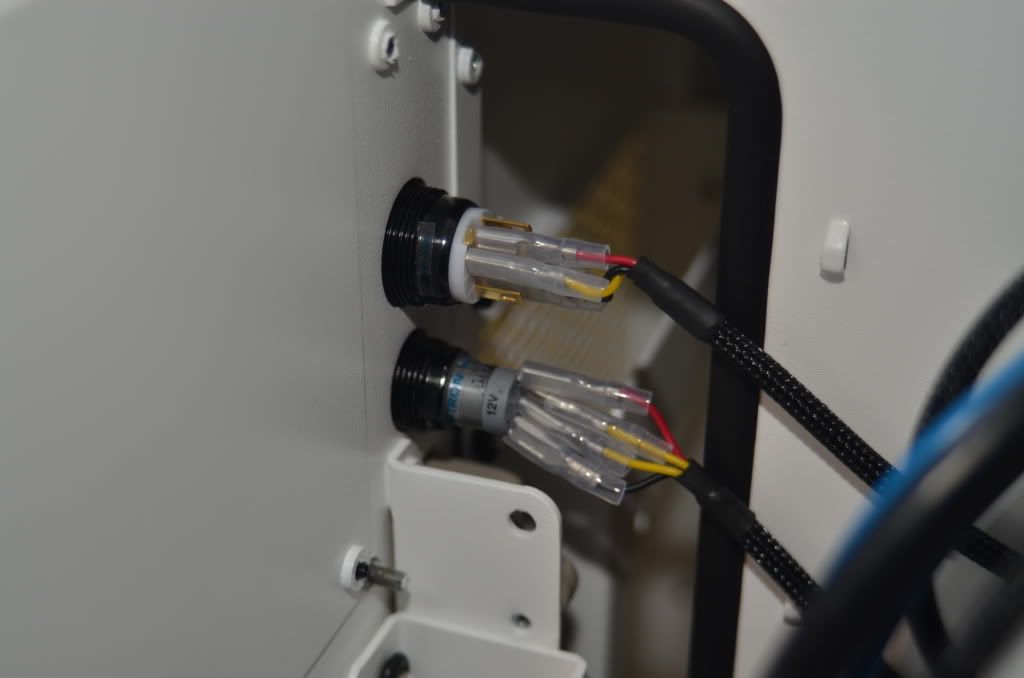 Lamptron Anti-Vandal Switches
The rear of the case features a 120mm fan mount, an I/O cut-out, dual PSU bays and 4 holes at the top of the case for external water-cooling should you need yet more space!
Rear of Case Labs TH10
The TH10 features a removable motherboard tray and is able to fit HPTX form factor motherboards. Being able to setup my motherboard and components outside of the case will really make my life much easier for me when it comes to starting the build! The spring-loaded thumbscrews and handle make the whole process of sliding the motherboard tray out a hassle free operation as I am one for losing screws as soon as I remove them! The motherboard tray sits on rails that are angled in a v-shaped orientation to make it much simpler to re-insert a fully-loaded motherboard tray back into the chassis. It is these small details that impress me the most about the overall case and its design. As an added feature, the TH10's motherboard tray comes with rubber feet that can be mounted to turn the tray into a test bench if you wanted to test the system outside of the case before starting to build into the chassis.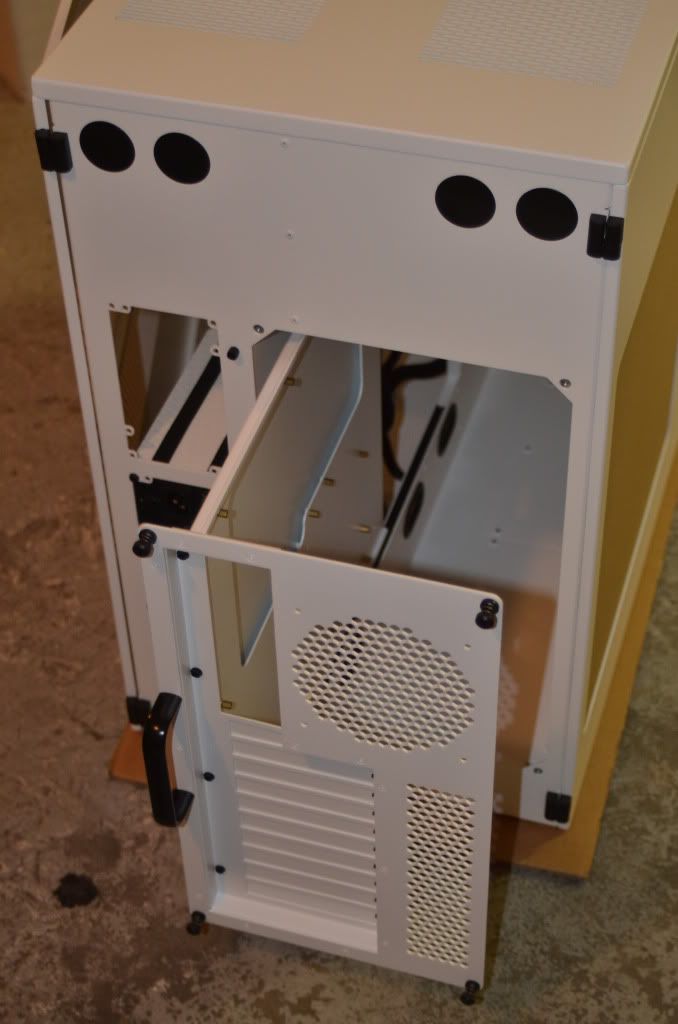 Removable Motherboard Tray
Spring-Loaded Screws (So you don't lose them like I do!)
Another nice feature of the TH10 is the number of pass-throughs from one side of the case to the other; it should make it much easier to pass tubing through from the back to the front if you decide to install radiators in the rear compartment.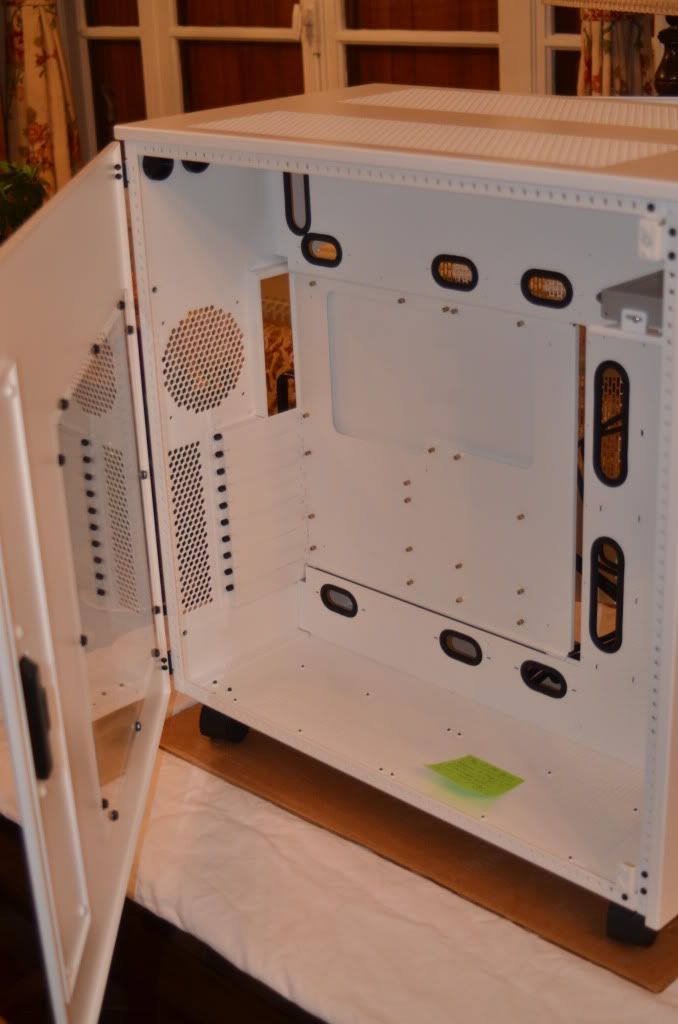 Pass-Throughs for Cable Management & Water-Cooling
HDD's and SSD's are mounted in the rear half of the chassis. You can buy additional standard bay mounts, 4 HDD's can be installed in each standard bay mount, you can also buy an optional SSD adapter bay that is mounted into one of the 4 positions in your standard bay mount. This SSD bay accessory plate will hold two SSD's, so in theory you can mount 8 SSD's into each standard bay mount. There is room in the chassis for 4 standard bay mounts so that is either 16 HDD's or 32 SSD's! I'm not sure I'll ever use all of that available HDD storage space! You can also insert flex-bay mounts on the motherboard side of the chassis for even more storage! These flex-bay mounts also take up to 4 HDD's. There are a total of 13 flex-bays on the Case Labs TH10 case. One flex-bay mount uses 3 flex-bays in your TH10.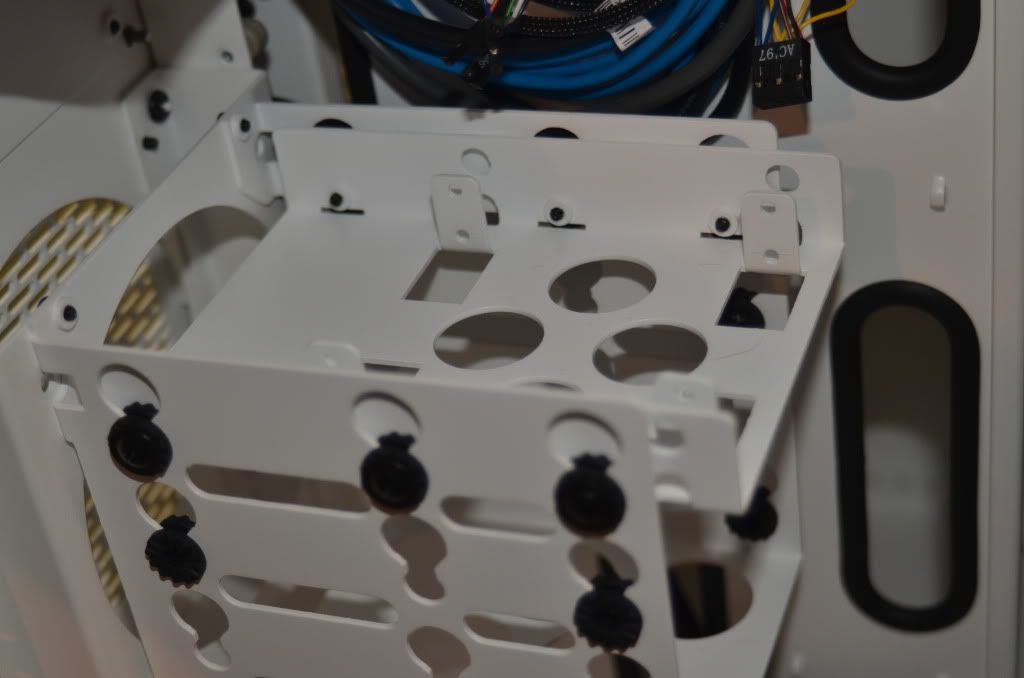 HDD Standard Mount on PSU Side of the Chassis - Showing Optional SSD Mounting Plate
The front panel and top panel can be taken off in order to mount the radiators, flex-bay mounts, standard bay mounts, and 5.25" devices / radiator mounts. The covers can be taken on and off easily and are of a sturdy construction. The case also has hinged doors which I find really useful in a large case like this! The doors can be removed simply by pulling them up and off their hinge assembly. The doors feel very sturdy and do not flex at all when opened and shut.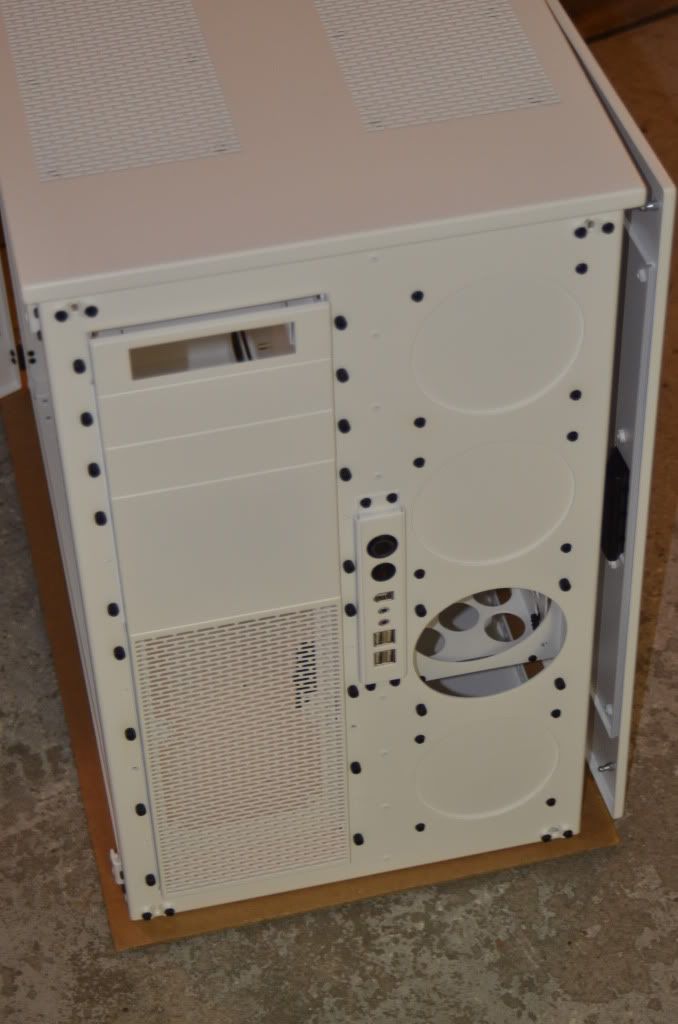 Front Fascia Removed
In conclusion, I believe this case is going to give the water-cooling case market a serious run for its money. There aren't many cases out there that really meet the extreme water-cooler's needs due to limited space for mounting radiators. I really love the attention to detail in all of their cases as it is often the small details that end up making the biggest difference when planning / constructing a new build. The expandability of the case remains one of the most important features of this case as you can expand components and never need another case again. I know for one that this TH10 will last me a considerable number of constructions!
Case Labs TH10 (Matte White)
I would now like to take this opportunity to thank Jim over at Case Labs for offering to part-sponsor my next dedicated folding@home build through the use of their Case Labs TH10.
Thankyou to my sponsor:
Edited by Sleinous - 3/22/12 at 1:15pm