I've been kicking around the idea of building a small case with good airflow, because I eventually want to build a powerful lan box that won't sound like a leaf blower, and find all the small commercial cases lacking in some way.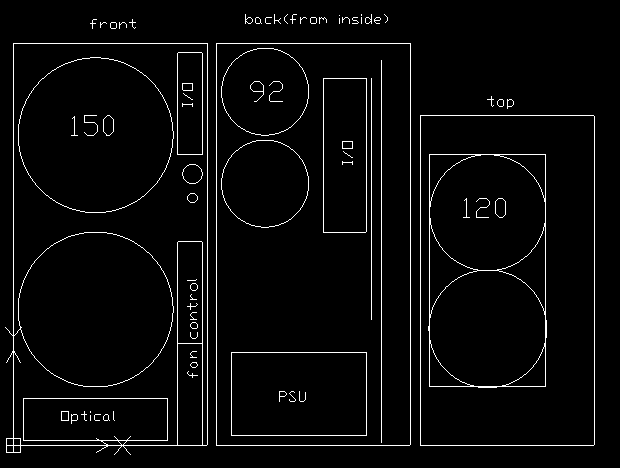 (dimensions are 20 cm x 41.5 cm x 34 cm)
Front is designed to fit 2 of these:
http://www.thermalright.com/products/index.php?act=data&cat_id=40&id=188
two of these:
http://www.newegg.com/Product/Product.aspx?Item=N82E16811995074
and one of these(or similar):
http://www.newegg.com/Product/Product.aspx?Item=N82E16813999356
plus a DVD drive
for air filtration, i'd probably make my own filter out of some
stainless screen
.
Top would fit a H100
I'd probably build a 5 slot mATX tray into the back, there's certainly room for it. (i'll probably measure an existing case before i put the expansion slots down, want to make sure i get it right.)
I haven't decided where to put my ssd/hdd, on top of the optical drive is an option, as is building a cage above the graphics card.
Material undecided, mild steel painted black maybe?
Might add handles at the front and back on top, will definitely add some rubber feet.
Any ideas/comments/concerns?
CPU
Motherboard
Graphics
RAM
i7 930 @ 3.6
Gigabyte x58a ud3r
Gigabyte GV-R6870C-1GD
Mushkin Redline
Hard Drive
Optical Drive
Monitor
Keyboard
2x 1TB Spinpoint
samsung dvd burner
Samsung p2370 + Mitsubishi Diamond Pro 930SB
WASD keyboards v1 semi custom w/ cherry browns
Power
Case
Mouse
Antec CP-850
Antec P183
CM Storm Spawn
View all
hide details
CPU
Motherboard
Graphics
RAM
i7 930 @ 3.6
Gigabyte x58a ud3r
Gigabyte GV-R6870C-1GD
Mushkin Redline
Hard Drive
Optical Drive
Monitor
Keyboard
2x 1TB Spinpoint
samsung dvd burner
Samsung p2370 + Mitsubishi Diamond Pro 930SB
WASD keyboards v1 semi custom w/ cherry browns
Power
Case
Mouse
Antec CP-850
Antec P183
CM Storm Spawn
View all
hide details