Well I think the $800 dollar graphic card is an insult to the end-user. The whole point of micro-chips was to lower cost, smaller, faster, better, cheaper and we haven't seen an actual example of this until Intel found the Conroe plans hidden in the Marketing Department closet.
They literally created an evolutionary "Ice Age" for CPU design when they took the Net Burst fork in the road instead of continuing down the PIII path with a little mobile technology thrown into the deisgn mix. the Ice Age included cooling for pipelines so deep you need a spelunking command to see any performance.
I don't know where we'd be by now but I do know the same occurred in the Graphic Card industry when 3DFx (similiar to Intel with their PIII) placed two VSA100 GPU's on a single card and Scan Line Interfase was born via the VooDoo 5500. Eventually 3DFX went bankrupt because the graphic card market wasn't nearly as profitable then as it is now and their efforts to get the VooDoo 5 6000 with it's four VSA100 GPU's onto store shelves failed.
If it weren't for the collapse of 3DFx we wouldn't have the talent we do at nVidia, ATI and Matrox, however just like the enginners at Intel marketing or money wins the day. Those were true pioneers in the videocard industry and what is frustrating as "all get out" is the direction GPU architecture took after 3DFX's demise. I have the feeling dual core GPUs are far off and so is the single PCB with multiple GPU's similiar to 3DFX. After all you can make a lot more money selling two cards at twice the premium price then selling one superior card at a slightly increased price.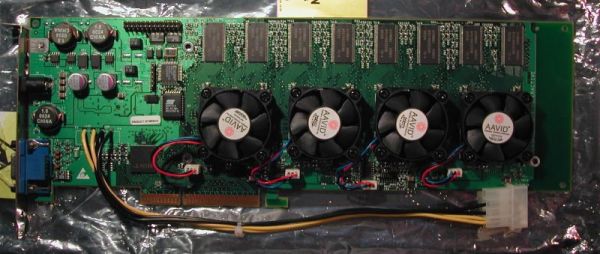 CPU
Motherboard
Graphics
RAM
Conroe 8x430FSB
Asus P5w DH
Leadtek 7950GX2 H20
SuperTalent 4GBx1000MHz
Hard Drive
OS
Monitor
Keyboard
Seagate 80GB SATA
WinXP SP3
Samsung 930b
Mi Opti wireless
Power
Case
Mouse
PCPower&Cooling 1KW
NZXT Zero
Mi Opti wireless
View all
hide details
CPU
Motherboard
Graphics
RAM
Conroe 8x430FSB
Asus P5w DH
Leadtek 7950GX2 H20
SuperTalent 4GBx1000MHz
Hard Drive
OS
Monitor
Keyboard
Seagate 80GB SATA
WinXP SP3
Samsung 930b
Mi Opti wireless
Power
Case
Mouse
PCPower&Cooling 1KW
NZXT Zero
Mi Opti wireless
View all
hide details