original build day pic
new pics with 680 h20 mod
CPU Overclock
4.6ghz, 1.29v, max temps (via prime) 75c.
Overview of build
Have a video off the unboxing. As stated in video, sorry for crappy quality. The sound is prefect when everything is turned up all the way on my system. Hope others can hear it. It's all I have for the moment. Should have better videos up sunday evening. I can say though, that I am typing from this build atm
Its awesome. Will also add crappy vid of the current system to sustain until I can get better up.
This pic pretty much sums up the video below...
.
In the meantime, here is a pic of what I ended up doing to fit the h100 into the top of the case. I had to cut out the venting and then some extra in the back for the tubes attached to the radiator. Then I had to attach the 140mm adapter to the OUTSIDE of the case, and then mount the radiator on that.
On top of that, the screw holes in the adapters had to be displaced forward some to fit. I als had to cut indentures in to these to compensate for the tubing for the radiator.. Also because of converting it from 140m to 120m, the spacing wasnt right to use the 2nd adapter. Therefore I had to mount the back one very securely, and then just left the front section of the radiator to free flow above the front 140mm fan. Not to worry because its very secure. I almost feel like I could lift the whole case by grabbing the radiator but I would never try it lol.
Then I put the stock ones on top of the radiator to pull what the 140s where pushing out.Also had to gut some of the support in the very back to be able to fit the heat sink/pump(?) through the case.
Used some acu duct tape I had laying around for the air tight seal
Gotta get some sort of cage to close it off though.[/size]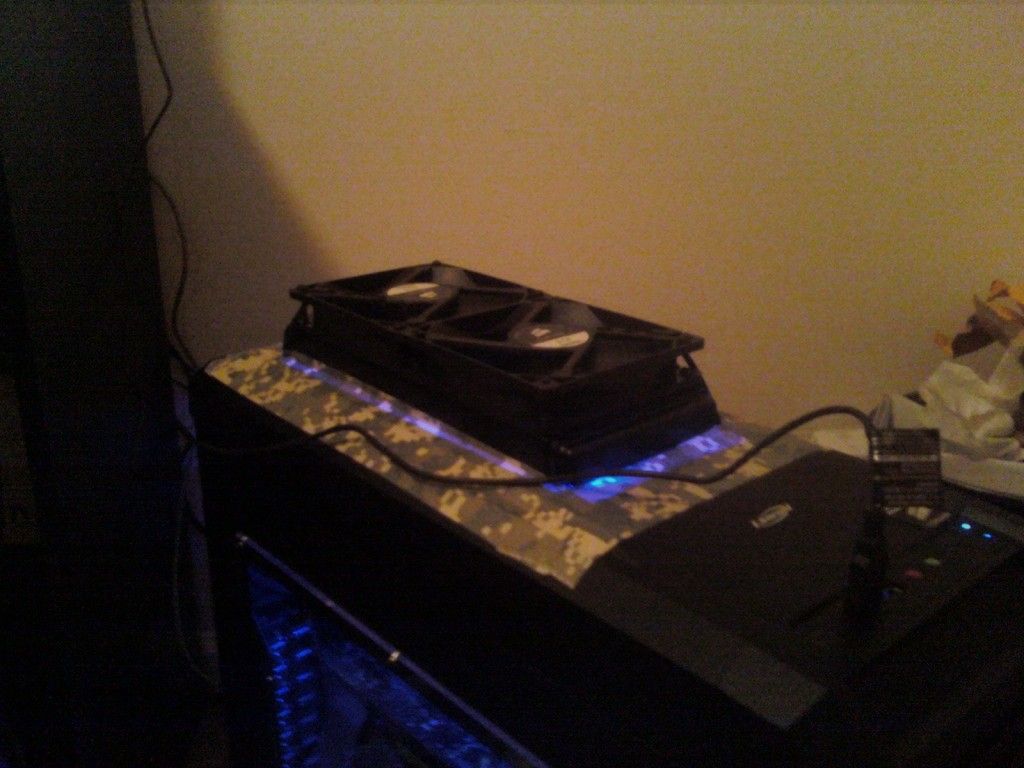 I got lucky and ran across a decent amount of cash. Needles to say this is gonna be a $3k build
Never thought I would be able to afford something like this so I am pretty excited. Everything has been ordered and if all goes right, should be here thursday. Edit friday :/ damn you newegg and your order verification stage.
I will post up pics during and finishing. Will be a pretty much textbook build minus the custom liquid cooled gtx 680. All credit goes to
DWood
by providing the custom mount for the system. A link for his work is
here
.
Parts incoming...
Lian Lee Lancool pc K-62 case
Asrock X79 Extreme 6 mobo
i7 3930k
Galaxy GTX 680
Corsair H100 liquid cooler (for CPU)
Antec H20 620 liquid cooler (for GPU, also have some vrm/vram heatsinks for it inc.)
16gb ddr3 1600 (no name overpriced ram from local store, solid though)
Mushkin Enhanced 240gb sata III SSD
WD 1tb hdd (older eco friendly one, but its just slave for music and such)
Corsair 1050w Professional Series
Asus 27" 120hz monitor with 3d vision 2 integrated + glasses
extra pair of nvidia glasses (otherwise you cant keep company entertained)
Also have a few 140mm to 120mm adapters to mount the h100 radiator to the top of the case. Its gonna be a real close fit and might have to cut the case up a little :/
Stay tuned
(As you see it come together I think there is a button on here that confirms that you do
Would be greatly appreciated. I want to start selling some of my other pcs parts.)
Edited by Outlawed - 4/29/12 at 8:43am