Quote:
Originally Posted by Muftobration
Sweet, thanks for the info! So, this is what you say I should do?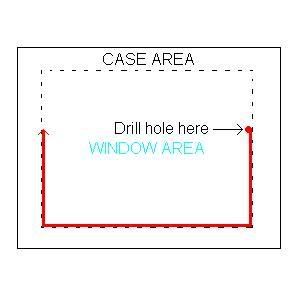 That doesn't seem so hard. Then I can use that UChannel stuff to make it look pretty! Thanks a million Witchfire, those seem like jsut the tools for the job!
Pull the pilot hole away form the final line of cut:
The dotted (so-called) line is the "feathered" approach to the cut. When you are done you will want to remove any burrs with a fine file or emery board. Try to file along the cut, not perpendicular to it in order to keep the vibration down (to avoid warping or stressing).
Ahh... almost forgot. Depending on angle of the corners on your window you way not want to cut around them. If you need a 90 degree corner, repeat the pilot hole steps and approach from the perpendicular side so that the cuts meet up at the corner itself. If your shears or nibblers are small enough, and the window and moulding are somewhat rounded you might be able to cut around the corner.
CPU
Motherboard
Graphics
RAM
i7 2600K
GA-P67A-UD7
GTX 580
2 x 2GB Corsair
Hard Drive
Optical Drive
OS
Monitor
C300 (OS), Velociraptor (storage)
Lite-On
W7 64-bit Pro
Samsung 275T
Keyboard
Power
Case
Mouse
Black Widow Ult.
Silverstone DA750
Lian Li T60
R.A.T. 7
Mouse Pad
Q-Pad
View all
hide details
CPU
Motherboard
Graphics
RAM
i7 2600K
GA-P67A-UD7
GTX 580
2 x 2GB Corsair
Hard Drive
Optical Drive
OS
Monitor
C300 (OS), Velociraptor (storage)
Lite-On
W7 64-bit Pro
Samsung 275T
Keyboard
Power
Case
Mouse
Black Widow Ult.
Silverstone DA750
Lian Li T60
R.A.T. 7
Mouse Pad
Q-Pad
View all
hide details