This is for the Desura service. It's a bit like steam but more geared towards indie developers.
Defense Grid
Warning: Spoiler!
(Click to show)
This is honestly 1 of 3 tower defense games I like with it being the top one. The AI computer narrator in the game actually has a lot of personality and you feel like such a dick when the enemy steals the orbs, like you could have prevented it lol.
Quote:
The story is based on alien invasion of a planet that has a dormant defense grid.[6] As the player is re-activating the defense system with the assistance of a computer to control the machinery and with only limited resources, the aliens attempt to steal power cores. Power cores are "tiny floating orbs" that provide vital power to the defense grid.[7] Once all power cores have been stolen the game is over. Only one power core need be remaining when the last wave of aliens is killed to complete a level.[7]
Defense Grid is set in the distant future. Most levels feature ancient ruins with defensive military bases built amongst the decaying structures. The game was originally planned to be set amongst an urban environment which has been ravaged by war but that was changed to something more original.[8] The main character in the game, which is called the Entity, is a computer with human-like qualities that wants to protect his homeworld from destruction.
System requirements:
Minimum:
1.8 GHz processor,
512 MB RAM, 1GB HDD,
DirectX 9.0c video card with shader model 2.0,
Internet connection
Recommended:
2.0 GHz processor,
1.5 GB RAM
Hack, Slash, Loot
Warning: Spoiler!
(Click to show)
Quote:
There are dark places in the world inhabited by evil denizens. Places filled with danger and foreboding where no ordinary man would dare to journey. However, there are a few who are willing to risk death in the name of good, in the name of justice, in the name of.. valuable loot! Hack, Slash, Loot(HSL) is a single-player turn-based dungeon crawler for Windows, MacOS, and Linux. Take control of a lone hero and explore sprawling dungeons, fight dangerous monsters, and most importantly, plunder valuable treasures. HSL features thousands of items, monsters, and dungeon features, and with a new dungeon created every game you can be sure that no two plays will ever be the same. Boasting easy to master controls you'll be adventuring in no time, but there is still enough depth to challenge the most hardened of adventurers.
Alien Mega Death
Warning: Spoiler!
(Click to show)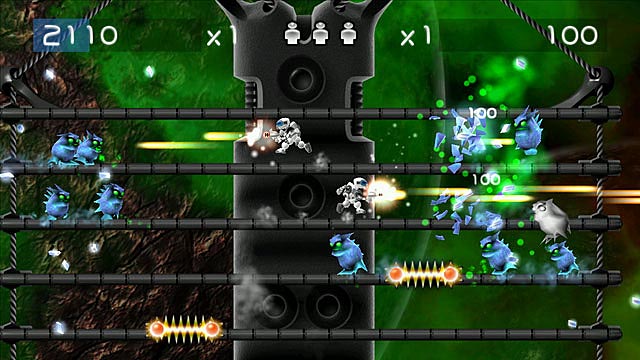 Quote:
A Space man has been killing Alien Zombies for what seems like an eternity. Why? Because when Alien Zombies are stalking the depths of space, there's only one thing to do with these undead creatures: bring death to them with an array of scum-obliterating weapons.
In the HD sequel to the hit shoot-em-up, it's not only blasting you'll be doing. Oh no. There's bombs to defuse. Space babies to rescue. Jet packs for flying silliness. But still... lots of blasting. LOTS. Alien Zombie Mega Death spreads its unique style of carnage and action out over 70 levels. combining both one shot adventure levels and to-the-death survival modes. All flavors of violent blasting catered for, and all dressed up in traditional PomPom silliness.
Explodemon
Warning: Spoiler!
(Click to show)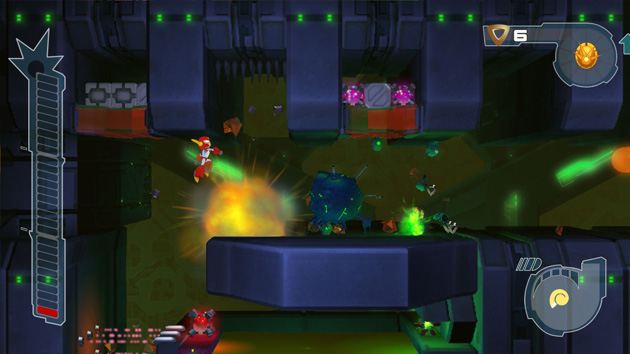 Quote:
The planet of Nibia is under attack by a threat named the Vortex, and all of the Nibian Guardians are out of commission. You are Explodemon, a Guardian held in cryogenic storage due to your instability. Not only are you barely able to control your tendency to spontaneously explode, but you hardly have a grasp on the English language. Faced with the greatest decision of their history, the Nibian elders would rather surrender before letting Explodemon run free. Despite their choice, a stray missile hits your cryogenic chamber, and you awake from slumber to find the city under attack. Explode now, and ask ridiculous sounding questions later!

Explodemon! is a little Mega Man X and a whole lot of Splosion Man. Your body is your weapon, and if you plan on saving Nibia and letting the universe know you're not just a guy in cool armor who has no grasp on grammar, you're going to have to use it well. Explodemon can jump, dash, slide on the floor or down walls, and of course, explode. The closer an enemy is the the center of your explosion, the more damage you'll do. As he progresses, Explodemon gains new abilities such as double jumping, phase-dashing, and aiming. Aiming is a slick addition, as you can precisely control where you want your explosion to send the nearest object, which most likely also explodes.
Astro Tripper
Warning: Spoiler!
(Click to show)
Quote:
Astro Tripper is a furious shoot-em-up experience inspired by the painful, knuckle busting video games of years gone by. An evolution of PomPom's 2001 award winning game, Space Tripper.

Travel the surface of large horizontally-scrolling platforms, and pit your highly maneuverable craft against hoards of enemies eager to blow you to bits, eat you or worse.
Rules:
Must have been a member for a year
Must have 30+ Rep ( I will be checking to make sure it's legit rep for being helpful )
Must have a sense of creativity to compete
Must not post an entry more than once otherwise be disqualified
How do you win?
SIMPLE!!! All you have to do is give me a reason why you deserve such a game, but here's the twist. You are to tell me you deserve them in such a way that Dr. Seuss himself would.
CONTEST ENDS APRIL 16 2012!!
If I have only 1 good entry I will extend the deadline.
Edited by SpykeZ - 4/12/12 at 2:45pm