I have been curious now for quite some time as to how both of my computers would fair against each other. Tonight being a night off for me, I decided to pit them against each other. I know this has been done many times over, but I wanted to feed my curiosity and really wanted to share something with this amazing community.
Introduction
My main rig houses:
Intel i7 2600k
ASRock P67 Extreme4 Gen3
Zotac GTX 480
Mushkin Enhanced 120GB SSD
Corsair HX850w
All in an Antec 1200
CPU-Z Validation
My AMD rig houses:
AMD Phenom II X4 955 Black Edition
Gigabyte 990XA-UD3
2x4GB G.Skill DDR3 1600MHz + 2x2GB Corsair LP DDR3 1600MHz
EVGA GTX 480
Seagate Baracuda 500GB 7200RPM
Thermaltake TR2 600w
All in an Antec 900
CPU-Z Validation
Generally, I run the 2600k stably at 4.8GHz, while I happily run the 955 at 3.9GHz. I have played Battlefield 3 on both these rigs, and both are able to crush the game, running on Ultra settings. I generally play on 24/7 Rush + Metro maps, so the testing would be the same. The AMD rig averages about 65fps, with GPU load at about 98%. The Intel+SLi averages about 115fps. These are off the top of my head, as I haven't used my AMD rig much since the PSU in my main rig died.
Anways, I will start with the setup. I am going to test both rigs at 3.9Ghz. To achieve this with my AMD rig, I set the cpu multiplier to 19.5x, slightly bumped the vcore, and manually setting the RAM to 1600MHz.
Here is the top section of my BIOS: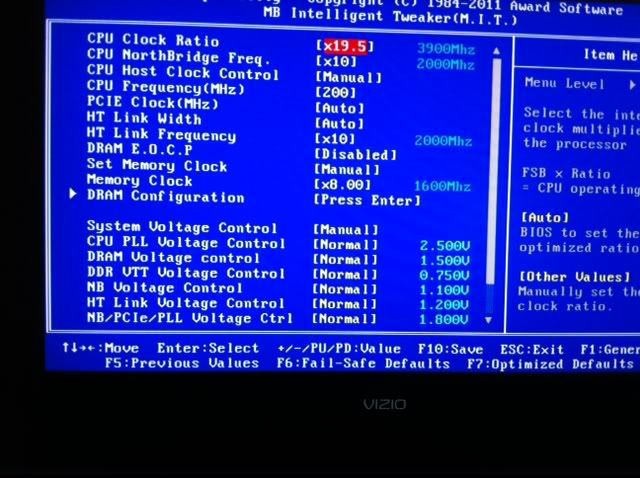 And the bottom section:
These are the settings that I run 24/7 on my AMD rig. I never really cared or had the patience to increase the Northbridge or Hypertransport frequencies, and strongly feel that, outside of benchmarks, I would never notice the overclocks anyways.
For my Intel setup, I have messed with a few settings. As stated before, I usually run the chip at 4.8GHz with Hyper-Threading on, but for this test, have downclocked the chip to 3.9 to match the AMD chip. My current main gaming rig is the first and only Intel setup I have ever built. When I put the system together and loaded up the BIOS, I was very lost, as I was so used to working with AMD setups. Out of the box and, I believe, on stock settings (maybe just a bump in vcore), I was able to hit 4.5GHz stably. However, no matter what I tried, I simply could not load Windows over 4.5GHz. I turned to Youtube and followed a video, and before I knew it, I was stably running 4.8Ghz.
Top section of my BIOS: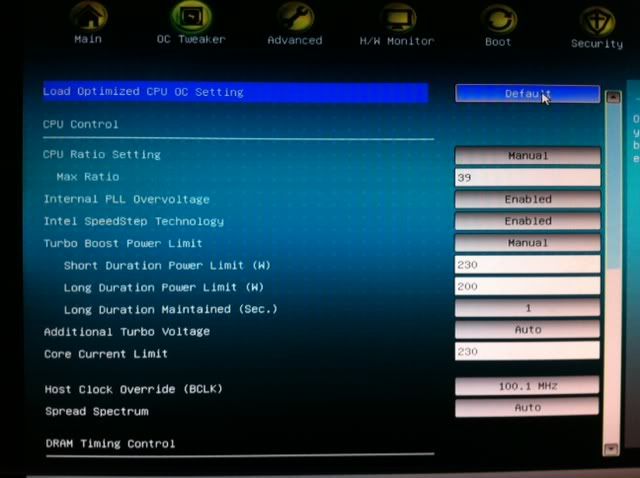 Bottom section of my BIOS:
The only difference between these tests and my 24/7 setup is the CPU multiplier, which I run at 48 instead of 39. I still don't know what all of these settings do, but since my system is stable, I haven't bothered to change anything.
Testing
The first line of testing I am going to use is good ol' 3D Mark Vantage. I began by running just the CPU tests. I ran each test 3 times and here are my results;
AMD:
Run 1: 12,639
Run 2: 13,004
Run 3: 12,122
Intel:
Run 1: 20,269
Run 2: 20,636
Run 3: 21,036
After running each test three times and recording the results, I noticed that each rig seemed to increase it's respective score by about 400 each run, so I decided the run the test one more time on each rig.
Results:
AMD: 13,038
Intel: 20,785
I decided that the "phenomenon" was just a coincidence. This has concluded my first round of testing. You can only take so much from a benchmark, so I am not going to dwell on the benchmarks for too long. My next round of testing is adding the GPU test to each rig, running only 1 of my 480's on my Intel rig. I run both rigs at the same GPU settings, 800MHz core, 2000MHz memory. The only concern I have is in regards to the FSB/Hypertransport/North Bridge. I am not sure how much variation exists between AMD's Hypertransport/North Bridge and whatever Intel uses, but I am trying my best to make these tests soley CPU dependant. The AMD rig does have 4GB less of RAM, but I feel that running a single program is not going to tax anywhere near that amount. So here we go. I decided to run the "stock" Vantage setting, which is the Performance preset option. Also, I set the Physx to CPU in the NVIDIA panel, hoping to spark more input from the CPU. Here are my results:
AMD GPU Only:
Run 1: 21,237
Run 2: 21,147
Run 3: 21,149
Intel GPU Only:
Run 1: 21,538
Run 2: 21,540
Run 3: 21,777
So it appears that while the systems performed fairly well, the Intel rig ran slightly faster. However, I noticed something very strange. While the cards performed similarly during the first 2 GPU tests, the AMD system absolutely spanked the Intel system during the Feature tests. I grabbed both boxes out of storage, and to my astonishment, the Zotac GTX 480 that I purchased last June is only OpenGL 3.2, while the EVGA is OpenGL 4.1. While I can only guess, I am going to assume that this is the reason why the EVGA scored 300% higher then the Zotac on the final Feature test in 3D Mark Vantage. I am very tempted to pick up another EVGA and make a GPU swap soon...
Anyways, I am going to call it a day. In the next couple of days, I am going to try to gather some in-game benches on both systems. I'm also going to try to get some other CPU-intensive programs and really beef up this competition. For now, ta-ta and farewell!!
Edited by dalastbmills - 4/15/12 at 9:22pm