There are two parts for Pico-PSUs.
The AC-DC converter (aka the brick).
The DC-DC converter (what sits inside the case).
Things to consider:
The AC-DC converter needs to match the specs of the Pico-PSU. If the DC-DC converter can only take 12V makes sure the AC-DC converter outputs to 12V. This needs to be mentioned because many bricks will output to 19V instead of 12V. There are some wide voltage Pico-PSUs that can take a 19V but just check to make sure.
It needs to be the level of the Pico-PSU if you want to use full power although it isn't required. A 120W Pico-PSU can be mixed with a 102W brick for example. The max power is determined by the weakest link in the chain, whether it be the brick or the pico-PSU.
Lastly, high wattage AC-DC converters will utilize a 4-pin din jack instead of a single pin like what is pictured above. This is used for plugs that need greater than 9 Amps.
Quote:
Prime95 + Furmark (Full loading) 127.1 W
Source
Anandtech did some testing with the 3770K and a mATX board.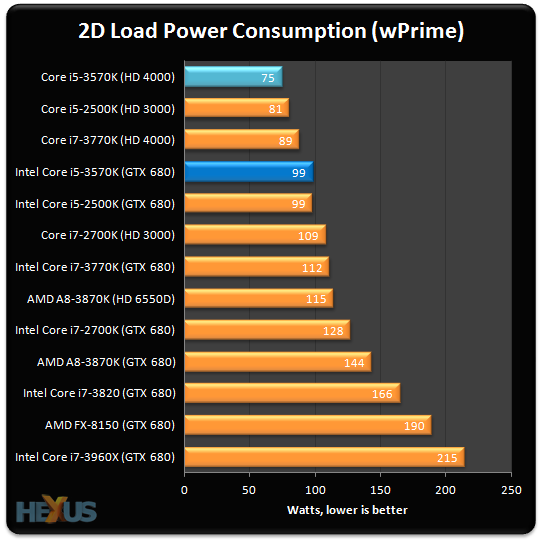 Source
Hexus also did power testing and got lower so I am not sure which to follow. I would presume the chip you are using will use less power than either of these chips but who knows.
The most common Pico-PSUs go:
120W
$39.95
150W
$45.00
160W
$49.50
There isn't much difference in price between them so I'd probably just go with the 150W. Note that the 120W is a 20-pin while the 150W and 160W have 24-pins. Also the 120W doesn't have a 4-pin mobo connector. You have to buy a 4 pin splitter and attach it where the wires come into the case.
If you go 150W get
this
power brick.
The low wattage 60W/90W are really meant for Zacate (E-350) or Atom builds.
Prices for these are probably cheaper if you look around. I just wanted to use a central location for parts. Good luck.
Edited by armourcore9brker - 4/30/12 at 1:34pm
CPU
Graphics
RAM
Hard Drive
Intel i7-3615QM
GT 650m
Samsung
Crucial M4
Hard Drive
OS
Monitor
Power
Seagate ST1000LM024 HN-M101MBB
Windows 7 Ultimate 64-Bit
17.3" 1920x1080
Delta SADP-90FH D 90W
Mouse
Audio
Logitech M505
Fiio E10
View all
hide details
CPU
Graphics
RAM
Hard Drive
Intel i7-3615QM
GT 650m
Samsung
Crucial M4
Hard Drive
OS
Monitor
Power
Seagate ST1000LM024 HN-M101MBB
Windows 7 Ultimate 64-Bit
17.3" 1920x1080
Delta SADP-90FH D 90W
Mouse
Audio
Logitech M505
Fiio E10
View all
hide details