Hello OCN,
It's time for an upgrade again. I have been holding out for some time now waiting on Ivy Bridge (like a lot of you) only to find that the OC heat issue and performance is not what I expected. I opted for a nice SB-E instead since I don't do LN2. I am upgrading from my current gaming rig which is an i7 950 LGA1366 CPU with an Asus RoG 3 Formula.
This is my old gaming pc here:
http://www.overclock.net/t/1200235/phobya-xtreme-400-rad-inside-a-haf-x/0_20
***Edit the following paragraph May 9,2012***
I wasn't sure if I wanted to tell the world my personal family problems. However after talking about it and thinking of how many other families suffer with it. I have decided to come clean on the purpose of my build. This time I am building for a cause. A few years ago my mother found cancer in both breasts and had a double mastectomy . She has been through hell and back but is now in remission. I consider myself lucky and blessed to still have her. This PC build is mainly for Folding to help a cause and maybe help find a cure. I have never tried folding before but, OCN has so much info and the best people. I am sure I will be up and running quick.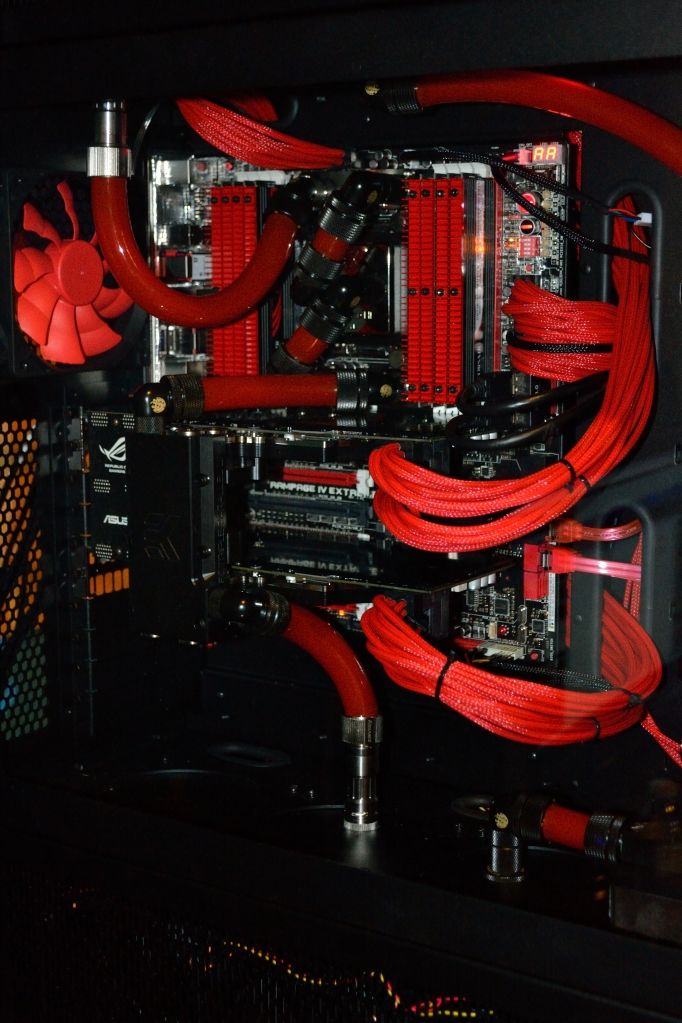 Parts List:
LG Blue-Ray Burner
EK-Multioption RES X2 - 250 Advanced
MCP35X2-BK
Koolance ASUS Rampage IV Extreme Chipset Block
Asus Rampage IV Extreme motherboard
Case Labs STH10 with 4x 480 Rad mounts
Two 360mm Alphacool NexXxoS UT60 Full Copper rads
30x Yate Loon high speed fans
Corsair Dominator GT 2133 32GB
CPU 3930k
Two of the Alphacool NexXxoS UT60 Full Copper 480mm Rads
Seasonic 1000watt platinum plus PSU
Two WD 2TB black caviar HDD
Two Samsung 830 128GB SSD in RAID 0
Lamptron FC Touch fan controller
1. EVGA GTX 680 SC Signature
2. EVGA GTX 680 SC Signature
EK GPU water blocks and backplates
EK-Supreme HF Full Nickle EN CPU waterblock
Creative X Fi fatality sound card
Filco Majestouch 2 Keyboard
Dell U2410 IPS monitor 1900x1200
Samsung Syncmaster 1900x1200 monitor
Yamakasi 27inch IPS monitor 2560x1440
Acer 1080p projector
Logitech Z-5500 THX-Certified 5.1 Digital Surround Sound Speaker System
Harman Kardon AVR1600
Mission speakers 7.1
Logitech G9x mouse
Steel Series XL mousepad
XM-37U Kiosk Card Reader (3.5")
Projects:
Sleeving
Soldering Fans 4 : 1 and 3 : 1
Custom Paint
???? to be continued
Edited by Striknine - 6/28/12 at 1:35am