Reeven has teamed up with Scythe and OverClockWorks to bring us their first extreme cooling product. It's not often we see a new extreme cooling product entering the market from a commercial company, so I was quite eager to put it through its paces.
Let's start by having a look at the Pot, or Cooling Cup as Reeven are calling it. At $190 AUD it does come in as a relatively cheap pot, compared to some other offerings on the market, such as the Kingping F1 Extreme at $260 USD.
The pot arrived to me in a simple but effective package.
On the back of the box we can see a bit of information about the pot.
As you can see the pot comes with appropriate mounting hardware for all current AMD and Intel platforms including FM1/AM3 and 1155/2011. Looking at specifications we find that the pot is 160mm tall and weighs 900gm, with a copper base and aluminum walls.
Here we have everything that was included in the box. The small box to the left has the mounting gear, the pot is pictured in the middle with the backplate and hold down plate just in front of it and the instruction manual and a couple of Reeven stickers shown to the left. It's worth noting that the pot itself only comes with insulation for the bottom half of the pot that leaves issues open for ice build up on the top half if you don't add insulation yourself.
Here's our mounting hardware. I will go further in to the mounting process in just a little bit.
Now let's have a closer look at the pot. Don't forget to remove your warning label!
A nice and shiny base.
Here is a picture of the inside of the pot showing the base of the pot. Holes have been drilled into the copper base, a common practice in extreme cooling pots for extra cooling performance.
Some LN2 boiling in the base of the pot. I can never resist a subzero picture.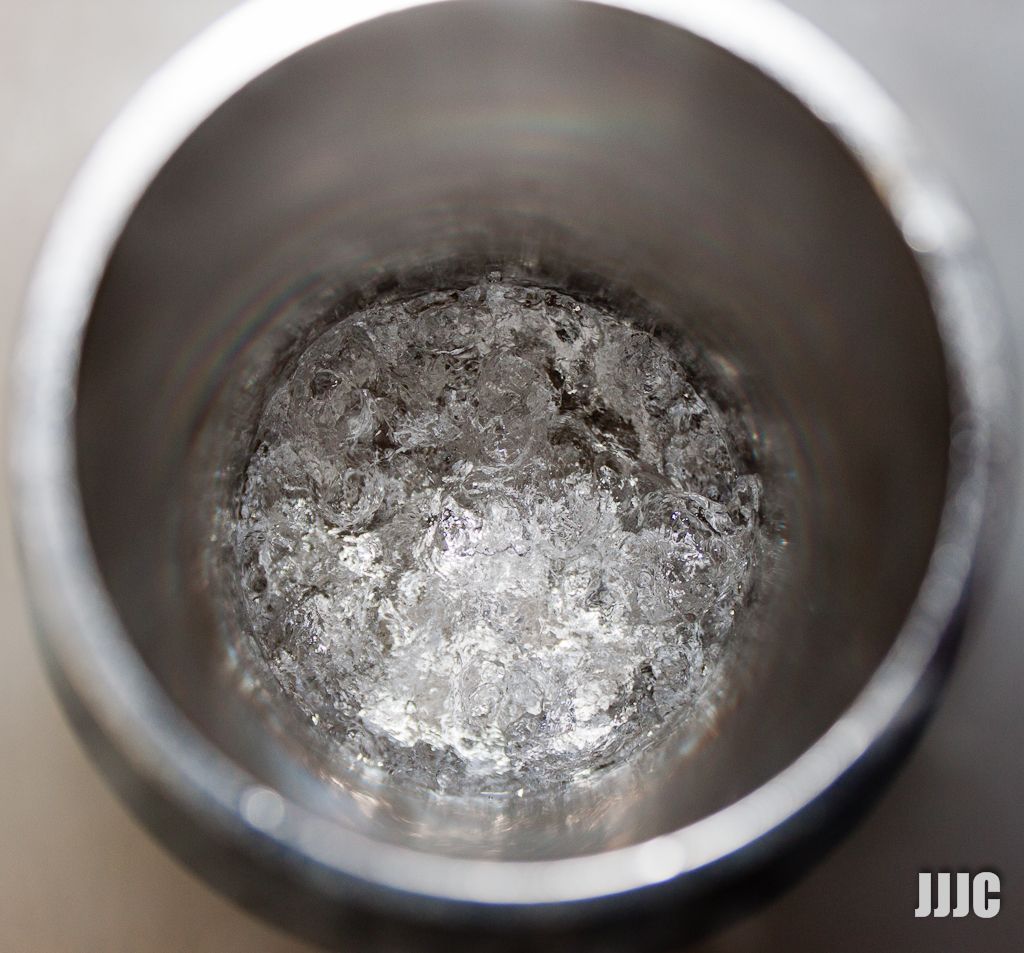 The Reeven Extreme Cooling Cup certainly has a nice look about it, but does it have the performance to back that up? Let's get this thing mounted and find out!
I did my mounting photographs using an X58A-OC, however the pot was tested on a Z77X-UD5H, this was due to the X58A-OC developing issues unrelated to the pot or review.
The instruction manual gives us a quick look at the details of mounting the pot. If you have seen reviews of other pots or own one yourself then you may be surprised here. Typically a pot mounting system will consist of a single screw or bolt that connects the backplate and holddown plate, however Reeven have overcomplicated things a little with a 4 part bolt through system. It still achieves a nice mount, however the method used adds to preparation time and could have been a lot simpler.
Here I have mounted the pot to an X58A-OC motherboard to outline the mounting process in a little more detail.
The backplate is on the motherboard and attached to 4 stand offs on the other side via screws. You may want to add a little tension with a screw driver here as you may have the stand off spin when you try to apply mounting pressure later on.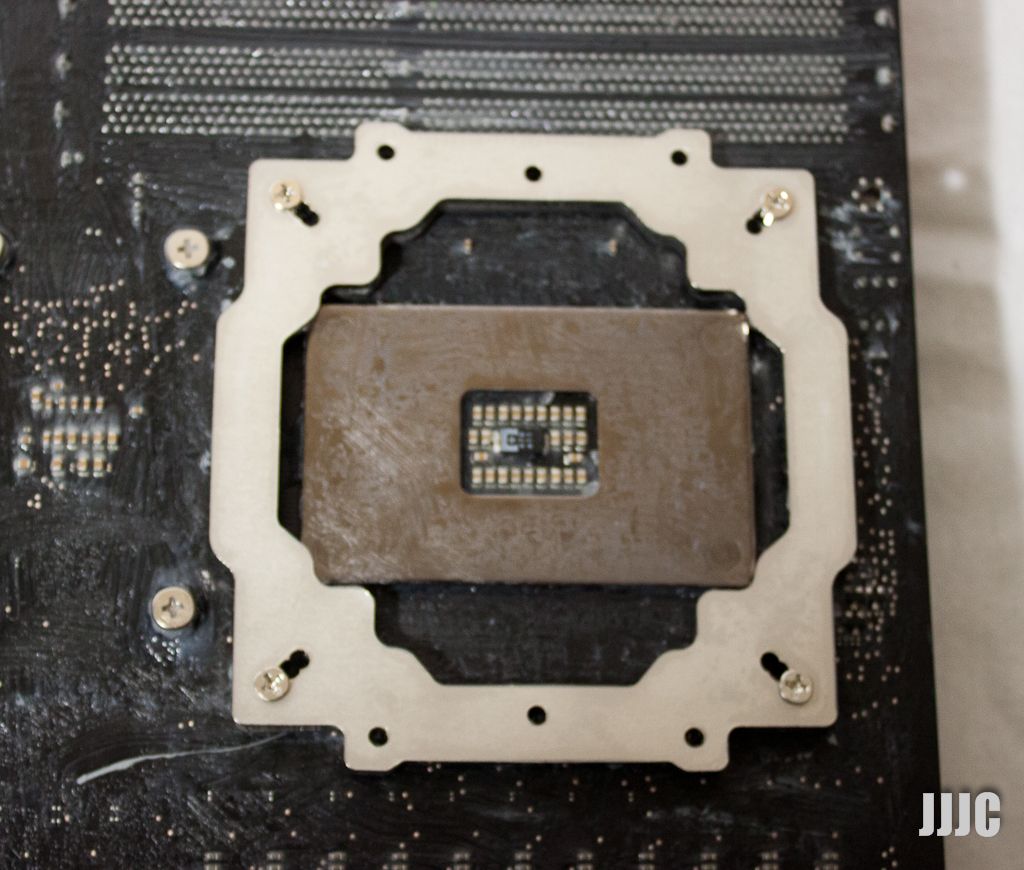 Backplate and standoffs installed.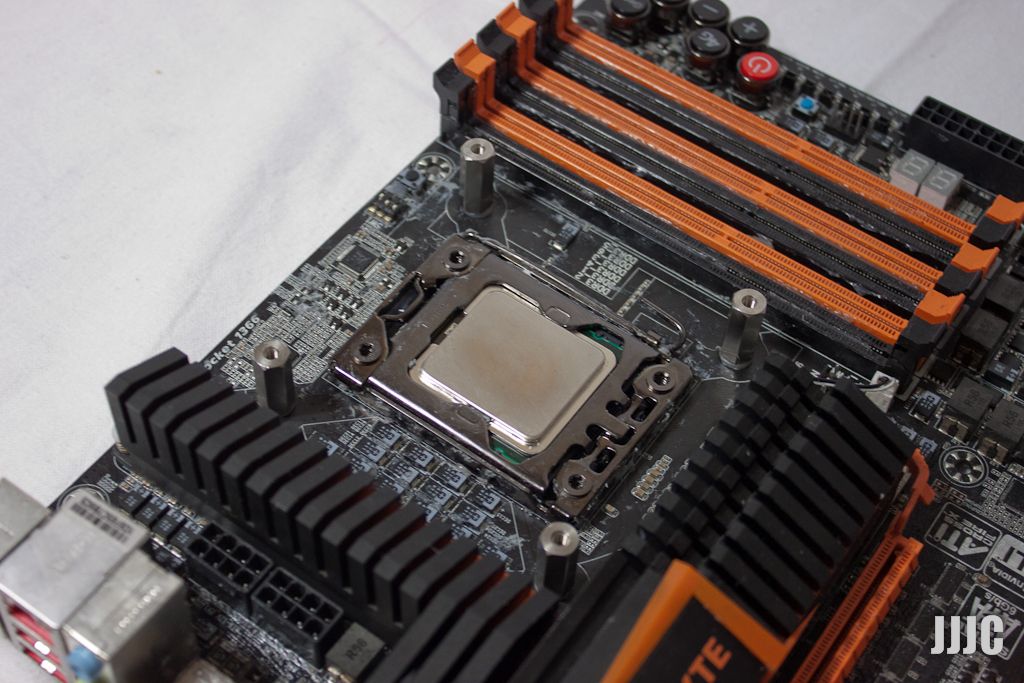 Now we have to install more, longer standoffs for the spring loaded screws and hold down plate to attach to.
And now the pot is installed.
Now let's get cold and see how things go! Here's the test system:
Gigabyte Z77X-UD5H motherboard
Intel Core i5 3570K CPU
GSKill Trident 2x2GB 2000mhz C9
Corsair HX750
The board insulated with vaseline and paper towels (You may wish to use foam in your own subzero adventures)
Mounted and ready to go. Against my own recommendations from earlier I have left to the top of the pot bare to show you the effects LN2 will have without using your own insulation.
Here we are after about an hour of benching, as you can see we have a lot of ice build up the top. It would have been nice to see Reeven include an insulation sleeve to combat this, however a couple of paper towels should do the trick to keep that away.
Performance.
I originally planned to have a set of results that the pot achieved to give you guys an idea of what you might be able to hit when using a Reeven Extreme Cup, however after about an hour of testing it became very clear to me that this pot just isn't up to the task of cooling my 3570K.
I started at a very mild overclock of 5.5ghz with 1.6v and tried running wprime. I started with temperatures sitting at -130c and started running wprime 1024m. I watched temperatures continually climb from the second the bench started. 50% in and temperatures were now up to -80c and at 60% temperatures continued to climb and hit -72c before the computer crashed due to not being cold enough.
To not even be able to load at 1.6v is very bad for a pot. Typically Ivy Bridge cpu's will be benched at 1.8v+ and with as much cold as possible to achieve maximum possible performance. The Reeven couldn't even handle this CPU at 1.6v, leaving it well short of what we want from a pot when it comes to performance.
I did try running 1.8v to see if the pot could still hold temperatures at idle and was disappointed with my results there too. At 1.8v I was unable to pull the pot down to -150c with it full of LN2. A good pot would have been able to idle at -180c or lower despite the heatload.
At that point I realised no results were going to be achieved and I became concerned for my CPU with temperatures jumping around rapidly and constant crashing. Unfortunately this pot just doesn't have the performance to back itself up, and I could never recommend it.
Rating:
Aesthetics: 7/10 - Quite a nice looking pot.
Cost: 7/10 - One of the cheapest I have seen.
Performance 1/10 - Unable to hold load at even a moderate subzero overclock and unable to even hold decent idle temps at extreme voltages.
If you guys have any questions or concerns then feel free to let me know.