This will actually be HTPC v2. The previous was my original desktop a Dell 4500. When I couldn't watch HD Over The Air TV without stuttering and after a series of adding parts to the Dell, I decided to build a new PC specifically for HTPC use.
That build is going on five years old and still works fine, but for one thing. When I tried to encode video files, it thermals and crashes. About 7-8 months ago, I removed the stock HSF and put on an aftermarket HSF + Arctic Silver and I still have the problem.
The other reason to update/upgrade is power usage. Even though my 5000+ BE is running at stock speeds (it was OC'ed at one point) and is a 65W TDP CPU, it draws close to TDP at idle. When you include the HD4670, two drives (internal) and two drives (external), draw has to be in the 70+ Watt range at idle, I don't have a wattage meter yet, I'll pick one up soon.
So in light of all that and despite being unemployed
I went ahead with a rebuild under a strict budget.
The case will be reused, its a Antec Sonta III Mid-Tower with 550W Earthwatts PSU Bronze Rated 80. Also reused with be the 640GB Samsung Internal SATA II drive, ATI 650HD PCI Tuner/Capture Card and VBox Cat's Eye 150 HDTV PCI card.
Based on what components I wanted to keep, the new motherboard had to have at least two legacy PCI slots. I decided to go with the
ASRock A75-M
Based on
Tom's Hardware
testing on how memory bandwidth effects AMD APU performance. They felt the best balance of performance and value was 1600Mhz memory. So with that I purchased with the motherboard
Patriot Signature
series memory 4GB (2x2GB) 1600Mhz.
Total Price with shipping (Free) - $98.99
I had already purchased an AMD A6-3500 APU for $69.99 at Fry's via Price Match with Microcenter. I had originally wanted to get it at $66.99. Its fallen to $59.99! Oh well, total was $76.11 with local sales tax (California).
The final piece of the puzzle was decide what to put the OS on. I have a 40GB SATA I drive and the Samsung I previously mentioned. I could have used the 40GB. But I decided naaa. I thought about making a partition on the 690GB drive and installing the OS there. Naa...
I decided to go with an SSD. I search high and low for a good price. I found one on Craigslist! Private party had a 60GB OCZ Agility 3 for $50. I jumped on it. I saved $13 over purchasing a different OCZ drive from Staples using one of their $25 off $75 or more coupons. The Agility is considered the better drive and I went with that..
Pictures of Parts -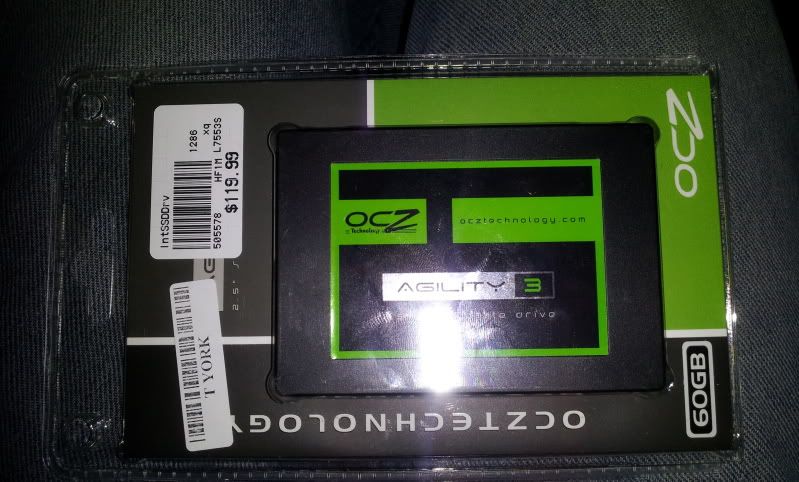 I need to plan around my workouts and what I watch Live or Record. In otherwords I need to find a gap in Recordings, along with a break in my workout schedule. I depend on public transportation. It takes roughly 3.5-4 hours to workout. That includes the bus trip both directions, waiting on buses as well.
Anyway, this will be a fresh install of the OS so Windows 7 sets SSD defaults. Stay tuned more to come...