Soi I am following The sandy stable guide here on OC.net to try and achieve a nice stable OC. I am new to the whole thing so this is a bit over-whelming for me.
I have followed the guide so far and done the following.
Disabled
- C1E
- EIST
- C3, C6 States
- Disabled CPU Thermal Monitor
So I turned my clockspeed up to 45X multiplier and booted into windows and everything is fine. This is what CPU Z shows.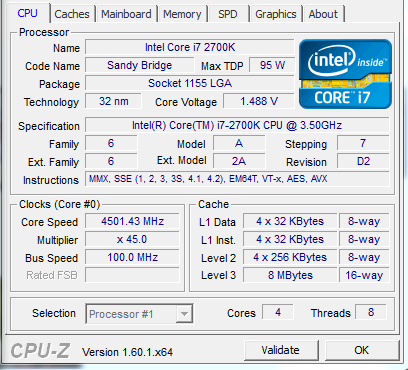 Also temps: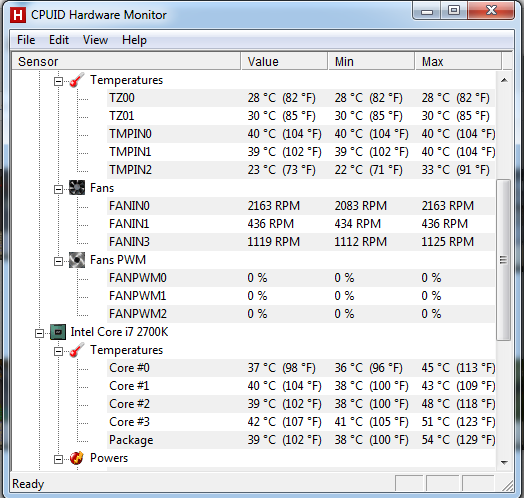 If I wanted to stick with 4.5GHZ now all I would need to do is lower the voltages to say 1.375V and stress test to see if it's stable right?
RAM is defaulting to 1333MHZ ATM also, what is the best way to put it at 1600, should I just use a XMP profile in my bios or actually turn the frequency up via the bios?
I should never have to touch the voltages of the RAM right? It's rated at 1600MHZ 1.5V Corsair Vengeance 16GB
Should I go for a higher OC or will 4.5 be enough? Can I see any real benefit from going higher? I just want a nice stable OC as this is my first ever OC and maybe I can go further in a few weeks if everything seems stable.. I'm just kind of scared and have a lot of reservations as I have never done this before.
CPU
Motherboard
Graphics
RAM
i7 2700k@4.8GHZ
Gigabyte UD5H Z77
EVGA GTX 670FTW 2GB X2
Corsair Vengeance 1600mhz 1.5V RAM 4X4GB=16GB
Hard Drive
Hard Drive
Optical Drive
Cooling
Western Digital 1TB HDD 7200RPM Caviar Black
M4 Crucial 128GB SSD(boot Drive)
LG Blue Ray Player
Corsair H100 with 4 Cougar vortex fans push/pull
OS
Monitor
Keyboard
Power
Windows 7 Home Premium 64bit
Asus VG278H 3D 120HZ monitor + VG248QE 144 HZ
CM QuickFirePro(Cherry Brown) and CMquickFire R...
OCZ 1000W Full Modular 80+Gold
Case
Mouse
Mouse Pad
Audio
Cooler Master HAF X 942
Cooler Master Recon
PureTrak Talent + SteelSeries QCK Heavy
Logitech Z623
Audio
Audio
Audio
AKG Q701 Quincy Jones signature
Creative ZXR
Zalman clip on headphone mic
View all
hide details
CPU
Motherboard
Graphics
RAM
i7 2700k@4.8GHZ
Gigabyte UD5H Z77
EVGA GTX 670FTW 2GB X2
Corsair Vengeance 1600mhz 1.5V RAM 4X4GB=16GB
Hard Drive
Hard Drive
Optical Drive
Cooling
Western Digital 1TB HDD 7200RPM Caviar Black
M4 Crucial 128GB SSD(boot Drive)
LG Blue Ray Player
Corsair H100 with 4 Cougar vortex fans push/pull
OS
Monitor
Keyboard
Power
Windows 7 Home Premium 64bit
Asus VG278H 3D 120HZ monitor + VG248QE 144 HZ
CM QuickFirePro(Cherry Brown) and CMquickFire R...
OCZ 1000W Full Modular 80+Gold
Case
Mouse
Mouse Pad
Audio
Cooler Master HAF X 942
Cooler Master Recon
PureTrak Talent + SteelSeries QCK Heavy
Logitech Z623
Audio
Audio
Audio
AKG Q701 Quincy Jones signature
Creative ZXR
Zalman clip on headphone mic
View all
hide details