This Classified is Closed
For Sale:
Zalman 9700 & XSPC X2O 750 Pump *AS IS*
Will Ship To: US48

I accept
PayPal only
. Most items listed are OBO, but I feel all items are priced fairly, so no low balls.
My Heatware
I have another FS thread, BUY IT ALL FROM BOTH FS THREADS FOR

$95

$75 SHIPPED!
1)
Zalman 9700 + torn down Zalman 9500
-
$30

$27 Shipped
Quote:
Fan on the Zalman 9700 makes a faint grinding sound, like the bearings are getting worn. Doesn't affect performance of the fan/cooler, and may be more than tolerable for some people. Every fan I own gets undervolted, so I notice such things.
Zalman 9500 has been stripped down to just the copper heatsink itself, do not have the fan for it, nor anything to install the heatsink.
*Bundle* comes with everything you need for an AMD install or Intel LGA775 install, only comes with what is shown in the picture.
::Click to Enlarge::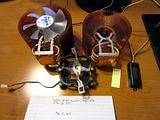 2)
XSPC X2O 750 pump *READ*
-
$SOLD
Quote:
I'm selling this for cheap because I had some build up in my loop when I was running water cooling. It's this pale/light green substance that is stuck on the inside of the pump. Pictures of it are below. I have not tried cleaning the pump to get rid of the buildup, nor do I want to, that's up to whoever buys this. I also will not take the pump back if you use a cleaning agent and it ruins the acrylic/pump, that's soley on the buyer. This pump was pulled from a working loop, and I can guarantee that it'll work as is. Also, the original blue LED that came with the pump was super glued into the acrylic. After a few months the LED stopped working, so I clipped the wires from it. There is 1 hole left open for installation of another LED, which will be included.
You get:
- XSPC X20 750 Pump
- *Brand New* Blue LED
- 2x Black Aluminum Faceplates
- 1x Silver Aluminum Faceplate
- Little screw driver for installation of faceplates
::Click to Enlarge::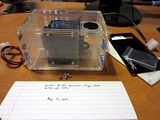 ::Click to Enlarge::
::Click to Enlarge::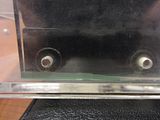 ::Click to Enlarge::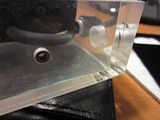 ::Click to Enlarge::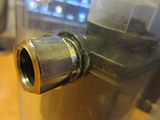 ::Click to Enlarge::
Edited by `br4dz- - 5/23/12 at 12:17pm