So I have this mod idea.
On my last phantom, I built risers underneath the case and added 2 120mm fans along the undercarriage to push more air up into the case.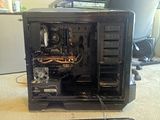 On this one, I want to go full WC with 2 loops ( CPU+NB on one loop, GPU(s) on the other). I plan on making the jump to Ivy Bridge as well, and want to be able to OC it at least as much as my 2550K @4.8GHz, if not more, so why not go overboard, right?
The idea is 2 480mm radiators side-mounted in tandem, each with 8 NZXT 1300rpm fans (these are nicely quiet BTW in my experiences).
These babies:
http://www.xoxide.com/swiftech-mcr420-xp.html
I'd build a hidden bracket and weld it to the bottom of the case
I still haven't decided where I want to put the tubes and the pumps though.
I'm also debating on which resevoirs to get. What do you guys think?
Also I don't know the first things about fittings. Can anyone link me to some info or explain to me the best way to go for these?
Also, any good recommendations for 1155 CPU blocks and waterblocks? I'm planning on running 2 GTX680s, probably Asus DCIIs.