Hey guys, was once again overclocking for an efficiency competition last weekend and decided to subzero my memory to compete and thought I would share some pictures and results. I've taken a high interest to memory overclocking and tweaking as of late and putting some nice sticks under LN2 proved to be a lot of fun.
The Hardware:
Gigabyte Z77X-UD5H
Intel Core i7 3770k
2x2gb GSkill Pi 1600 6-8-6 1.65v (PSC)
Here's my quick little home made memory 'pot'. It's just tinfoil to enshroud the sticks and cool them. Turned out to be quite safe and effective. (This picture isn't the final product I used as I went through around 5 kits of PSC memory before finding this one to perform the best)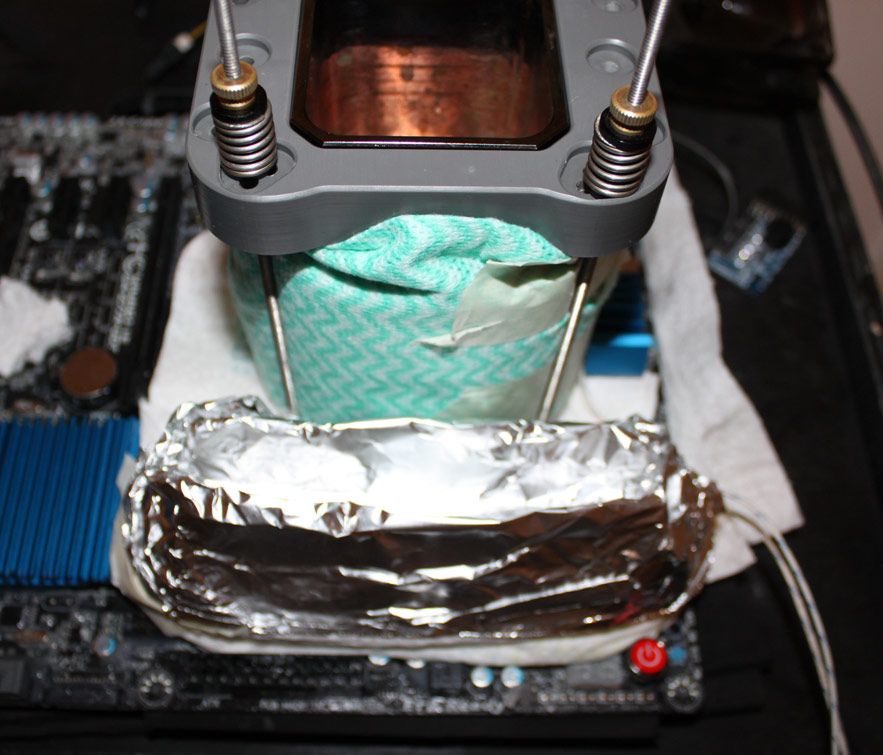 I did have a picture of the right kit installed and insulated that was on my camera, however I've lent that to a friend so we'll have to go without and skip straight to the frosty pic. (sorry for the angle here, I was right up against a wall)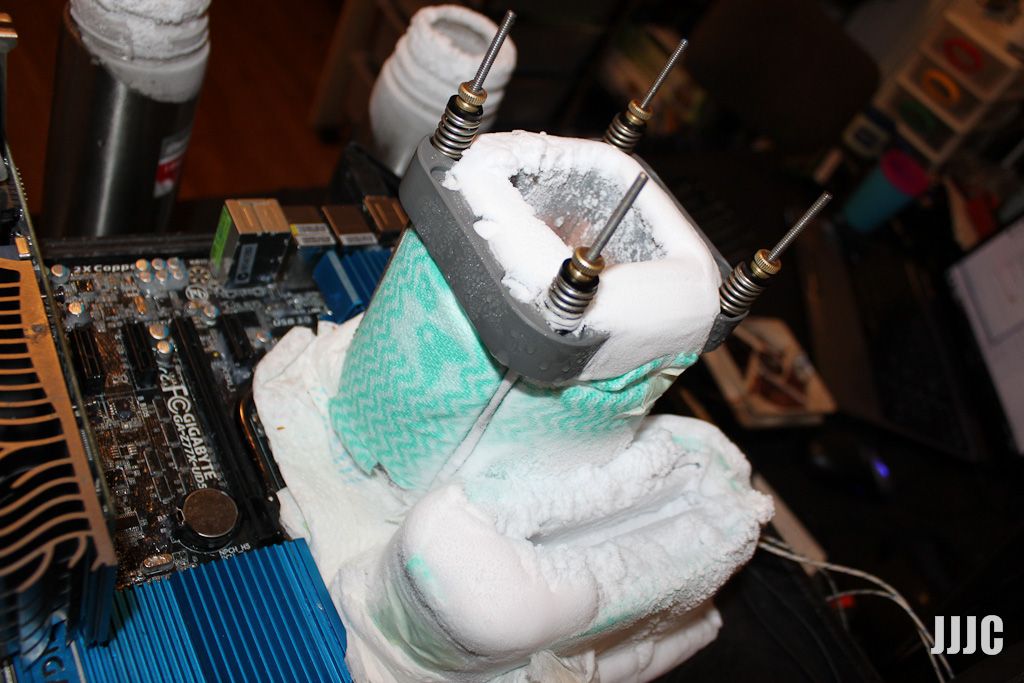 Here's a shot just after the session finished, notice the ice all over the board, good thing for vaseline.
Lastly and actually most importantly we have the results. I didn't push for high frequencies or anything like that this time around as I was aiming for maximum SuperPi efficiency and ~2500 7-10-7 seemed to hit that sweetspot for me. I do have a teamxtreem kit that will do 2800 32m stable on air however I was limited to GSkill for this competition
Here's my final result after around 6 hours of playing around. I just lost this stage with the winner scoring 1m 37.812s (SOO CLOSE!). I needed 1.94v vdimm to complete this run.
2526 7-10-7 is a pretty impressive result in my books, especially considering they were 1600mhz sticks. Best $30 I have spent in a while. Secondary and tertiary timings were also incredibly tight in that run, but I think with another hour and a few more litres of LN2, I could have done a little better. Was a great learning experience either way. Next stage of this competition is to achieve a high ddr3 mhz validation, so I'll have some high speed results to show soon if people are interested.
Hope you guys enjoyed, always enjoy sharing my experiences.