It is with no small measure of pride and satisfaction that I can finally introduce to you the long-awaited Apogee Drive II integrated pump & water-block.
"Like a phoenix rising from its ashes, the Apogee™ Drive II integrated pump & waterblock returns to take its place at the helm of Swiftech's CPU waterblock product line. "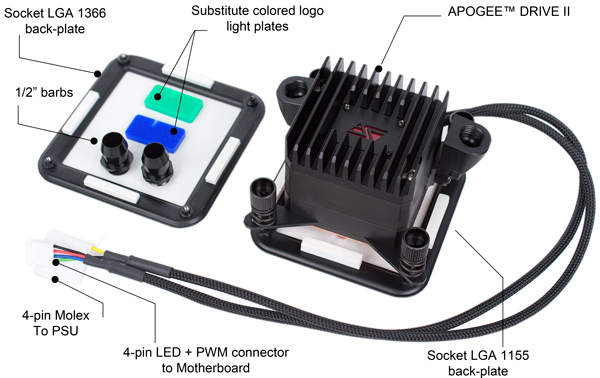 A little bit of history..
Derived in general concept from the original Apogee Drive initially released in 2007 and discontinued in 2009, the Apogee Drive II much differs from the original in terms of its execution.
The original Apogee Drive was conceived as a relatively low cost unit, using injection molding for its body, and the entry-level MCP350 pump. It came with the bare essentials. But from a manufacturing stand-point though, the concept turned-out to be the product's Achilles heel: upgrading the body to accomodate new CPU socket form factors was impractical and we just couldn't cost-justify it.
In contrast, the Apogee Drive II is conceived as a luxury vessel: its uses the MCP35X, the best pump in our line-up , a precision CNC machined water-block body that lends itself to easy upgrades for future socket form factors, adjustable inlet and outlet ports, a heatsink to further cool the pump, LED illuminated logo in a choice of 3 colors, braided cables, and our now famous retention system. The only concession to cost that we made was to not bundle all the retention systems into one sku, and to make 3 separate product versions.
And how does it perform ?
Performance wise, the charts below speak for themselves. The Apogee Drive II is undeniably the new King of the Hill:
The following two charts compare thermal performance while the Apogee Drive II is added to an existing loop, for a total of two pumps in operations: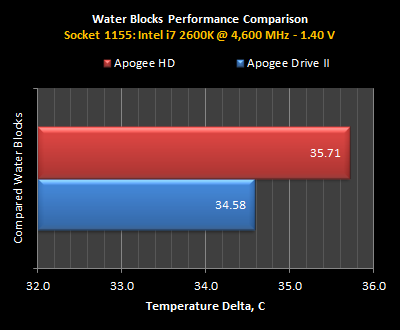 The following chart compares thermal performance of a conventional setup versus one where both water-block and pump have been replaced by an Apogee™ Drive II (1 pump in operations):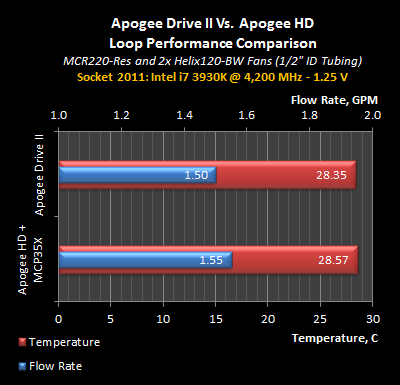 And now for the long-awaited internals:

Well, this pretty much concludes this product introduction. There is a bit more information on the product web page, so just head over there if there is anything I didn't cover here.
I hope you guys will like using it as much as we enjoyed making it. I also want to take this opportunity to publicly thank Stephen, our thermal engineer whose brain-child this is, and Alex our plant manager for working so hard at producing another great quality product!