Quote:
Originally Posted by
JokersAce
....Okay Well the only game i will be playing is Diablo III
So if you had to build the best Gaming style PC for UNDER $500 what would you build...
Just curious...
And again this will be my second build in the last 10 years, But this is my first gaming Style rig..
My knowledge is out of date on this newer stuff..
For Diablo III the 2 core 2 thread CPU is more then enough.
But don't build a gaming PC for a single game.
Time will pass, you'll want to play other games and an i3 is more future proof. Just my 02.
Both are good choices, good luck!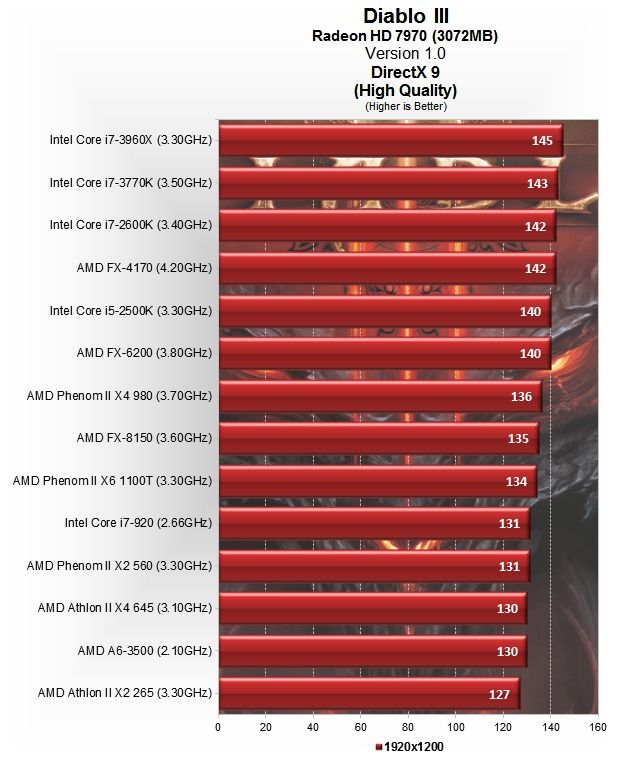 Source: Techspot
CPU
Motherboard
Graphics
RAM
Core i7 930 @ 4.0GHz (24/7) HT/on
Asus P6TD Deluxe
Gigabyte 2GB GTX 670 Windforce3X OC
6GB OCZ Gold 1600 (tri-channel)
Hard Drive
Hard Drive
Cooling
OS
Samsung 850 EVO 250GB
Seagate Barracuda 500GB 7.2K 16MB Cache
Prolimatech Megahalem Rev.B (Push/Pull)
Windows 7 Home Premium 64
Monitor
Keyboard
Power
Case
Acer X233H
Razer BlackWidow Ultimate
OCZ ModXStream Pro 600W
XClio Windtunnel
Mouse
Mouse Pad
Logitech G502 Proteus Core Tunable
Razer Goliathus 444mm x 355mm - Speed Edition ...
View all
CPU
Motherboard
Graphics
RAM
AMD Phenom II 720 X3 BE @ 3.2GHz 24/7
MSi 770-G45
Sapphire Radeon HD 6870
8GB GSkill RipJaw 1333Mhz
Hard Drive
Optical Drive
OS
Monitor
1TB Samsung F3
DVD+-RW
Windows 7 Home Premium 64bit
60" LG 60PA5500 Plasma
Monitor
Power
Case
Acer X1373WH Projector
Corsair CX500
Cooler Master 430
View all
CPU
Graphics
Graphics
RAM
i5-2430M
Intel HD Graphics
Nvidia 1GB GT 550M (GF116) w/Optimus|DX11|144 ...
6GB DDR3
Hard Drive
Hard Drive
OS
Monitor
120GB PNY 1311 SSD
500GB 7.2K RPM
Windows7 Home Premium 64
17.3" WLED TL 1600 X 900 with 2.0MP HD webcam
Keyboard
Case
Audio
Backlit Keyboard
Elemental Silver Aluminum
JBL 2.1 W/ Built-in Subwoofer
View all
hide details
CPU
Motherboard
Graphics
RAM
Core i7 930 @ 4.0GHz (24/7) HT/on
Asus P6TD Deluxe
Gigabyte 2GB GTX 670 Windforce3X OC
6GB OCZ Gold 1600 (tri-channel)
Hard Drive
Hard Drive
Cooling
OS
Samsung 850 EVO 250GB
Seagate Barracuda 500GB 7.2K 16MB Cache
Prolimatech Megahalem Rev.B (Push/Pull)
Windows 7 Home Premium 64
Monitor
Keyboard
Power
Case
Acer X233H
Razer BlackWidow Ultimate
OCZ ModXStream Pro 600W
XClio Windtunnel
Mouse
Mouse Pad
Logitech G502 Proteus Core Tunable
Razer Goliathus 444mm x 355mm - Speed Edition ...
View all
CPU
Motherboard
Graphics
RAM
AMD Phenom II 720 X3 BE @ 3.2GHz 24/7
MSi 770-G45
Sapphire Radeon HD 6870
8GB GSkill RipJaw 1333Mhz
Hard Drive
Optical Drive
OS
Monitor
1TB Samsung F3
DVD+-RW
Windows 7 Home Premium 64bit
60" LG 60PA5500 Plasma
Monitor
Power
Case
Acer X1373WH Projector
Corsair CX500
Cooler Master 430
View all
CPU
Graphics
Graphics
RAM
i5-2430M
Intel HD Graphics
Nvidia 1GB GT 550M (GF116) w/Optimus|DX11|144 ...
6GB DDR3
Hard Drive
Hard Drive
OS
Monitor
120GB PNY 1311 SSD
500GB 7.2K RPM
Windows7 Home Premium 64
17.3" WLED TL 1600 X 900 with 2.0MP HD webcam
Keyboard
Case
Audio
Backlit Keyboard
Elemental Silver Aluminum
JBL 2.1 W/ Built-in Subwoofer
View all
hide details