Hi guys, this is my little guide for how I installed an Antec Kuler on my new/refurbed EVGA GTX 480. I included pictures showing installation using both the cable tie method and the more secure mounting bracket method. I got my bracket from user "Dwood" over at OCN. After conversion from USD to GBP, the total cost of the bracket (including postage) was around 8 quid and it took about 2 weeks to arrive. Feel free to ask any questions
.
Things you'll need
GTX 480 (other compatible card)
12 or so cable ties or an appropriate bracket
A philips head screw driver
Scissors
Some Thermal Interface Material (and something to clean the old stuff off with)
The Guide
First step is to pop the top half of the shroud off. You don't need to remove any screws for this part, you just need to pop the plastic tabs on either side (4 tabs on one side, 3 on the other):
Once that's done you'll be left with something that looks like this: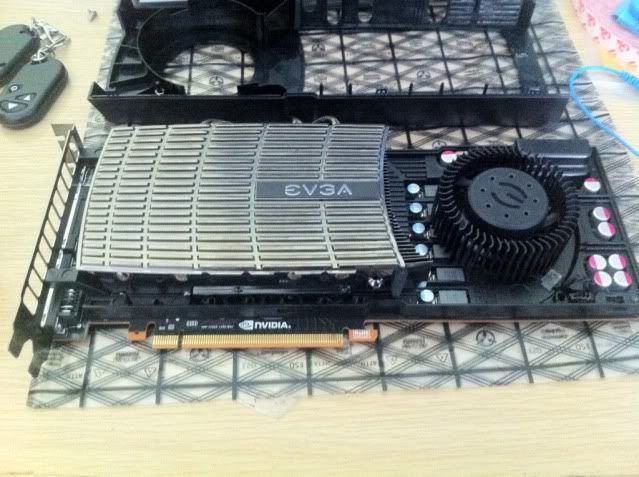 The next step is to remove the following 4 screws.:
Note: These are the only 4 screws you will need to remove during this mod.
You'll be left with something like this:
Clean off the old TIM to get the Kuler and card ready for mounting:
(IF YOU'RE USING ONE OF DWOODS BRACKETS, SCROLL DOWN A LITTLE
)
Next, take 4 of your cable ties and slide them through each other to form a shape like this (make sure to leave room enough for you to be able to slide it round the tabs on the Kuhler):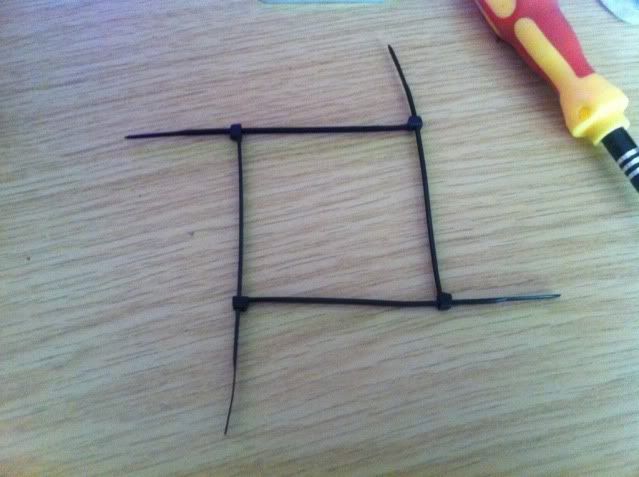 Slide the square cable tie shape over the Kuhler and tighten them a little:
Next, slide 4 more cable ties through the 'corners' of the shape and tighten around the ring:
Slide the 4 ties through the holes around the GPU (don't forget to use some thermal paste):
Take 4 more cable ties and slide them over the last 4, and tighten to 'lock' the cooler in place:
Grab a pair of scissors and snip everything down for a nice clean look, and the job's done
:
(CONTINUE HERE IF YOU'RE USING A BRACKET TO INSTALL THE KUHLER)
First off, grab your bracket: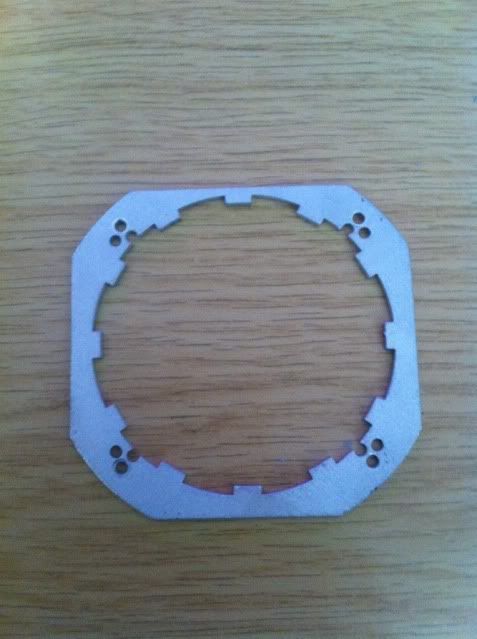 Arrange everything so that they sit in this order (top to bottom):
Bolt -> Bracket -> Kuhler -> PCB -> Washers -> Screw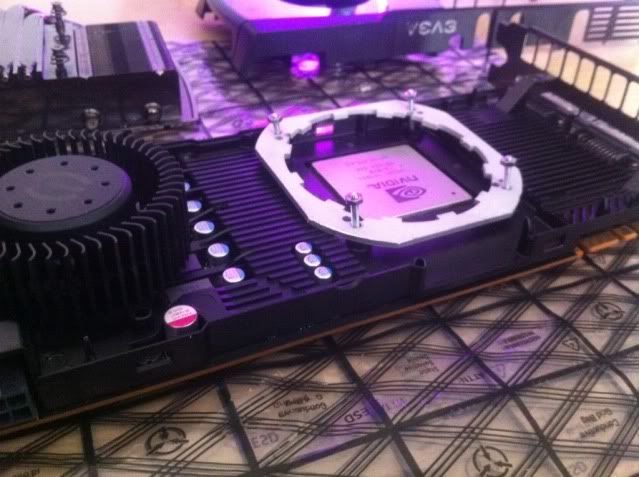 Tighten the bolts just enough so they stay on, then stick the Kuhler through and twist just like you would with the stock bracket. Once it's in, screw it tight enough that the Kuler doesn't move below the bracket, but no so much that you bend the PCB:
Stick some decent fans on the Kuhler, pop everything back in the case and reap the benefits of your quiet, cool running GTX 480
:
With a 900MHz overclock, my temps after Kumbuster (for 40 mins) maxed out at 58 degrees (confirmed by CPUID HardwareMonitor and MSI Afterburner, though Kumbuster itself registered max temp as 60 degrees). Playing BF3 on Ultra Preset (4x AA) @ 1080P for half an hour on Grandbazar (64 man conquest), temps maxed at 70 degrees and frames were avg 52FPS. At no point did it get any louder than at idle
.
EXTRA's:
Edited by tobsmonster2 - 5/30/12 at 10:42am
CPU
Motherboard
Graphics
RAM
i7 860 @ stock
MSI P55 GD80
KFA GTX 570 SLI
12GB Corsair Venegence 1600MHz
Hard Drive
Hard Drive
Cooling
Monitor
128GB OCZ Vertex SSD
640GB Samsung M7 2.5" HDD
Zalman 9900 MAX Blue
LG DM2780D 27" 3D LED Monitor
Keyboard
Power
Case
Mouse
Logitech G13
Corsair AX 650
Lian Li A05 (Black Powder Coated)
Logitech G700
Audio
Logitech Z323
View all
hide details
CPU
Motherboard
Graphics
RAM
i7 860 @ stock
MSI P55 GD80
KFA GTX 570 SLI
12GB Corsair Venegence 1600MHz
Hard Drive
Hard Drive
Cooling
Monitor
128GB OCZ Vertex SSD
640GB Samsung M7 2.5" HDD
Zalman 9900 MAX Blue
LG DM2780D 27" 3D LED Monitor
Keyboard
Power
Case
Mouse
Logitech G13
Corsair AX 650
Lian Li A05 (Black Powder Coated)
Logitech G700
Audio
Logitech Z323
View all
hide details