So I posted in the new members forum about my plans for my build and it's all coming to fruition in the coming weeks. I didn't want to start a build log with out first having some materials right in front of me and I've officially finished what I deemed "Stage 1" of my build with parts for "Stage 2" already arriving. So here goes hope you enjoy.
I wanted a rig that can handle modern games at 1080P res across three screens. So I started off easy. I had my original self built computer (i7-930, MSI GTX480, Gigabyte X58-UD3R, 6gb DDR3) and I really wanted to go triple screen for iRacing. I purchased a PNY GTX680 in late April and added it to my system. Worked like a charm, but I can't really leave well enough alone. I wanted new components to surround what was at the time, the biggest baddest nVidia card on the market. So off to build I went.
I originally wanted a i7 chip, but after reading some great info here on OCN, I went for an i5-3570K. I had a color combination in mind and had a great experience with Gigabyte on my last build so I decided to go with them again and to my luck they had a Z77 board in black and green. Usually the color combination I like doesn't have the features I would use, or it costs 500+ dollars. Luckily for me the Gigabyte G1.Sniper M3 is very reasonably priced and when I purchased my chip at Microcenter I got an instant $50 off the mobo. Chip and mobo for $320 bucks.
All of the pics are going to be quick and dirty cell phone pics, I'm not going to set up my camera and tripod until the build is at a prettier stage.
That's the G1.Sniper M3 in a tiny case I bought to get everything set up and working to make sure I didn't have any hardware problems.
My friend holding up the Corsair Vengeance 8GB Stick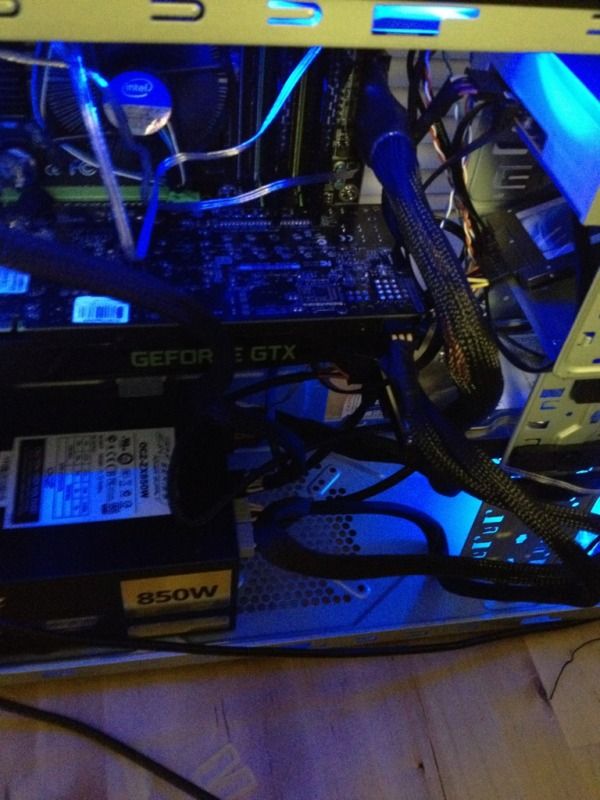 Here shows a good old fashioned cluster-**** of wires and terrible lay out. It's so bad I could almost call it modern art. But it does show the OCZ ZX Series 850W modular power supply and mega super awesome glow from the Antec tri-LED noise mak...er case fans. Good eyes will also see the 128gb Crucial M4 SSD and the Hitachi 500GB HDD.
So it all worked. It was in the cheapest case I could find, I ran games with it. It was noisy, I left the GPU fan at 85% all the time and used headphones to drown out the noise. I couldn't decide on a case, but I was able to pick out my monitors.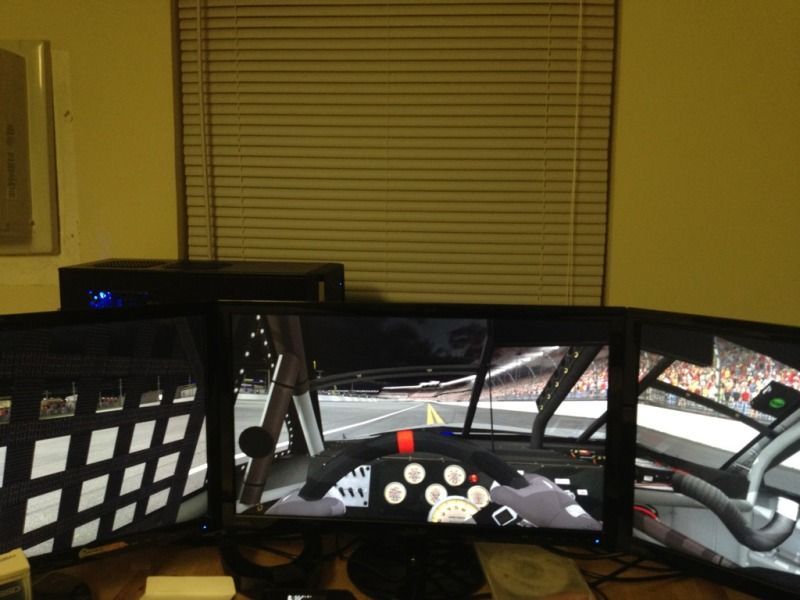 3 Asus VS248H-P. Really love them. Good deal from BH.com too.
I played like this for a little while, but the case was definitely not cutting it and my research had brought me to the inevitable water cooling bug. So I started searching out cases specifically meant for water cooling. Thermaltake's Level 10GT was my top choice till I started looking online and seeing some of the Lian Li and mountain mod cases that were out there. The U2-UFO was high on my list until I saw how big it was (and it's pricy). I came across another H2GO build on here with dual 240 rads and I fell in love with the case. So I ordered mine up!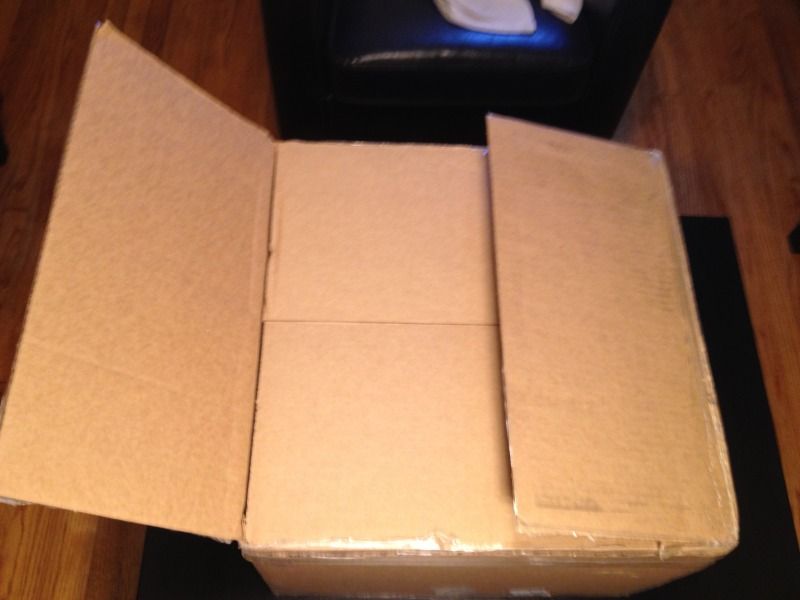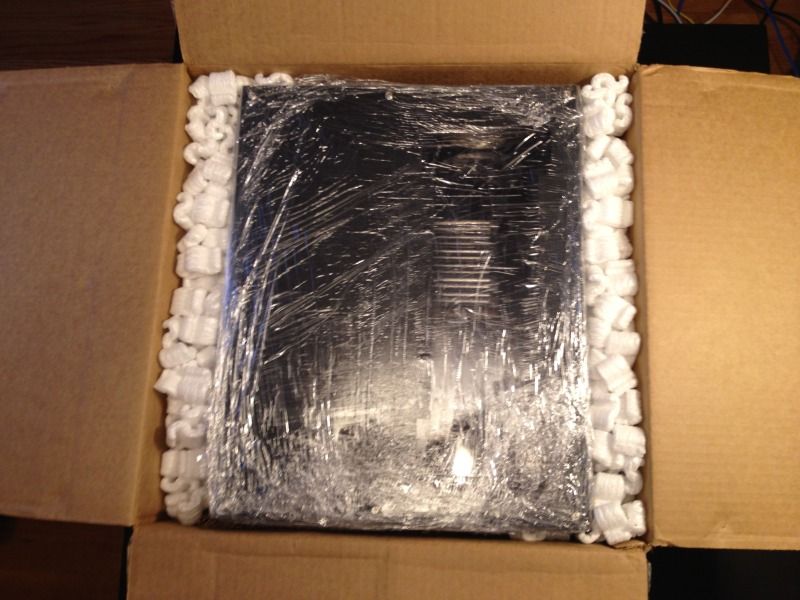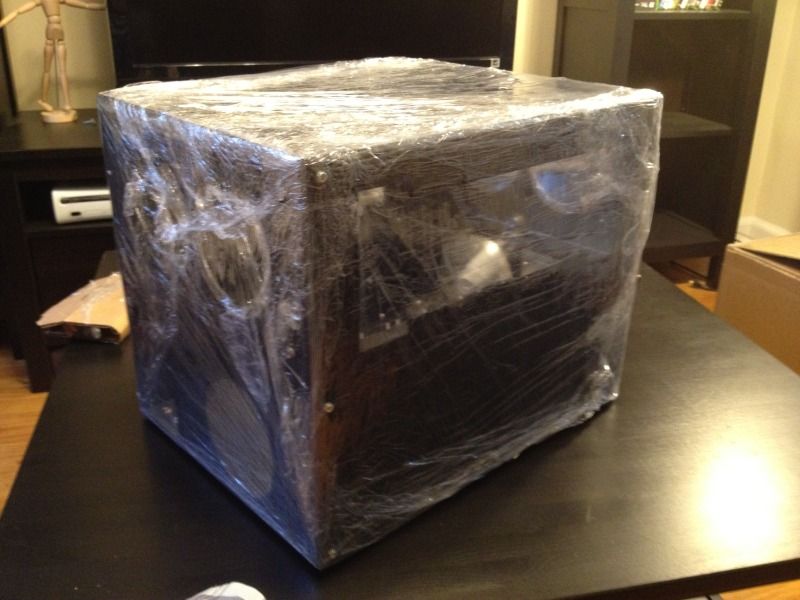 Ordered the H2Go with large window on top and H-window on the side with wrinkle black powdercoat. It's a great looking case, but I wasn't too crazy about all the chrome 6-32 screws on it.
I knew I was going to need new fans as my old case used 92mm fans and the MM case uses 120's.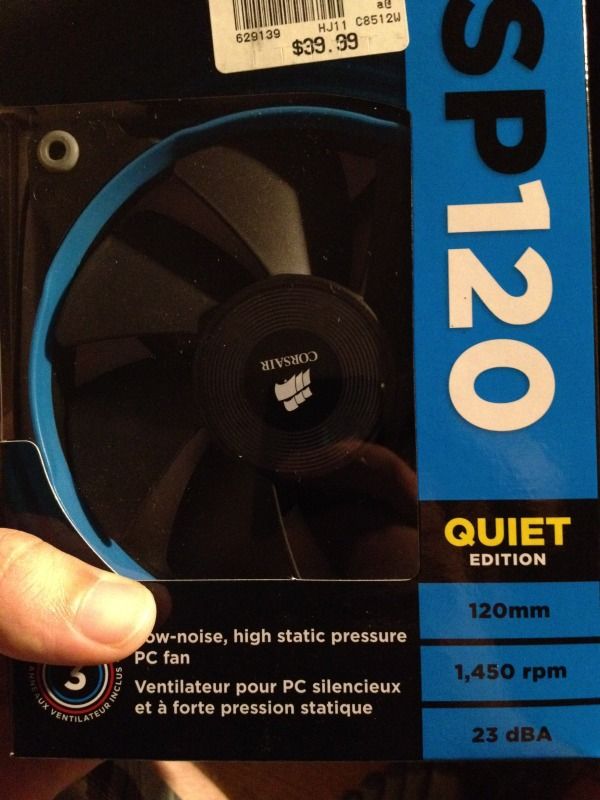 Got six of the SP120 Quiet Editions from Corsair. They do exactly what they say they do, move a fair amount of air at a low noise level.
To control them, I had to go with a PCI bay option as my 5.25" bays are going to be taken up by a reservoir.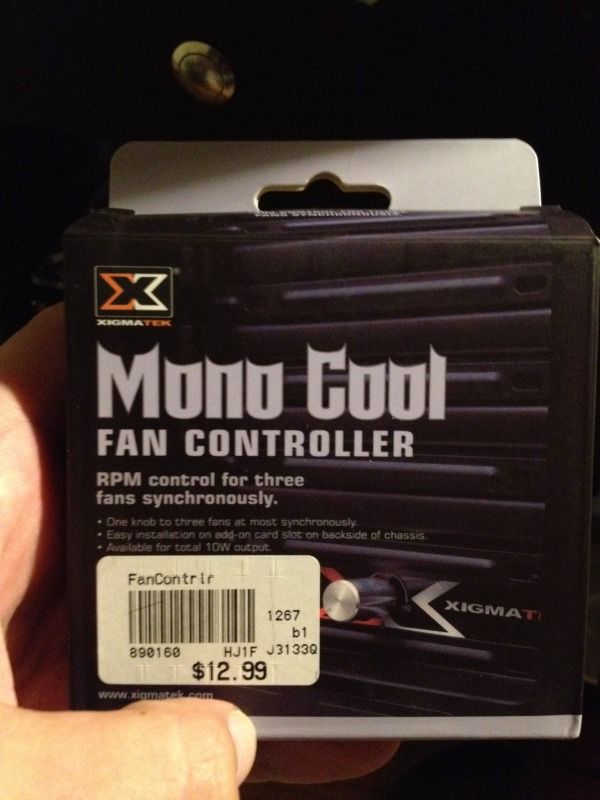 These Xigmatek fan controllers do the job, but the build quality is really terrible. Can't say I recommend them. I may wind up putting two holes in the side of the case adding external knobs for the fan control instead of using these things.
Then it came to just slapping the rest of the parts into the case.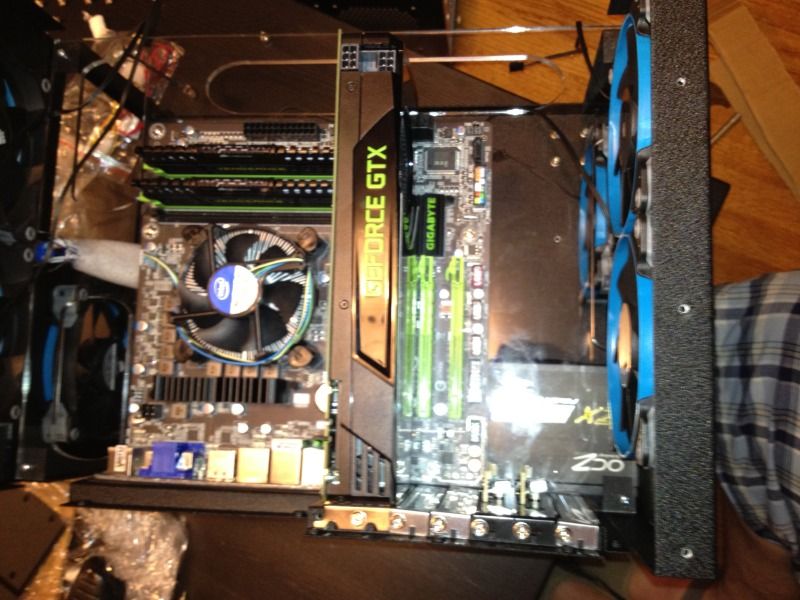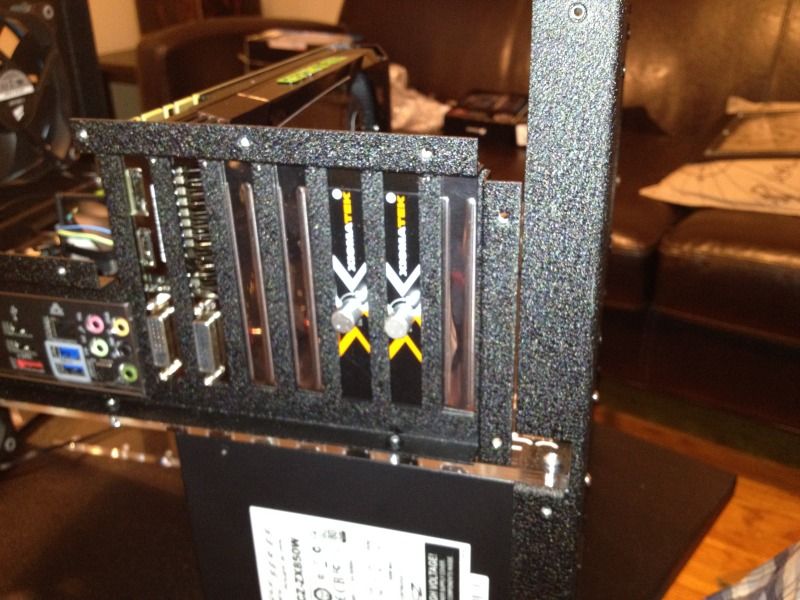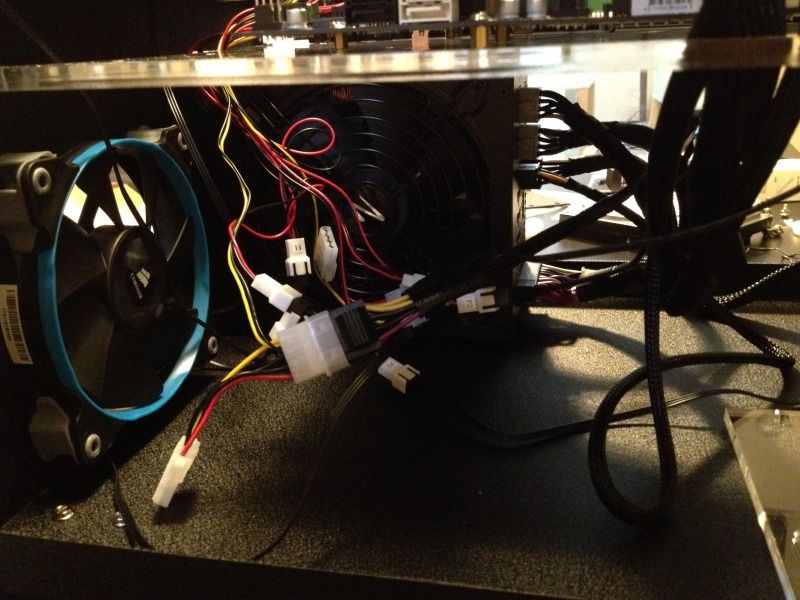 The hard drive racks really impressed me. I used an adapter for the SSD to fit in a standard hard drive bay, and the mountain mods racks for the disk drives are pretty sweet how they mount to a 120MM fan.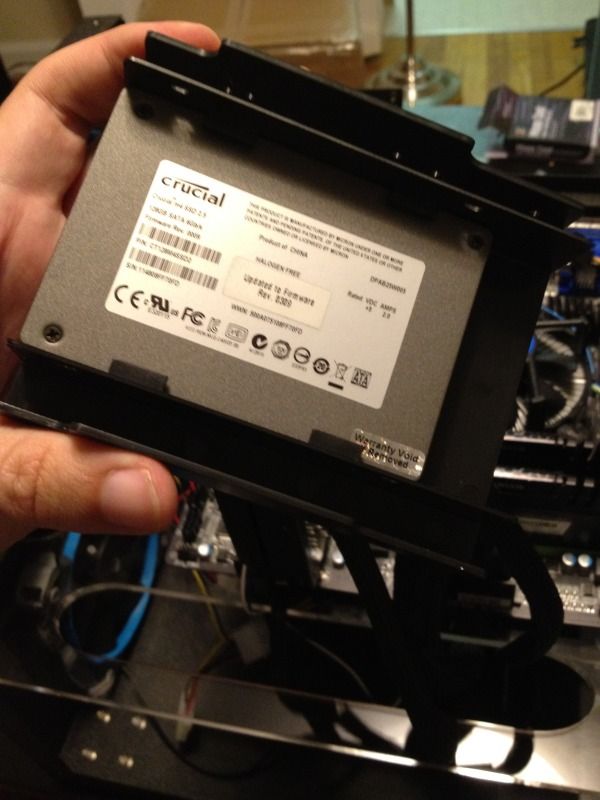 The adapter and SSD.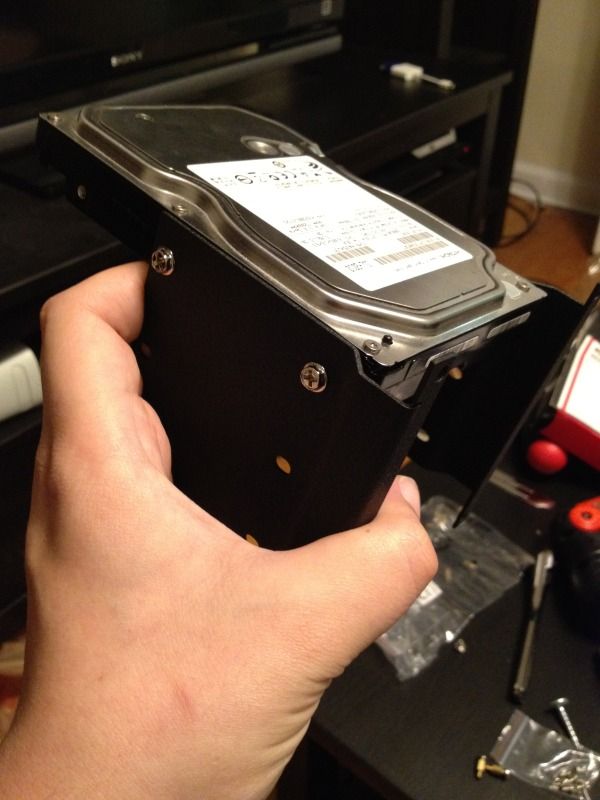 The HDD installed in the MM HDD rack.
The whole assembly ready to go into the case.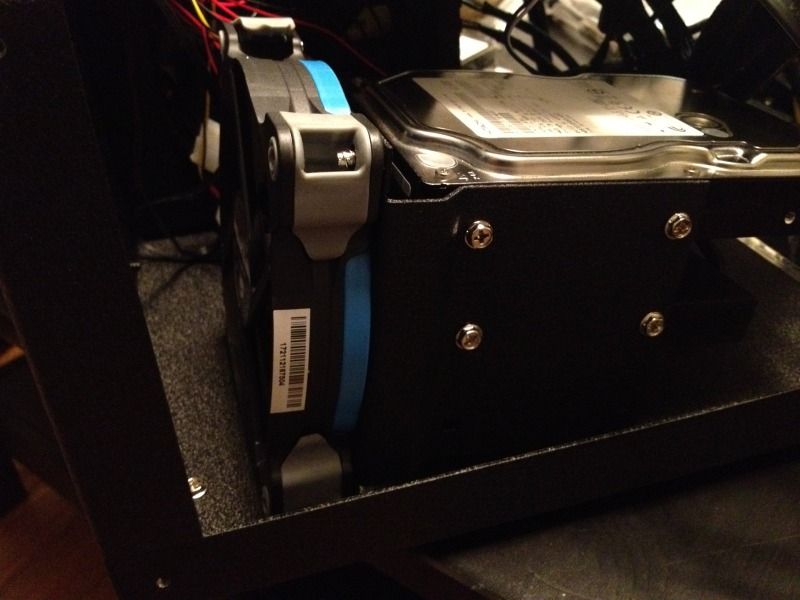 And mounted to a 120 MM fan.
I decided to pick up some black thumb screws for the case. Little easier to work with and it looks a lot better to me when its all black.
They really do complete the look IMO.
And thats how it looks right now.
The case was fairly easy to work with, i had a problem getting my Motherboard I/O to line up and Mountain Mods worked me through in an email they sent me, The only thing about the build so far I would not recommend is the fan controllers.
Now onto the future stuff!
I've got my water blocks already delivered, my reservoir, radiators, and pumps picked out. As soon as I sell my old system I'll be ordering up all the parts. The i5 might be short lived in this system though as I might splurge and get the i7-3770K and put the i5 in an HTPC I want to build with a micro ITX motherboard in a scratch built case. But we'll see.
Plus I've got some time before I install the water cooling, because I have to figure out how to cleanly make my own extensions.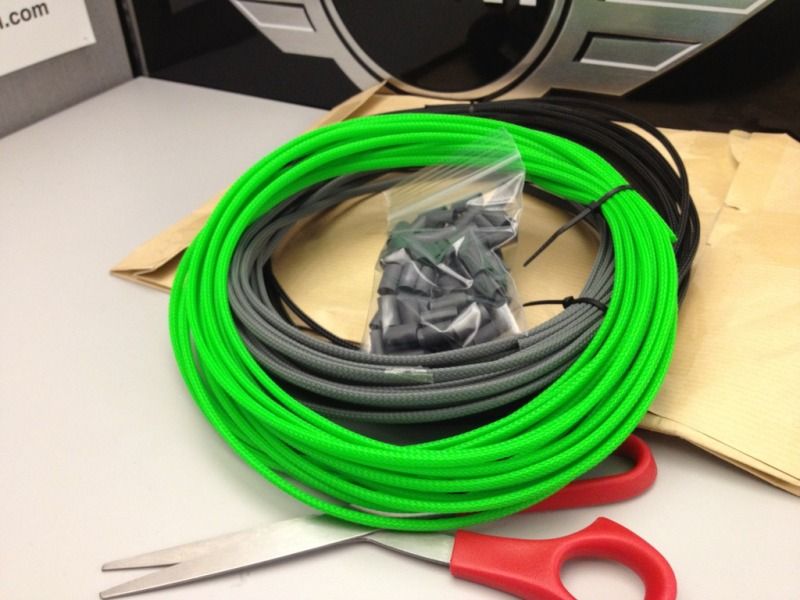 30 meters of MDPC sleeving. I'll probably wind up inventing swear words along the way.
Lemme know what you think.
Edited by veloceracing - 6/19/12 at 10:56pm