Well, Not 100% im the first to do one but hell im going to make one!
For those of you who dont know a Raspberry Pi is a credit card size ARM 11 processor. It allows you to do most of what you could on a normal PC, speadsheets, word documents watch films and play music.
Connection wise its pretty suprising, full HDMI, low level analogue output (3.5mm jack, composite out, 2X USB 2 ports a network port, along with GPIO connector a MIPI CSI-2 and DSI port.
Now, because of its size and low power requirements (700Ma) its perfect for a low power tiny HTPC.
So kit wise we have the following
The Rpi Raspberry Pi)
7 port USB hub
3A 5V power plug
USB HDD caddy board from a Dynamode caddy
60Gb 2.5 in SATA drive (from a dead PS3
cables galore
cable tidying paraphernalia
nice big lump of pine stripwood
an old speaker mesh
piece of perspex from an old case window
various switches and connectors
a fan
PCB rails
4 Lian Li case feet
Few resistors
A White LED
Heres most of it laid out
Now ive played with a few layouts im useless drawing designs out im happier mocking it up myself like so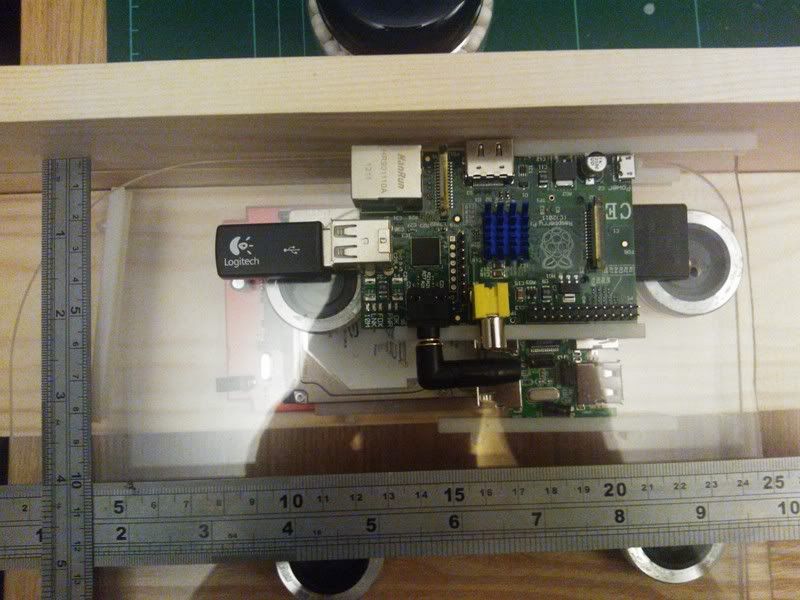 As you can see im using the case feet to help space things out for me a bit but i will add move space the wood in the photos is the wood ill be using so gives you an idea og the height etc.
This will be a slow build im balancing this with a number of other things at the moment.