Hey, I need plans for my future extreme liquid cooled computer. I was thinking you get another air conditioner to keep your parts lower than 20°C (68°F) off and if you can manage it on. The reason for this is to maximize conductivity of metals. You will have to modify your exhaust, use 1 small fan at a very low RPM at the highest point. Now I recommend you some 9x140mm or bigger radiators that will work with Fluorinert and you hook every part in your computer that generates any heat with homemade silver (or any metal with a higher thermal conductivity) waterblocks with very thin selenium (or anything with a lower thermal conductivity) heat guards wrapping them. This is so the waterblocks don't get heated by ambient temperature, but it also means your metals aren't at a 20°C from ambient temperature. To get around this you must liquid cool the heat guards or use a thin liquid cooled separate waterblock connected to main waterblocks made of something like aluminum, beryllium, copper, gold, magnesium, or anything lower than your main waterblock's thermal conductivity but not too low instead of a selenium heatguard. That part needs major expirimentation, I can't do it yet because I'm still building my PCs. Also make sure your waterblocks allow maximum flow, fitting 1/2in (very) thickwall tubing or better. And you can make the waterblocks based off brandname ones, I suggest Koolance or EK, made in a 3D editor, and printed with a 3D etcher or something of the sort.
Now the fun part (finally)
Get or make a high pressure air or CO2 pump (buy a giant empty propane tank and attempt to get it filled with CO2 ). Get the coldest variant of Fluorinert, a really good intercooler, and a substance like liquid nitrogen (somebody try pure oxygen at -218°C) to cool the Fluorinert without freezing it. Nitrogen may be too cold. If it does freeze add product like acetone, antifreeze, or WD40 and pump fine pulverized solid Fluorinert.
Set your liquid cooling up like this: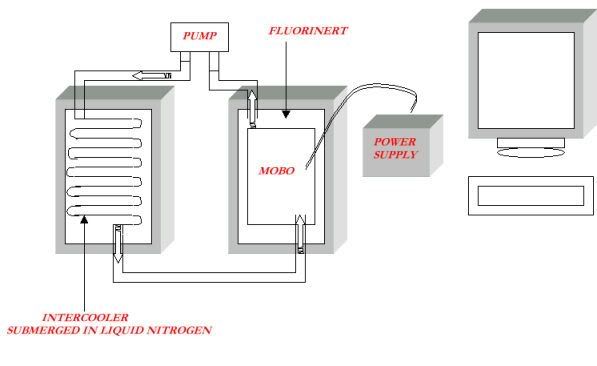 (this is an old pic from
http://www.octools.com/fluorinert/
by OCTools Staff) instead of submerging your motherboard, simply set up normal liquid cooling (with your beast parts) but just after the pump insert your cooling tank and intercooler out side of your case.
This way I would think you could get an efficient, quiet if you are really good, and you don't need to change it every time your start up unlike DIce. Also this way you may be able to drop passed -183°C and superconduct multiple items in your motherboard, maybe it will get us 1THz without overclocking, it may be really bad and just break it or parts could repel and break solders and stuff.
I recommend you do this on junkers not your i7s.
I really hope this works, if it does TELL US ABOUT THE SUPERCONDUCTIVE MOTHERBOARD! If not I hope it's a good way or breaks DIce.
Elsewhere replies:
QUOTE hokiealumnus from Overclockers.com | I'm confused as to the point?
- First and foremost, motherboards don't really do so well at that kind of temperature. Voltage controllers, MOSFETs and pretty much any number of ICs wouldn't function like CPUs do at LN2 temperatures. That's partially why we freeze CPUs, RAM and GPUs directly.Everything you list freezes at LN2 temperatures.
Then freeze it with solid Fluorinert, not DIce. Much colder unless DIce is as low as you should go.
- All of the materials you list will freeze at LN2 temperatures.
That is okay as long as your pumps can push it, I recommend turning solid Fluorinert into an extremely fine powder by freezing it all, making a capped reservoir with fans to keep it in that state (keep it off the fans). It's like a snow maker.
- Is this is a 24/7 proposition? If so, how would you keep LN2 supplied?
Yes. You probably will have to keep your cooler running to avoid freezing of its parts. The LN2 or oxygen at -218°C is only cooling the intercooler. Get another reservoir and suspend the intercooler inside and have a n enter and exit point keeping the reservoir air and thermal tight. It may have to be replaced at some point though.
- If you do as you said and run standard water blocks, what liquid do you propose that won't be frozen as soon as it enters the LN2 chamber? ....what intercooler and/or tubing do you propose that won't shatter at LN2 temperatures?
Fluorinert will freeze but try it, it's really once liquid, now pulverized solid extreme cooling . Waterblocks aren't very standard, I don't know how a standard sized silver waterblock will hold up though. Of all things I didn't think of tubing, if you keep the Fluorinert in a constant very fine pulverized state the intercooler shouldn't blow, I suggest you use metal piping though, flexible may work.
The main problems are the extreme temperature and keeping the Fluorinert in a fine pulverized solid state. There must be a constant flow of the Fluorinert dust and tubes must be big so it's more spaced out and less likely to stick together. Dry ice or something that can withstand the temperatures and is very slick may have to be added to the Fluorinert dust. Fluorinert must be at your supercooler's temperature when its pulverized or it will stick in the intercooler, and the supercooler chamber must be very close, not touching, to the Fluorinert reservoir and pump(s) to avoid temperature loss and clumping. More pumps may have to be added to allow flow and reduce clumping.
You might go through a lot of LN2 reservoirs or other supercoolers and a lot of intercoolers and pipes/tubes.
That got me thinking a bit more, thanks!
Edited by B-Hizzle - 7/12/12 at 1:22pm